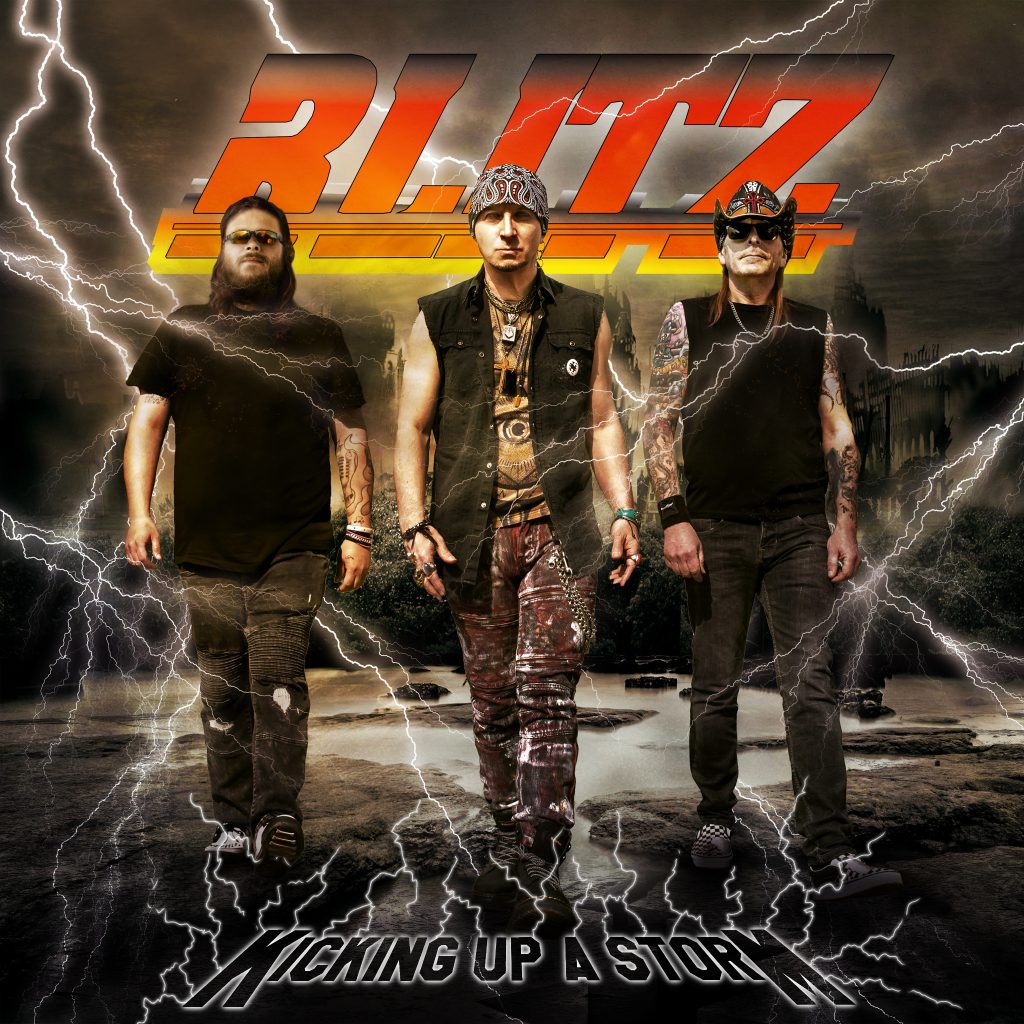 BlitZ
(Shock Records via Vanity Music Group)
ROCK
Review By: SAMANTHA LOUGHLAN
Band members: Stuart Corden (Vocals/Bass)
Kevin Simpson (Guitar/Backing Vocals)
Mat Davis (Drums/Backing Vocals)
Track list:  Breakneck
Shell Shocked
C.O.G.
Keep Moving On
We are the Power
Addicted to Corruption
I'll Find you in Yesterday
Freddie Said
Hesitate
Kicking up a Storm
Good day to all you amazing Voodoo fiends out there. Hope you're all doing well and looking forward to the summer, if and when it finally arrives here in Manchester.
So, today I have something a little bit special for you. I have been honoured with the chance to listen to the upcoming third studio album from the amazing BlitZ. Now some of you may remember these guys from my review/interview last month where I gave you a peak at 'Breakneck' and a single from this album entitled 'Shell Shocked'. As I previously stated BlitZ are a three-piece rock band formed in 2015 from Nottingham, UK. To give you a quick run-down BlitZ have taken the UK by storm. In 2016 the band released their first EP comprising of seven tracks under their own label. This gained them a 9/10 rating in Power Play magazine which created a buzz in the underground rock circuit. In 2022 BlitZ changed things up a bit and released a live album called Take no Prisoners, recorded directly from their Fight to Survive tour which took place throughout the UK where they played alongside Skid Row and The Darkness. As you can see these guys are getting big, fast!
So, the album entitled Kicking up a Storm is due for release on 22nd September 2023. BlitZ already had me immensely riled up in anticipation after their single release and I can't wait to see what their new album has in store for us. So, let's take a look…
Now as I have already previously reviewed the first two tracks of the album, (you can take a look at à BlitZ Review & Interview – VOODOO RADIO ONLINE), as they were both released recently as singles, I am going to jump straight in at track number three, 'C.O.G.' So, this abbreviation actually stands for 'Crawling on Glass'. Drawing your attention to the well-presented and articulate twenty-eight second intro, we are really given the setting and atmosphere for the rest of the track. I must say I have completely fell in love with this song. The chorus is one that definitely sticks in my head. 'You keep messing with my head, you've got me crawling on glass again. The more you say the less I hear, you've got me crawling on glass again!' 'C.O.G.' has everything from a catchy chorus to amazing guitar riffs and rocking beats. I must say it is quite a challenge as well to fit all this into a cute three minutes and three seconds of rock music, but BlitZ pull it off superbly!
Now I'm going to take a leap to track seven of the album which is entitled 'I'll Find you in Yesterday.' I've chosen to review this track in particular as it was only released a couple of days ago on the 18th of August as the third single from Kicking up a Storm. 'The theme of this song is about how music can be a doorway to meeting people and seeing places that you may have never encountered without being around music and the insanity of musicians. Kev wrote the piano parts, the vocal melody and lyrics really flowed quickly once he played me the music, when I sang it in the studio I really connected with the vibe of the song. Hopefully when people hear this song it will remind them of people and places within the Rock community that have become part of their lives.' – Stuart Corden (Vocals/Bass). The track itself really resonates with me as I've unfortunately experienced a lot of deep loss in my life and the song actually had me crying. It's great that the song can touch people like this and bring attention to a taboo subject that perhaps isn't given enough recognition. Love a good tearjerker!
The music video for this 'I'll Find you in Yesterday', much like that of 'Breakneck', is another fine display of the bands' professionalism. As Stuart Corden explains 'we asked people to send us pictures that capture times and memories that Rock music has given them, the response was incredible, we fitted all the pictures into the video and it embodies the sentiment of the song perfectly'. I feel that BlitZ really know how to connect with their fans and the video for 'I'll Find you in Yesterday' is a true display of their capabilities to mould music with passion. The depth of sorrow in the lyrics kind of reminds me of 'November Rain' by Guns n Roses. Plus, this video even shows you the lyrics so you can sing along!
'I'll find you in yesterday, all I need now is to see your face,
All I need now is to hear you say, you know it's true,
I'll always remember you.'
Finally, I'm going to round off with the last track of the album, (number ten), which is the self-titled 'Kicking up a Storm'. Now the beginning sixteen seconds of this track do reminisce of Pink Floyd, however, this is quickly swept to the side and by Mat Davis and Kevin Simpson quickly taking the song to the next level from seventeen seconds in. This track is an amazing compilation of varying tempos. This is displayed in the entrancing mid-section from one minute forty-three to two minutes thirty-five seconds in. Here we see a range of skills including a display of the immense vocal range of Stuart Corden. Once again, the guys have also sprinkled a catchy chorus on the top of the cake to land a perfect finale to their album.
'Don't you lie to me, look in my eyes what do you see?
Nobody's fooled that's me,
Kicking up a storm's my destiny!'
I can imagine for most of you BlitZ fans out there that this long-awaited album is most definitely going to sooth your need for a decent hit of intense solid rock music. The guys consistently keep pumping out their ultimate best. It is always a pleasure to review the Nottingham lads work, and I will be following their journey through the alternative music scene, patiently awaiting new material. You've smashed it again guys! Utter rock perfection!