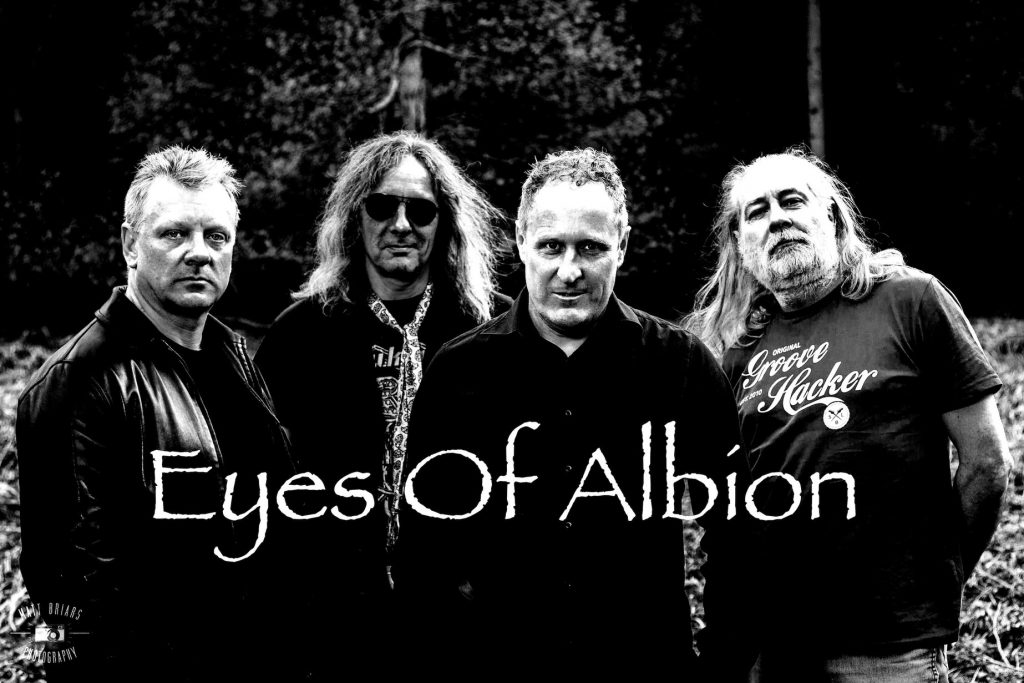 Eyes of Albion
(Unsigned)
CLASSIC ROCK
Review By: SAMANTHA LOUGHLAN
Band members: David Clinton (Vocals)
Robert Kemp (Guitar)
Adam Jackson (Bass)
Andy Mullins (Drums)
Track list:  Too Far Gone
Seventh Circle
Today I bring you a little taster of a classic rock band brought to my attention by good friend and promoter Gary Mcintosh of Mcintosh Inc Promotions. Now you may remember from previous interviews that after spending the past year promoting for The Talbot in Blackpool, Gary is branching out further into the music industry. I would like to thank Gary for making yet another exciting piece possible.
Formed in 2018 in England, UK, Eyes of Albion are a new style classic rock band. Guitarist and Sound Engineer Robert Kemp had a vision/concept of putting together a band that was just a little bit different from the general norm. He met bass man Johnny Muzz in the studio, the two of them just clicked. In came a singer that Johnny had heard about and, "When Davy started singing, Robert and I just looked at each other," Johnny explained, "It was like it was always meant to be. Then all the guys needed was the final piece, Drums. They then brought in Andy Mullins. Eyes of Albion was finally complete. They drew inspiration from many different styles from the Blues and 60's 70's hard rock, all the way through to Indian modal playing like that of Ravi Shanker and stretched to North African tribal music, and even native Australian sounds.
By the end of 2021 the band had released two EPs entitled The Seventh Circle and Temple Noise, each containing five amazing tracks. The guys seemed to be on a roll! Unfortunately, after battling through the global pandemic, in April 2023 bass player and great friend Johnny Muzz was starting to have some serious on-going health issues and after a long and difficult conversation he decided to take a step back from the band. A new bassist was now required. Adam Jackson, who unbeknown to the rest of the band had already heard of Eyes of Albion and really liked the music, was the perfect fit. So onwards and upwards they go, ready to gig and write/record new and exciting rock music.
So, I have chosen to review two tracks today, one from each EP. I initially flicked through all their tracks and instantly noticed that they are all moderately longer than most standard rock songs. I must say this made it difficult to get my head into at first as none of them were particularly catchy enough to attract my attention. After a couple of play throughs, I finally settled on 'Too Far Gone' and 'Seventh Circle.'
'Too Far Gone' is the second track from the EP The Seventh Circle. I feel this is by far the best track the guys have ever released. I singled this one out due to it being more upbeat than the rest of the EP and after a few play throughs I did eventually end up bopping along to its catchy bass line. At five minutes and nineteen seconds in length it does take some getting into, but it was definitely worth the effort. The track begins with a nice chilled but slightly bouncy intro giving off Lynard Skynard vibes before upping the beat and introducing pure classic rock melodies. I particularly got drawn into 'Too Far Gone' by the lyrics of the chorus. 'Can't turn away no more, can't stop looking at the floor, can't you see which way to run to, don't you know I'm too far gone without you.' I feel these lines really portray the depth and emotions of loss that is are being conveyed to the audience.
We then take an unexpected turn and from three minutes nine seconds through to three minutes fifty seconds in with what I deem to be a pretty impressive musical interlude. With immense emphasis on the amazing Robert Kemp and his guitar skills this epicentre of the track really displays the unity of the band and how well they come together as one to produce pretty decent rock pieces.
Now the second track I have chosen to review is actually self-titled, 'Seventh Circle' from the first EP but is the opening track on the 2nd EP entitled Temple Noise. Undoubtedly this was a little confusing at first but it does give the impression that the guys knew exactly where they wanted to go when they started recording. Does this give us a hint for upcoming material? Very possibly.
'Seventh Circle' instantly gave me a flash back to the music created by English 60s Rock band Deep Purple. With an intro comprised of a strong repetitive bass line from Adam Jackson and then the addition of a drum overture by Andy Mullins, this track has a memorable sound that really does get stuck in your head. Now the intro for this track is quite long at 40 seconds in length which again can take a bit of getting into if you're trying to find a track to gel with. 'Seventh Circle' overall has very dark undertones to its lyrics and is packed with some dark and slightly gothic imagery. 'Twisted reflections in rooms with no doors, you signed a contract, you swear it's not yours.'
Like 'Too Far Gone', 'Seventh Circle' also boasts a remarkable musical interlude from three minutes forty to four minutes and twenty seconds in. This consistent demonstration of the guys tenacious and well-founded capabilities as a rock band is reassuring that Eyes of Albion may in-fact be able to break through further into the alternative music scene in the future.
So, there you have it. A new fresh sound to the classic rock genre which is sure to give a great twist to what you might be used to hearing.
Let's see what guitarist Robert Kemp had to say in our interview…
What genre of music do you feel you most relate to?
Our main genre I guess you could call new wave of classic rock.
Who are you're musical influences?
There's a vast library of musical influences Led Zeppelin, Pink Floyd, Hawkwind, Son House, Ravi Shanker, The Yardbirds and Airport Convention.
How hard is it to approach next level promoters?
It's extremely hard to approach next level promoters.
What plans have you got for this year?
Our plans for the coming year are to record a new EP/Album and to try and play as many gigs/festivals as possible.
Are you playing at any festivals?
Yes, we are playing a festival very soon, 'Nene Valley Rock Festival'. We are very excited about playing this festival. 
Which artists past or present would you collaborate with?
There are so many artists we would like to collaborate with from the past such as guitarist Jimmy Page mainly for his production/studio approach. From the present, for me personally Jeff Martin from the band The Tea Party. I really like his use of non-rock instruments to build great mystical rock tunes.
Who would you compare yourselves to?
Who would we compare yourselves to, I really don't think I can answer that, LOL best leave that to the listeners.
What has been your favourite performance given so far?
I think our favourite performance so far has been at The Musician in Leicester the audience really engaged with us very early on, and they know their stuff and even wanted to chat with us all after the show.
What are you working on right now?
We're working on some new tunes right now for new recording.
Where do you draw inspiration from for your lyrics?
I think our lyrics mainly come from a very personal and sometimes very dark place, and sometimes fun but always very passionate.
What was the best gig you've ever been to and why?
My best gig to go to was my very first gig Zeppelin at Knebworth in 1979. (Sh*t was it that long ago?) It blew my mind.
What do you love most about being in a band?
I love being creative with other like-minded people, and the camaraderie.
How do you deal with disinterested audiences?
You just have to give it all you've got, but at the end of the day if they don't dig it, you just move on. Not everybody likes everything.
What interests and hobbies do you have outside of music?
My other hobbies are I practice Ashtanga Yoga, and I read a lot.
Have you got any exclusive gossip you can share with voodooradio.online?
Any gossip, WELL SSsssshhhhh we might be working with a great new booking agent/ promoter very soon
Would you consider allowing voodooradio.online to play your tracks and promote any future gigs?
YES! Of course we would allow Voodoo radio to play our tunes and promote any future gigs.