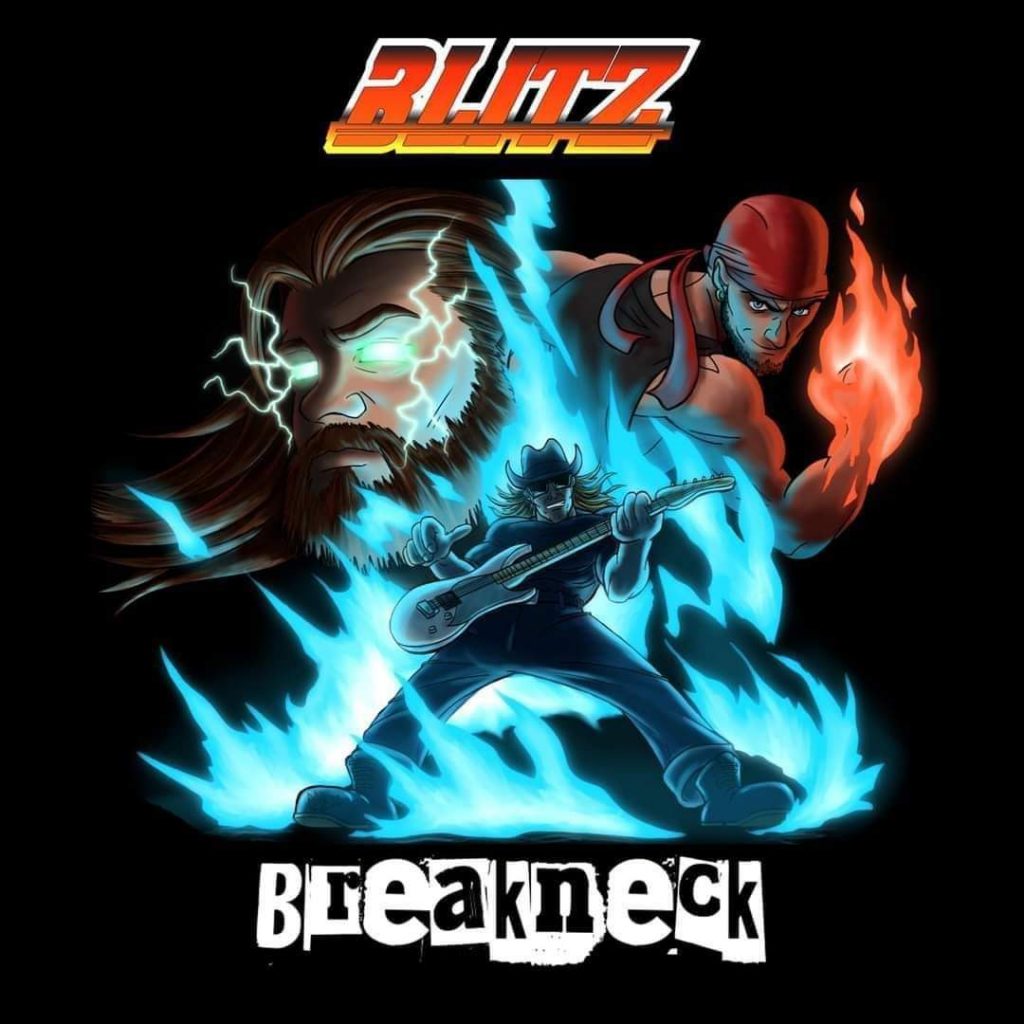 BlitZ
(Unsigned)
ROCK
Review By: SAMANTHA LOUGHLAN
Band members: Stuart Corden (Vocals/Bass)
Kevin Simpson (Guitar/Backing Vocals)
Mat Davis (Drums/Backing Vocals)
Track list: Breakneck
Shell Shocked
Hey Voodoo family, hope you're all well. This is officially my tenth piece of writing for VoodooRadio.Online. Way hey! I would like to take this opportunity to thank everyone at the station for their support and encouragement over the past few months. A special thankyou goes out to the Rock and Roll Preacher for proof-reading and publishing my work, and also my rock Nicola Covill for always being there for me and guiding me through my Voodoo journey. Much love!
So, as we are now into double figures, I have something super exciting for you. BlitZ are a three-piece rock band formed in 2015 from Nottingham, UK. These guys were brought to my attention by Nikki whilst scouring Facebook for Voodoo worthy talent. Before we get into seeing what BlitZ are all about, I would like to personally thank guitarist Kevin Simpson for helping make this review possible. It's been a pleasure working with you on this piece and it would not have been possible without you.
Now since their formation BlitZ have taken the UK by storm. In 2016 the band released their first EP comprising of seven tracks under their own label. This gained them a 9/10 rating in Power Play magazine which created a buzz in the underground rock circuit. Attracting attention from the European rock scene, the band received a deal with City of Lights Records in 2019. This prompted the release of the guys first studio album, Welcome to the Rock Show. In August 2020 BlitZ released their follow-up album Fight to Survive via KSM Records and Entertainment. This album made waves in the music industry from the UK to the USA, Europe and Japan. It is at this point that BBC Radio got a whiff that that these guys were something good and even played the singles 'Waiting for a Miracle', 'Breaking Out', 'Keep Moving On' and 'Rock City Nights' on rotation on the air!
In 2022 BlitZ changed things up a bit and released a live album called Take no Prisoners, recorded directly from their Fight to Survive tour which took place throughout the UK where they played alongside Skid Row and The Darkness. Now BlitZ are in fact due to release their third studio album Kicking up a Storm later this year on 22nd September with Shock Records via Vanity Music Group. These guys are getting big, fast!
Today I'm going to not only going to review their latest release from the upcoming album, but also their next single which is due out next month. I have also managed to get a cheeky interview with BlitZ themselves so we can get an insight into what makes them tick!
So, let's get into it! On 9th June 2023 BlitZ released their first single from the album entitled 'Breakneck'. I instantly got an old-school rock vibe from this track which I must say was truly refreshing. Straight off the bat you are faced with a really catchy drum beat by Mat Davis which gets everybody bopping along. You really don't see much of this classic vibe around these days with up-and-coming bands.
At three minutes and nine seconds in length, this track is undoubtedly shorter than most rock songs however, I was really surprised to see how much the guys managed to pack into a short space of time. With the vocals not kicking in until thirty-two seconds and a fantastical guitar and drum duet placed in the interlude later on in the track, we really get a feel for how passionate these guys are about their music.
On July 14th 2023 BlitZ will release their second single from the up-coming album entitled 'Shell Shocked' and I've had the pleasure of being one of the first to listen to it. Once again, the Nottingham Lads did not fail to impress me. 'Shell Shocked' is packed with displays of the substantially strong vocal range of Stuart Corden. You can really feel the passion he has for what he is doing. Once again Kevin Simpson also gives it everything hes got with a guitar solo from one minute forty-seven to two minutes twenty-six. He really does know what rock n roll is all about. My favourite part of 'Shell Shocked' is undoubtedly the chorus. "SHELL SHOCKED, SHELL SHOCKED, she'll leave you for dead, she can't be stopped. SHELL SHOCKED, SHELL SHOCKED, she'll take you so high, she'll watch you drop". This is an exceptionally catchy tune and because of this I know it will definitely be a fan favourite on album release. Another part of this track I really enjoyed was the complete change in style from two minutes twenty-seven where the vocals switch to a deep whisper. "The first time at the rodeo, hold on tight maybe the scars won't show. She'll take you down and eat you alive, caught in the web, pray to survive". This is a nice twist and is a great way for the track to build up again to the finale.
I must say I particularly love the structure of BlitZ tracks. From what I have heard so far, they tend to use a common build for songs that is familiar to most in the music industry. This consists of verse, chorus, verse, chorus, interlude and finishing with another chorus. I feel this really helps if the audience want to fully insert themselves and feel the emotions of a track as they can easily pick up the lyrics and sing along. This is vital for tracks to make it to big stages as the audience can get involved in the performances. In my opinion BlitZ really bring the rock sector of the music industry back to where it should be.
Now, after digging around on BlitZ Facebook page I discovered that there is actually a music video for 'Breakneck' and woah what a video it is! Absolute, gold! Never expected to be presented with something like this. Full on professional genius. They have it all. Powerful lyrics, angry chords and aggressive drum beats with energetic stage performances. These guys really are the whole package!
So let's see what BlitZ themselves had to say in their interview with us here at VoodooRadio.Online… You can also watch this interview recorded directly by the guys on YouTube by clicking this link  BlitZ Interview with Voodoo Radio June 2023 – YouTube
Thankyou so much, the three of you are absolutely fantastic and we can't wait to work with you in the future!
What genre of music do you feel you most relate to?
We definitely fit in the classic rock/metal genre.
Who are you're musical influences?
Stuart – My main musical influences are Queen, Kiss, Prince, David Bowie, Slade, and Bruce Springsteen.
Kev – I am very similar to Stuart with my influences. I love both Queen and Kiss; they are definitely my go-to favourites.
Mat – I have more metal bands in my influences such as Metallica, Limp Biscuit, Pantera, Iron Maiden.
How hard is it to approach next level promoters?
Approaching promoters can be a little bit of a challenge. Sometimes it's a case of who you know and available funds.
Obviously, we have our new album coming out on the 22nd September "Kicking Up A Storm" released on Shock Records via Vanity Music Group Worldwide. So, we've been working on new videos and artwork to promote the album. Rehashing the new songs to put in the set. Got some gigs up-coming as well.
Are you playing at any festivals?
Yes we are indeed. We actually have three festivals coming up this year. We are playing at Savfest on the 5th August in Coalville, Quarantine Rocks on the 6th and 7th of October in Coalville and also Hard Rock Hell in Great Yarmouth from the 2nd to the 5th of November.
Which artists past or present would you collaborate with?
Stuart – I would have loved to have collaborated with Prince. He was a very talented multi-instrumentalist and an amazing songwriter and performer. Also, it would have been great to collaborate with Bruce Springsteen. I would love to sit with him with a couple of acoustic guitars.
Mat – Dime Bag Darrell would love to have jammed with him. He was an amazing guitar player. James Hetfield who isagain an amazing guitar player and songwriter.
Kev – Definitely would have to of been Freddie Mercury. A one off. There has been no one like him. Before or after. I would also love to work with Pink as I think that she's amazing.
Who would you compare yourselves to?
We've been compared to Kiss, Queen, Guns n Roses, AC/DC, and Slade. We definitely wear our influences on our sleeves.
What has been your favourite performance given so far?
As a band we would definitively say Hard Rock Hell in Great Yarmouth in 2022. We were sharing the same stage as Skid Row and The Darkness. The crowd were amazing.
Where do you draw inspiration from for your lyrics?
Stuart – Lyric wise I tend to draw my inspiration from life, relationships, current news, etc. I feel that inspiration can come from anywhere.
Stuart – Kiss at Stafford Bingley Hall. It was the 'Lick it Up' tour. This is the first tour that the band presented without makeup. The stage show was amazing and it was the last tour to feature Vinnie Vincent.
Kev – Queen at Birmingham NEC on their 'Works' tour. What can I say other than I saw Queen with Freddie Mercuryand what a show it was! I believe they were the first band to play at the NEC.
Mat – Metallica and Machine Head at Wembley. Two of my favourite bands on one bill.
What do you love most about being in a band?
We all love the song writing, recording and the gigs. You really can't beat playing in front of and entertaining a crowd. The buzz you get is just amazing!
How do you deal with disinterested audiences?
We play each gig as if we're playing an arena. We keep focused and keep the audience engaged, that's the key factor.
What interests and hobbies do you have outside of music?
Stuart – I'm writing a book at the moment. I just love writing whether it be songs, poems or stories. I also enjoy going tothe gym.
Kev – I am a big outdoor person. I love fishing and being in situations where I am at one with nature. I am also a big fan of travelling the world.
Mat – I am a big D.I.Y. fan. Give me a hammer and nail and I'll make you something. I'm a big family man and I'm really into my conspiracy theories too.
Have you got any exclusive gossip you can share with voodooradio.online?
Kev – We're filming the final video or the album in July. Working with Jay Hillyer, clients include, Black Star Ridersand Wayward Sons.
Would you consider allowing voodooradio.online to play your tracks and promote any future gigs?
Absolutely! 💯👍❤️