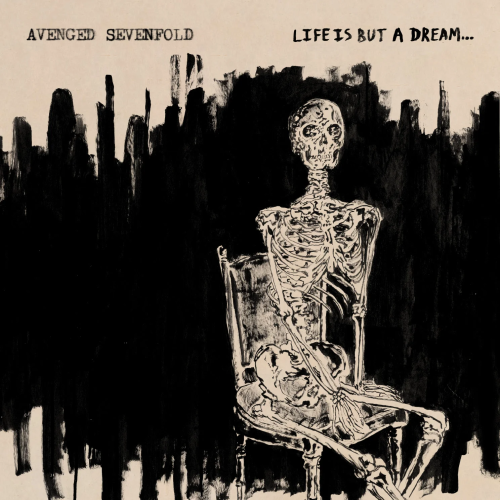 AVENGED SEVENFOLD – Life is but a Dream
(Warner)
PROGRESSIVE METAL
Review By: SAMANTHA LOUGHLAN
Band members: M. Shadows (Vocals)
Synyster Gates (Lead Guitar, Backing Vocals and Piano)
Zacky Vengeance (Guitar and Backing Vocals)
Johnny Christ (Bass and Backing Vocals)
Brooks Wackerman (Drums)
Other members: Jason Freese (Synthesizer)
San Bernardino Symphony (Orchestra)
Noah Gladstone (Orchestra Conductor)
Track list:  Game Over
Mattel
Nobody
We Love You
Cosmic
Beautiful Morning
Easier
G
(O)rdinary
(D)eath
Life is but a Dream…
Hi to all of you crazy people out there. I hope you've all had an amazing few weeks in the sunshine but, as usual, Britain has kept it short and sweet and we are now back to a dull drizzly state of normality.
Today I bring you a review of the eighth studio album from Avenged Sevenfold, an American progressive metal band from Huntington Beach, California. Formed in 1999, the band name itself originates from a story in the book of Genesis in the Bible relating to the brothers Cain and Abel. "But the Lord said to him, therefore whoever slayeth Cain, vengeance shall be taken on him sevenfold".
Now I personally first remember listening to Avenged Sevenfold in 2005. They had just released their third studio album 'City of Evil' which included the monumental masterpiece that is 'The Beast and the Harlot'. Since then, the guys have made great advances in their music career. They have released five more studio albums and have even had the pleasure of collaborating with icons such as Slash and Dream Theatre's Mark Portnoy.
I have chosen to write this review because of how deeply individual Avenged Sevenfold's music is to their overall genre. In my personal opinion there is no other band out there like them for integrating an orchestra into metal music.
Avenged Sevenfold are notorious for sneaking literacy references into their music. For example, one of their most popular singles 'Bat Country' is actually based on the book 'Fear and Loathing in Las Vegas' by Hunter S Thompson.
Comprising of eleven tracks and released on the 2nd of June 2023, which is nearly seven years since their last studio album, Life is but a Dream had me eager to see what the guys had been up to during their break. So far, I have heard very mixed opinions of this album but let us not make any assumptions yet and see what Life is but a Dream has in store for us…
Over the years we have seen some totally stunning album art from the band and the cover of Life is but a Dream is no exception to their show of distinctive singularity. Created by minimalist artist Wes Lang, the theme of existentialism through art is captured by black paint on a beige background. I really love the dark imagery of reapers riding in a pack on horseback. This in brilliant use of juxtaposition with the title of the album Life is but a Dream referring to life and the cover depicting death.
The first track of the album is 'Game Over'. Now as an intro song this piece is a contradiction of terms straight off by the wording of the title. This is the kind of fun you would expect from Avenged Sevenfold. Beginning with light guitar playing the track immediately gives off a relaxing Spanish holiday feeling, however this only lasts for thirty-four seconds then we are hit with fast paced drumming and the vocals joining the track at forty-two seconds in. I love this shift in tempo as it's a new and exciting way to begin an Avenged Sevenfold album. One minute six seconds into 'Game Over' vocalist M. Shadows turns the tables and pumps out the lyrics "Days are fine and come on time, but years leave with nothing to find" in tones that remind me of the American rock band Faith no More. At two minutes fifteen seconds the tempo of the track slows down again bringing the mood full circle. To me the entirety of the track doesn't give of the typical vibes that we are used to from Avenged Sevenfold at all. It is here that I began to understand why I have heard some negative reviews from friends that were up until this release, strong, die hard Avenged Sevenfold fans.
Next, I am going to jump to the third track on the album, 'Nobody'. This is definitely my favourite song from Life is but a Dream and was released back in March of 2023 as the guys opening single. 'Nobody' tells a tale of the journey of a man coming to the realisation that they themselves are only ever going to experience the things in life from their own individual viewpoint. I found the video for this track a really interesting watch. I love the imagery given off by all the people in it being represented by skeletons. This is essential for the tracks theme as it creates a video entirely based on the anonymity of the characters. This really shows humanity at its 'bare bones'. The whole video is computer animated which also removes the human connections that could be made by the audience. On a whole it accompanies the lyrics extremely well with conveying their message and meaning.
I really got into this song from the beginning as the beat it super catchy and at times I did get a Godsmack vibe for example in the line "Here we fly so high, no I, no coming down". At three minutes twenty-nine seconds this immense piece of music floods us with gothic imagery. "A crack in the darkness, a tear in the sky, A narrow moment when we find ourselves and all we occupy".
Now if you listen past the four-minute mark of the track 'Nobody', this is when things get interesting and the music tapers into a fantastical twist of sensational guitar playing by Synyster Gates. From four minutes twenty-one seconds to five minutes twenty-five seconds in, that is a total of one minute four seconds, we are presented with a spine-tingling guitar riff. In an interview on their Trax Podcast, vocalist M. Shadows admitted that himself and guitarist Synyster Gates had previously had some experiences with the psychedelic drug 5-Me0-DMT which opened up their minds to new musical ideas and possibilities.
Finally, I am going to skip to the final track of Life is but a Dream from which the title is derived. At four minutes and twenty-nine seconds in length, this track really does put the audience in a dream-like state. The entire track is essentially an instrumental piano piece performed by guitarist Synyster Gates. In an interview on Chris Jericho's podcast, Talk is Jericho, M. Shadows explains how Synyster Gates basically practiced every single morning for months to compile this piece instead of the band hiring a professional pianist to play it for them. This really does show how much the guys are dedicated to providing their fans with something new and excited with every album that they release.
This album has so much more to offer, I could honestly write about Life is but a Dream for months. There is definitely something in this album for everyone, even tracks that could be placed into the techno scene i.e., '(O)rdinary', and the blues category for example '(D)eath'. Honestly, I don't know how a band can so flexibly pull off the dramatic switch between genres but Avenged Sevenfold do it incredibly well.
Unfortunately there are no plans for Avenged Sevenfold to come to the UK yet this year as they are busy touring the USA and Canada, but hopefully we will see the amazing multi-talented musicians touch down on our home turf soon.