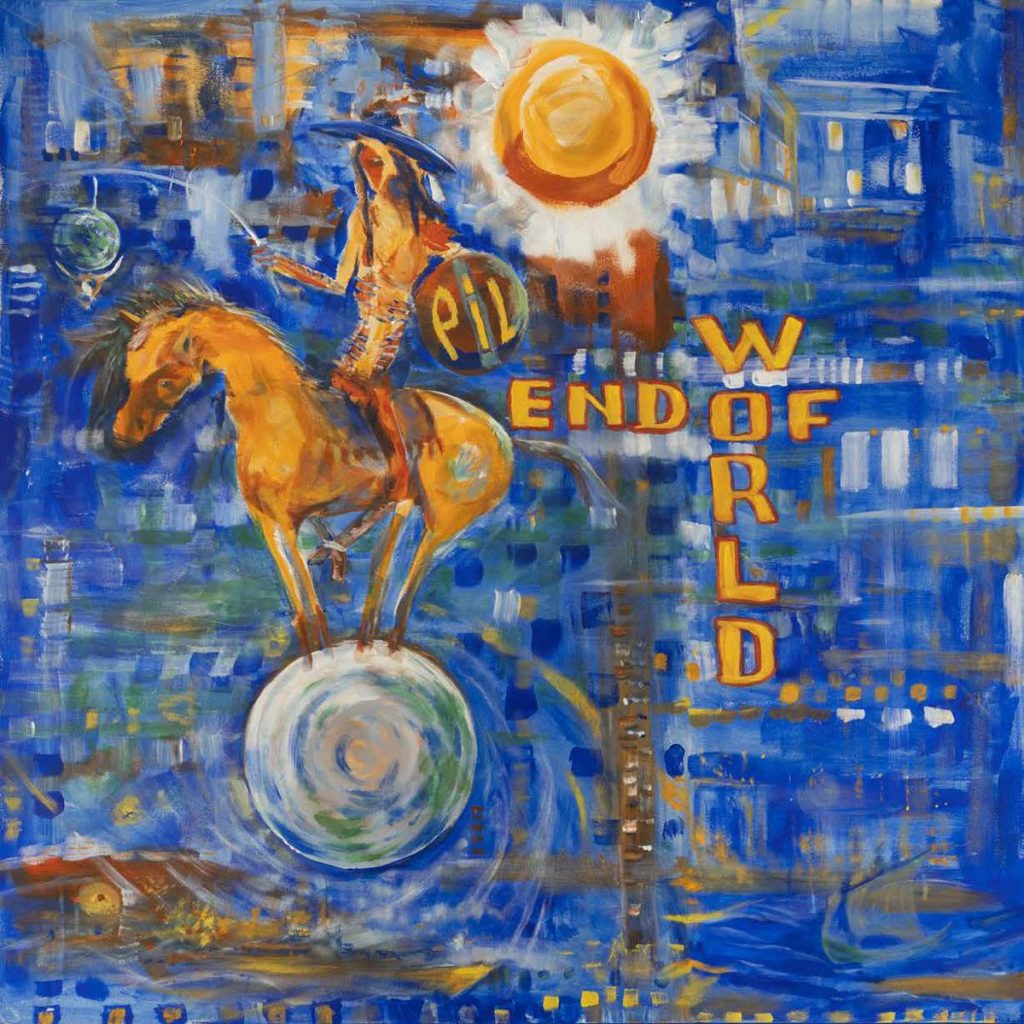 PUBLIC IMAGE LIMITED – 'END OF WORLD' (PiL OFFICIAL) ALTERNATIVE
REVIEW BY: THE ROCK 'N' ROLL PREACHER
John Lydon is in a musically unenviable position. How so? He is musically damned if he does and equally damned if he doesn't. He can't do right for doing wrong (in some people's eyes) and equally vice versa. He has also not helped himself personally (according to some), by arguably becoming everything his younger 'Rotten' self would most probably have despised. So, he continues to plough his own lonely furrow – listening to nobody, and (mainly) taking no influences from anywhere – just being him, for better or for worse. In this case – it is definitely for the better.
Opening the album is the completely splendid 'Penge', the highest compliment I can pay is this – it could easily have sat on the mighty Public Image Limited 'Album/Cassette/CD' (delete as appropriate) from 1986, it is a monolithic colossus – it's only drawback? It should have been longer! 'End Of The World' becomes with a shuffling rhythm before a spiral riff kicks in, John roaring furiously atop the beast. This may sound weird, but this could almost be The Cult circa 'Love/Electric' with John as frontman.
'Car Chase' (forgive the pun) changes gear and is a more up-tempo number, it has an almost dance beat, and is arguably the most immediate song on the album – and finds John in fiery form. This line-up has been the most consistent and long-serving – being a unit since 2009, and the fluidity and solidarity musically shines through. John's bandmates: Lu Edmonds (guitars), Scott Firth (bass guitars), and Bruce Smith (drums) are insanely tight. 'Being Stupid Again' has an electronic almost trance-invoked groove – I can almost imagine it being a Hawkwind track), it's almost minimalist musically – I'm not a huge fan of the lyrics – it is not John's finest hour (well, in my opinion anyway), but it's not bad either – not by any means.
'Walls' is vintage Lydon/PiL, a relaxed loping riff, underpinned by funky rhythms, with John intoning the lyrics in a strangely almost gentle way. It's a nice change of pace, and shows a genuinely different side to John's usual sonic onslaught. 'Pretty Awful' is (for this scribe anyway) the weakest link on the album. This feels as if John is almost trying to be Ian Dury somehow, the song is rescued by the surprisingly melodic chorus. The music itself is pretty decent, Lu Edmonds plays a nice minimalist (that word again) riff, with Scott Firth and Bruce Smith 'driving' the song nicely.
'Strange' is glorious, it is an absolutely classic PiL song, where the band gels perfectly, the song drifting along like a languidly flowing stream. John uses his voice perfectly, again choosing not to over-sing or over-attack – and as a result – perfection. 'Down On The Clown' is a curious number, and I may be wrong, listening to the lyrics – it sounds very personal to John, is it about him adjusting to life without his soulmate Nora? It certainly feels that way. The band play sparingly around John, Lu's guitar is sublimely effective, and the rhythm work is subtle but absolutely perfect, this is a simply marvellous number.
'Dirty Murky Delight' puzzles me, as again, John seems to invoke the spirit of Ian Dury, and musically, Messrs Edmonds, Firth, and Smith lay down a track that Chaz Jankel would most certainly have approved of. The song is clearly intended to be quirky, and it is mist definitely that … it's just a bit 'odd' by PiL standards. 'The Do That' has an almost marching tempo with John laying down a purely vintage lyric atop the stamping groove. It almost has 'hit single' possibilities. Weird.
'LFCF' is an oddity, the rhythm is naggingly insistent, Lu Edmonds again is the master of understatement here, which is exactly what is called for. John delivers a classic Lydon vocal, but again he does not over-egg it aurally, so it just works perfectly. The chorus reveals that the initials stand for 'Liars, Fakes, Cheats, and Frauds', and I simply love this poisonous little barb. 'North West Passage' is yet another classic PiL song, imperious, powerful, towering and could well have been an epic – again it deserves to be much longer than it is … which is frustrating.
The album ends with the beautiful 'Hawaii', a song written for John's beloved Nora before she died, and described by the band as "the most personal piece of song-writing". You may be aware that the song was put forward in the Eurovision Song Contest to represent Ireland – sadly only coming in fourth in the resultant heats, which is a crying shame. The song is languid and full of achingly beautiful longing – it really is absolutely stunning. The album could truly not be closed in a more perfect fashion. In summation, 'End Of World' is a curious mixture of bombast and contrasting subtlety, is it perfect? No, BUT it demands repeated listens to be fully appreciated – and once you do, you can only recognise what a damned fine body of work it really is. Highly recommended.