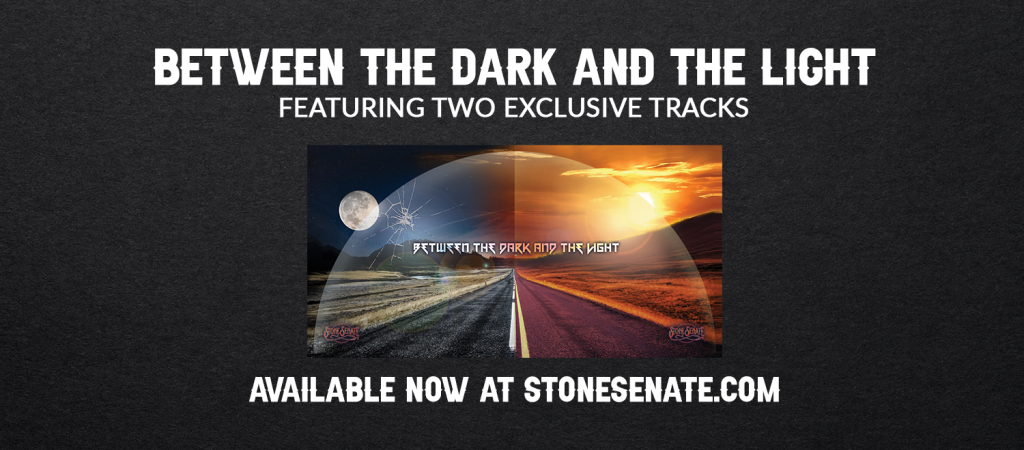 STONE SENATE – 'BETWEEN THE DARK AND THE LIGHT' (ROLLIN THE DICE RECORDS) SOUTHERN ROCK
REVIEW BY: THE ROCK 'N" ROLL PREACHER
It must have been six or seven years ago when I first stumbled across Nashville's mighty Stone Senate. They had just released the brilliant 'Star City' second album, and I fell madly in love with their incendiary take on Southern Rock. I've followed them with an almost religious fervour ever since, buying the singles and EP's that have followed it over the following years. I genuinely now consider them to be amongst the biggest and brightest new stars in the Southern Rock firmament!
In 2021 the band released the fabulous 'Dusk' EP, and last year followed it with the awesome 'Dawn' EP. Now they have decided to release all the songs as a complete album, with two new songs added as a very welcome bonus – hence the wonderful 'Between The Dark And The Light' Magnum Opus. The band is a colossally talented quintet: Clint Woolsey(vocals), James Beau Edwards (guitars/vocals), Ted Hennington (guitars), Kieran Cronley – bass guitars, and David 'DZ' Zettler (drums/vocals), and they are the living, breathing embodiment of all that is good and great about Southern Rock.
Maturing like a fine southern whiskey, the band just gets better and better with every release, just when you think 'they can't possibly exceed this' – blow me down if they don't just do it once again – genuinely amazing! Opening with the pummelling 'Down', which is a towering statement of intent, this album just kicks harder than a Missouri Mule, and is a glorious riff-fest from beginning to end.
'Shine' moves 'n' grooves gloriously – this may sound odd, but imagine The Foo Fighters playing Southern Rock? It would sound like this! 'Against The Grain' begins with delicate guitars, before locking into a killer groove, with a powerful chorus, and some wonderful twin guitar interplay. Meanwhile 'Ghost' is a lovely reflective number, that meanders like a drifting sleepy river, and is gorgeous for it.
'Slow Crusade' is another gentle and lilting number, Clint Woolsey's voice is glorious, full of aching and yearning – what a brilliant song. As a terrific contrast, 'Dead and the Dying' is a shit-kicking Suvvern Rawk gem, with a stomping riff and a hip-shuffling groove, it features a killer chorus, and is in my opinion, nothing short of sublime. 'Good To Go' is another languid song, with a lovely relaxed groove and some Allmans-esque fretwork, Stone Senate really understand how to mix things up perfectly.
'Buddy's Song' is two minutes of gentle and intricate acoustic guitar playing, a lovely instrumental interlude, that leads into 'Fall Back Into You', a mean 'n' moody, slow-burning rocker, that builds powerfully, leaving you wanting more. What follows is nothing short of perfect, the feelgood 'Whiskey Helps' which simply deserves to be a huge hit. It's one of those joyous old school Southern Rock numbers that you know every audience will love singing along to. Absolutely brilliant!
'Days' introduces us to the latter end of the album. It is another number that builds effortlessly to a crunching chorus, it's a wonderful example of how Stone Senate works so brilliantly as a unit, and why they simply will become huge. 'Always Never Fades' changes gears again musically and lyrically, and is another contender for song of the album, Clint provides a glorious vocal, while James and Ted play with tasteful ease, the solo here is exquisite, oh my, this song is just amazing.
The album closes with the fabulous 'All The Broken Pieces', I had half-expected them to end with a ballad, but instead we are treated with a Southern Melodic Rock gem with a genuinely perfect chorus! Again, the guitars 'sing' beautifully while Clint lays down another exceptional vocal. Guitarists James and Ted duel gloriously here – in the very finest Southern Rock tradition.
I haven't said much about the rhythm section – what I must say is that Kieran and DZ both play their parts to perfection throughout the album, never being over bombastic, but also knowing how to nail a groove and to drive the songs smoothly as a result! Stone Senate is a seriously wonderful band, and in 'Between The Dark And The Light', they have created an undeniably simply marvellous body of work! If you don't buy another album this year – make sure it's this one! Gotta drink to that! Yeah!