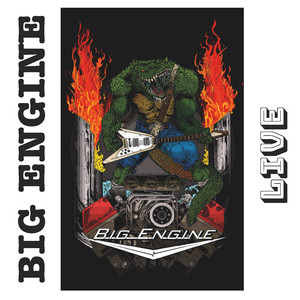 BIG ENGINE – 'LIVE' (SELF RELEASED) SOUTHERN ROCK
Review By: The Rock 'n' Roll Preacher
Prepare to be blown away by the sheer musical brilliance of Jacksonville's own Big Engine and their sensational 2023 'Live' album. It's an absolute mystery how Big Engine isn't already a massive household name, because without a doubt, they stand as one of the most outstanding Southern Rock sensations of the 21st century. After a long-awaited span of nearly fifteen years, this 'live' masterpiece has finally graced our ears, and it's an exhilarating addition to their already impressive discography.
Front and centre, the incomparable Tony Mikus takes the stage as the charismatic frontman, a true virtuoso wielding his guitar and belting out vocals with a melodic rasp that captures the essence of rock 'n' roll. Supported by the dynamic quartet of Hans Oellerich on guitars and backing vocals, Mitchell Prevento on bass guitars and backing vocals, and the rhythmic wizardry of Charlie Ost on drums and backing vocals, Big Engine exudes a musical prowess that is simply unmatched. Their electrifying performances leave audiences in awe wherever they grace the stage, and this new 'live' album is a testament to their unrivalled power and artistry.
For those unfamiliar with the magic of Big Engine, imagine the perfect fusion of vintage Blackfoot and the electrifying energy of AC/DC, and you're getting close to the sonic masterpiece that is their signature sound. Tony Mikus not only possesses a captivating voice but also commands the stage with a natural showmanship that radiates authority and charisma. Every song they craft has an uncanny ability to weave its way into your very soul, and it's genuinely baffling that their star hasn't risen to astronomical heights.
This monumental album showcases twelve tracks carefully curated from their extensive back catalogue, each delivered with an infectious sense of joy and passion. From the opening chords of 'Turn it On' to the soul-stirring finale 'Sister Mary', Big Engine ignites an unrelenting firestorm of rock 'n' roll brilliance. Recorded live at the iconic 'Whitey's' Club in Jacksonville, a venue that has witnessed the legendary presence of Southern Rock royalty including Lynyrd Skynyrd, Molly Hatchet, 38 Special, and the Allman Brothers, this performance is nothing short of magical. Listening to the album, you can't help but wish you were there in person, soaking up the electric atmosphere.
Every single track on this album is an absolute delight, making it nearly impossible to single out any for special praise. Yet, if I must, I'd shine a spotlight on the beautifully melodic 'Just Another Night', the irresistibly fun 'Party Like A Rock Star', the groovy and infectious 'That Girl's A Freak', the explosive opener 'Turn it On', and the anthem-worthy 'Sister Mary'. However, let me be crystal clear: there's not a solitary weak link in this musical treasure trove.
'Live' captures Big Engine in their incendiary prime, delivering an unrivalled performance that showcases their indomitable spirit and undeniable talent. As you dive headfirst into the raw energy and passion emanating from this album, one undeniable truth becomes clear: Southern Rock is alive, well, and roaring with unbridled force in the 2020s, thanks to the monumental presence of Big Engine. It's only a matter of natural justice that these musical titans will ascend to the colossal heights they so richly deserve. In the words of true Southern Rock spirit: Hell yeah!