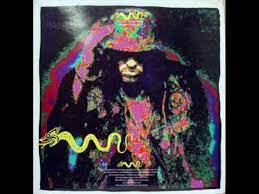 ZODIAC MINDWARP & THE LOVE REACTION – 'HIGH PRIEST OF LOVE' (Phonogram) RAWK 'N' ROLL
Review By: The Rock 'n' Roll Preacher
Zodiac Mindwarp's "High Priest of Love" is a masterpiece of raw and powerful rock and roll. Released in 1986 as the band's second studio outing, after the initial 'Wild Child' single, this follow-up immediately made waves in the music industry upon its release. With the backing of Phonogram Records, Zodiac Mindwarp wasted no time in unleashing his full potential on this fiery and uninhibited EP.
The standout track on the album is (of course) the title track, which was accompanied by an incredible music video directed by Andy Lee. The video features live footage of the band, capturing the raw energy and intensity of his performance. This track was so impressive that it was even included on the soundtrack for the film "Return of the Living Dead Part II" in 1988.
Looking back, Zodiac was (at that time) kind of 'lumped in' to the 'Grebo' movement, alongside Crazyhead, Gaye Bikers On Acid, The Scum Pups, The Bomb Party etc, but I always knew that Zodiac was far more based in the world of Rock rather than the standard Grebo bands – he clearly revered the likes of Motorhead, The Pink Fairies, The Sex Pistols, Alice Cooper, Frank Zappa, Captain Beefheart, and even The Cult. His lyrics were laced with barbed humour: 'Come On Baby, Worship Me, I'm The God Of Fertility', then sneering 'I'm More Sexy Than Jesus Christ, Where Love's Concerned, I'm An Anarchist'! Subtle he wasn't!
I rushed out and bought the EP on its day of release and absolutely adored it. I also remember some critics couldn't appreciate Zodiac's unique style, while smarter writers praised 'High Priest Of Love' as a true gem of rock and roll. With its six-legged riff monster and wickedly funny lyrics, this album is a true classic that has stood the test of time. The band's delinquent genius Zodiac brings a scathing tongue and whisky-razor-throated vocal that is the bastard fusion of John Lydon, Alice Cooper, and Lemmy I have always maintained that Rob Zombie 'borrowed' some of his sound from Zodiac! In places, the similarity is uncanny!
Zodiac's guitarist Cobalt Stargazer, who (it was humorously quipped "famously quit Wham! over their use of minor chords"), brings a level of raw power to the EP that is truly impressive. Bass guitarist Kid Chaos and drummer SlamThunderhide, both earnestly believe they're the new beat messiahs, deliver a pounding/slamming rhythm, that perfectly complements the nascent bands hard as nails sound.
The EP is included a reworking of 'Wild Child' (jokingly called 'The Second Attempt!'), and the raucous 'High Heel Heaven' – another song I always loved, while being rounded out by 'Dangerous', 'Speed King', and 'Kick Start Me For Love' – all of which still sound mighty fine even now!
"High Priest of Love" is a must-have for anyone who loves pure, unadulterated rock and roll. It's a true testament to the power of music and the talent of this incredible band. Zodiac Mindwarp and the band who would shortly be called The Love Reaction were truly ahead of their time, and this EP is a shining example of their brilliance. It's no wonder that 'Sounds' magazine writers included "High Priest of Love" on their list of the most important, influential, and significant albums of 1986.
Zodiac would go on to create other tremendous music – 'Back Seat Education' and 'Prime Mover' were deservedly hits, while his performance at the Reading Festival of '87 was one of the highlights of the weekend. Up until 2010 he would bring us several more EP's and albums, and an indecently uproarious book 'Fucked By Rock' , but somehow, for me, 'High Priest Of Love' remains an unbeatable highlight, that still makes me want to rock to this very day!