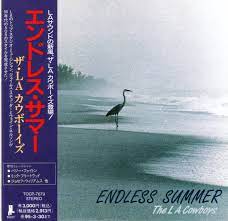 THE L.A. COWBOYS – 'ENDLESS SUMMER' (Toshiba Japan) WEST COAST AOR
Review By: The Rock 'n' Roll Preacher
'Endless Summer' by The LA Cowboys is an absolute gem that deserves more recognition. This under-rated Westcoast/AOR album was originally released in Japan in 1993 with little (make that almost no) promotion, but you can take it from me, it's one of the best albums of the genre. This album is genuinely an absolute must-listen for any fan of Westcoast/AOR music.
James Studer and Wayne Nelson, the masterminds behind The LA Cowboys, did an incredible job with 'Endless Summer'. The album features some of the most talented LA musicians, including Joseph Williams, Jeff Porcaro, John Robinson, Michael Landau, Lenny Castro, and even Mick Fleetwood, among others. It's no wonder that the album is a masterpiece.
'Endless Summer' comprises four Japanese pops covers, four original songs written by Studer with Nelson or other songwriters, and a track written and originally performed by Mari Iijima in 1990, which was produced by Studer. The album is a perfect blend of Westcoast/AOR and even Japanese music, making it a unique and unforgettable listening experience.
One of my very favourite songs of all time comes from this remarkable album, the iridescent 'Aubree's Melody', which hand on heart, I find to be one of the most achingly beautiful ever written, it is simply jaw-dropping, and it can move me to tears each and every time I play it. The album's closing track, 'Something In My Heart' is another beautiful ballad featuring Toto's Joseph Williams as vocalist. The utterly gorgeous 'Eye Of The Storm' is another wonderful song that every AOR/West Coast fan will instantly take to their heart … oh my!
'Endless Summer' is what I would describe as the very epitome of a classic summertime album – you need to be cruising during a balmy sunset in an open-top car, with the stereo serenading you as you drive. It's up there with Kim Mitchell's 'Rockland' as the ultimate twilight album. If you love Chicago, King Of Hearts, Planet 3, Bill Champlin etc, then you can not afford to not have this album in your collection. As I type I am singing along to the pink 'n' fluffy pop-tastic 'Know Me By Heart' – which is nothing short of sublime!
Despite being released only in Japan and having no promotion, 'Endless Summer' quickly gained popularity among Westcoast/AOR fans in Europe and the United States, making it a cult classic. When it was reissued by AOR Heaven in 1998, it sold out within a short time, with only 1000 copies available. My copy is an original Japanese copy in case you're wondering ('Engaging smug mode: Smug mode engaged!')
In conclusion, 'Endless Summer' is a must-have album for any lover of Westcoast/AOR music. It's smooth, beautifully arranged and played, the production is pristine, the vocals are immaculate, and it has a list of musicians to die for. It's a hidden 'Wimphem' gem that deserves more recognition for its high quality, beautiful melodies, and incredible musicianship. So, go and hunt one down … you will thank me once you do!