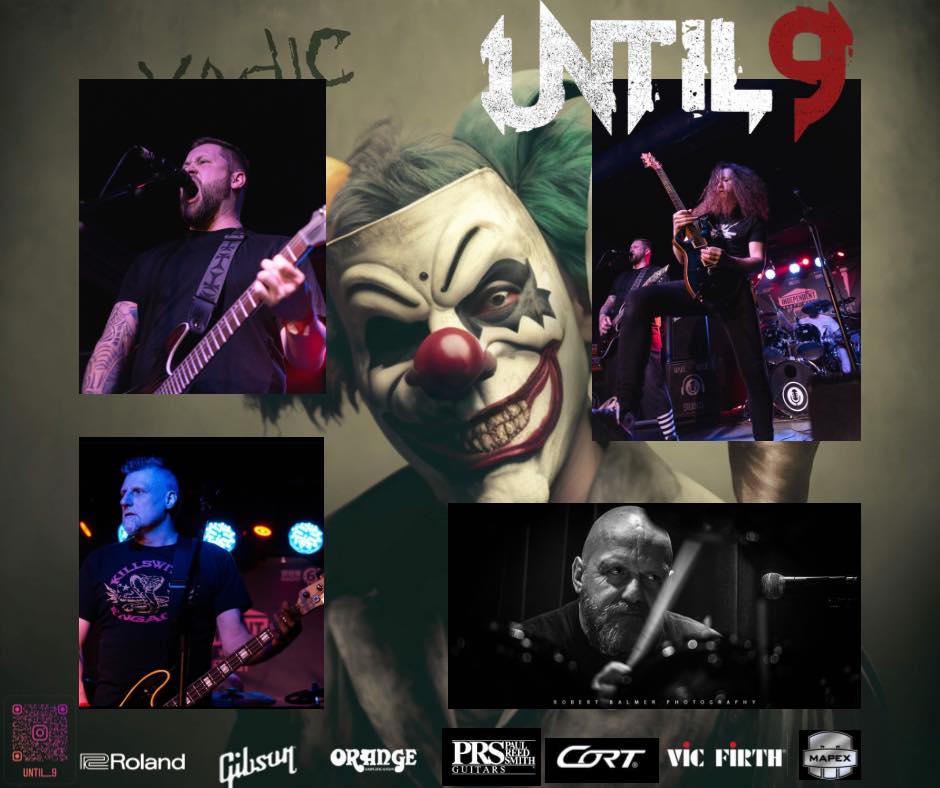 UNTIL 9
(Unsigned)
METAL/ROCK/RAP
Review By: SAMANTHA LOUGHLAN
Band members: Paul Johnson (Vocals/Guitar)
Tom Spendlove (Guitar)
Kevin Smith (Bass)
Mark Greenwood (Drums)
Track list:  Headstone
Heart & Soul
Hi everyone! Hope you have all had an amazing weekend? It's been a chilled one for me with plenty of research, writing and listening to fantastic music from new bands in the alternative music scene. Got to love weekends like this!
So, today I've been listening to a band that kind of breaks the mould when it comes to what is generally expected from an up-and-coming metal band in 2023. Until 9 pretty much provide something for everyone in terms of rock and metal genres. They bring in bits of all their influences and that's what makes them so unique.
Formed in 2020 during the Covid 19 epidemic lockdown, this four-piece metal/rock/rap band from Sheffield are bringing something new and exciting to the music scene. Releasing their debut EP 'Look at me Now' in October 202, these guys really showed their passion and diversity with their unique sound. This dedication to creating new fresh music continued and the Sheffield lads have just recently released their second EP on the 14th of April this year called 'Dyadic'.
I have chosen to review two amazing tracks today, one off their original EP and their new single from there latest compilation of tracks. I would like to personally thank Paul Johnson for liaising with me on this piece and I hope my review inspires these guys to keep on producing fun, heart-felt tunes. Let's see what Until 9 have in store for us…
The first track I am going to review is 'Headstone' off the guys first EP. Until 9 said to bandcamp when this track was released back in February 20922, "Headstone is a song about mortality and morality. How will you be remembered when you're gone, and what will you be remembered for… if at all?" This track starts off by giving Metallica type vibes with some light guitar playing and then builds into a fast-paced track with a wide array of different types of music. Now on first listening to this track it becomes apparent there is no set structure to it. There are pairs of rhyming line at the beginning of the track however, there is no chorus and the tempo and type of vocals changes numerous times throughout. To me this is a total mash up of musical influences, but to my surprise, it totally works! This is where these guys stand out in their field. Unafraid to try out new techniques and bring together all different genres of music. I've noticed maybe about six different changes in vocal style in 'Headstone', and some of the lyrics really are actually quite catchy, for instance 'In assuming that I'll be here tomorrow, chasing this ghost will be the death of me'.
Considering Until 9 are still breaking through the barrier into the metal scene, these guys really know how to put together an epic music video. I love the imagery created by the man with a blacked-out face and a black balloon to give the sense of anonymity. The guys look really professional on stage, like any major band out there today. I was really impressed from the second the video started.
Now this brings me to the Sheffield boys new single, 'Heart & Soul'. From their new EP 'Dyadic', this track is a wonderful combination of fast-paced rap and Gwar roaring metal lyrics. To me it really gives out a bit of a Dimmu Borgir feel and really shows off their musical talent. In contrast with 'Headstone', 'Heart and Soul' has a definitively structured lyric set packed with imagery and solid phrases such as in the chorus. 'Where is your presence? Where is your heart and soul? Did you forget this with it your never alone…'
Paul Johnson has a very distinct voice that is able to fluctuate freely between different genres and vocal ranges. This is essential to pull off the kind of tracks that Until 9 produce and I can honestly say he does a terrific job!
For me the pinnacle of this track, where it hits the maximum 'rockin' out' point is at two minutes and thirty-nine seconds where there is a musical interlude. Comprised of heart-pumping drum backing and thrilling guitar riffs, this section of the track really does get you in the mood to air guitar!
Once again Until 9 have hammered out an amazing music video to go with this track. Now this particular video was filmed in South Kirkby and Blackpool and you can really tell how much the guys are invested in their music and this must have taken a ton of effort to put together. There are aspects of this video that resonate with Korn and there is even a touch of Jonathan Davis' dress sense in the video brought in by guitarist Tom Spendlove donning a kilt! We see a tremendous mix of rap, rock and metal vox combinations and the audience can even see the bands Slipknot influences visually sneaking into the mix with the use of clown masks at intervals throughout.
So, there you have it, my views on the Sheffield lads, let's see what vocalist/guitarist Paul Johnson has to say about the band himself…
What genre of music do you feel you most relate to?
It's a weird one. It's definitely metal but not sure which column it would fall into. We go from the real heavy shit such as 'Choke' and 'Gallows'. Then maybe a bit of pirate metal in 'Pigs'. If you want melody and a bit of a sing song then there's 'Skin' and 'Semper Fi'. We have quite an eclectic range.
Who are you're musical influences?
For me, I was a huge lover of nu metal, such as Killswitch Engage, System of a Down, Slipknot and Sikth.
Then the lads love everything from Pantera to Alterbridge. As a 4 piece I think the influences spread out over a fairly wide spectrum.
How hard is it to approach next level promoters?
It's difficult to know how to. We promote our music as much as we can ourselves. It comes well received and is picking up momentum with a fan base etc. I suppose if your music cuts through you get to the right channels eventually. That being said the competition is fierce as there's a lot of good new talent out there.
What plans have you got for this year?
We've just released our 2nd EP 'Dyadic' and have gigs lined up all year so 2023 going to be a busy one at the U9 camp. Also looking to the future, still writing riffs and coming up with the goods.
Are you playing at any festivals?
We've got a spot on the trailblazer stage at CALL OF THE WILD festival in Lincolnshire. Saturday 27th May 2.15pm, see you at the front.
Which artists past or present would you collaborate with?
For me personally it would be Serj Tankien. Absolute class act. There will never be another Serj.
Who would you compare yourselves to?
Honestly, I'm not sure ha ha, some people say they hear System of a Down meets Slipknot, so I'll go with that.
What has been your favourite performance given so far?
So far, I've got to say Dublin. The sound house was rocking for our first time overseas, almost a sell-out show and the venue isn't small. This was a real success for us. We have three dates in Ireland booked next year on the strength of that gig.
What are you working on music wise right now?
Still promoting 'DYADIC' relentlessly at the minute, but the next step for us is an album to top the last 2 eps. We're constantly writing so things are always happening.
Where do you draw inspiration from for your lyrics?
General mood most of the time ha ha.
It's hard to say.
I suppose I think back to things that have happened, and what would be going through the headspace at that moment. Try to bring the emotion in every song to the forefront, which is mostly fucking angry to be fair ha.
What was the best gig you've ever been to and why?
Ozzfest. Can't remember the year.
American Head Charge, Sikth, Nonpoint. Mind blowing!
What do you love most about being in a band?
Venting! Ha.
The things you experience and the adrenaline you get from playing on stage is better than any drug on the black market. When you see someone singing your lyrics back to you, it's a bit surreal. The people you meet, the places you see. I don't wanna do anything else.
How do you deal with disinterested audiences?
Lots of swearing!
Nar. I mean performers feed off the crowd reaction, you just got to do your thing and try turn a few heads.
What interests and hobbies do you have outside of music?
Go on the occasional motorbike tour. Last one was as far as Serbia and Bosnia. We go long haul!
Have you got any exclusive gossip you can share with voodooradio.online?
Well, we've got something extra special coming out in a couple of months for our fans. Keep an eye out. That's all ha…
Would you consider allowing voodooradio.online to play your tracks and promote any future gigs?
Absolutely!!!