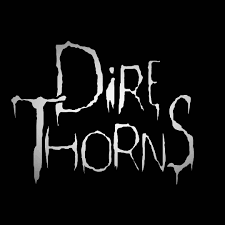 DIRE THORNS
(Unsigned)
NU-DEATH METAL
Review By: SAMANTHA LOUGHLAN
Band members: Jake McCabe (Vocals/Guitar)
Autumn Buckley (Bass)
Joe Sellars (Drums)
Track list:  Nasta Strana
Flesh (Hit the Panic)
Hi guys, I hope that you've all recovered well from your bank-holiday shenanigans. Today I've been reviewing another up-and-coming band, slightly different from my previous reviews as these guys are a lot heavier. Now this one was brought to me by good friend and promoter Gary Mcintosh of Mcintosh Inc Promotions. Now after spending the past year promoting for The Talbot in Blackpool, Gary is branching out further into the music scene and now has become a band manager. I would like to thank Gary for making this piece possible. Professional and prompt throughout the whole process, we here at VoodooRadio.online really do appreciate the time and effort put in to work with us, so thank you Gary. We look forward to seeing what you have in store for us for the rest of 2023.
Dire Thorns are a young masked, bilingual Nu-Death Metal band from Lincolnshire, UK. If you're looking for something immensely heavy and unique then these guys may be for you. Since 2021 the band have been gigging across the UK, and even though they are mostly DIY they have just recently joined Gary Mcintosh' roster and have performed alongside bands such as Luna's Call and Thrashatouille. Dire Thorns new EP State of Sikosis was released on 26th May 2023 and is available to stream on Spotify now.
So I've decided to review the first two single releases from the EP then we have an exclusive interview with vocalist Jake McCabe for you. Let's see what the Lincolnshire lads have in store for us…
The first track I'm going to look at is 'Nasha Strana'. This is the first song that vocalist Jake McCabe and Drummer Joe Sellars wrote together. It was written as somewhat an abbreviation of their political standpoint, primarily their distain towards the English Conservative Party. Now it needs to be noted that these guys are bilingual, so it goes without saying that some of the lyrics to their track are actually in Russian. Due to this there are also references to the Putin regime in Russia. In Jakes words "Ultimately, the message of this song is that your enemy is the one who runs your systems, not any kind of common person, they don't have any power in this, and sharing one thing in common with the people who ARE the problem, doesn't make them that problem." There may be some very strong views in this track but I feel they are given courtesy in the way they are presented.
I really like the intro as it builds up gradually before the vocals kick in. 'Nasha Strana' is a very heavy song, however it does lighten up slightly one minute seventeen seconds in when the lyrics switch to Russian. I feel doing this gives the track a nice twist and really shows who the band are on a personal level, also the is quite unique!
Now the second track I have chosen to review is 'Flesh (Hit the Panic)'. This single was release on April 14th 2023 and it caught my attention as it actually has a stop motion music video to accompany it. Created by vocalist Jake McCabe he says 'I Just kind of worked out how to do stop motion because I felt like it.' Personally, I especially enjoyed the Morph references with the playdoh melting and re-moulding itself. The video is totally different from anything I have recently seen and gives off a Korn nostalgia feel to it. I think it gives the band quite a professional edge as well to put in so much hard work into one track, although this does give us high expectations for future vids.
On first listening to 'Flesh (Hit the Panic)' you can really feel that the guys had loads of fun with this one. It's much lighter than their other tracks that it has quite a jumpy rhythm to it. I love the opening line, 'I see you around Sight was lost and then re-found Neuron activation of the deepest kind I feel it pound So bounce, baby bounce!' The track really turns into, what I would say, is a Korn influenced track one minute and fifty-four seconds in with the Jonathan Davis type singing of the lines 'Living a picture Beating this thicker Flesh growing richer I'll beat it down Take back the crown'. In a sense this can be viewed as kind of a chorus to the track as it is repeated again later on at two minutes twenty-nine seconds.
Jake McCabe describes this track as "a fun song with lots of panic chords and some of the coolest riffs that I've ever written." You know what, alongside the video, I must say I think it's pretty cool. I'm really loving the Korn vibes here!
So, there you have it, the hard-core metal heads Dire Thorns from a Voodoo perspective. Now I'd like to personally thank vocalist Jake McCabe for his interview input and for all his help and support in putting this piece together. You've been amazing, Thankyou!
1. What genre of music do you feel you most relate to?
Metal, probably a no brainier lol, specifically nu metal since I relate more to music that shows vulnerability like other alt genres
2. Who are you're musical influences?
Slipknot and Korn mainly, I barely listen to any other bands honestly, there's bits of Avatar, Suicide Silence and even Weezer but I personally don't spread too far. The other members have far wider tastes, my bassist listening to anything from black metal to progressive jazz and the drummers tastes are mostly prog rock and mainstream metal
3. How hard is it to approach next level promoters?
I've never had much issue contacting promoters, you lot are pretty good, of course there have been some bad interactions with some but I should probably refrain from mentioning them 😂
4. What plans have you got for this year?
We just released our debut EP, so we now have the perfect up to date promo tool to push our brand. I've got loads of gigs booked and I'm redoing my recording setup to utilise my new producing skillset acquired by my college and live mixing work. So our future material is going to sound great.
5. Are you playing at any festivals?
We're playing one on July 8th, Red Crust Festival at Network Sheffield! It's going to be sick with bands like IL, Sidewinder and even Dog Tired are playing!
6. Which artists past or present would you collaborate with?
I don't tend to think too much about collaborations honestly, I feel like anyone can fit into a song if you bed it right, so who I chose would totally depend on either how well I get on with them, or how well I WANT to get on with them.
7. Who would you compare yourselves to?
Well, Dire Thorns can be best described as a classic death metal band with classic death metal production that got a kid who only listens to mainstream metal bands to write their material. I used to abbreviate us as "wannabe Slipknot" or "less successful Tortured Demon" due to our similar ages, but those descriptions probably aren't too optimistic for press.
8. What has been your favourite performance given so far?
Favourite performances are hard to pin down, but it all comes down to crowd reaction mostly. Some notable examples are when we played Wrexham and had everyone in Making Blind Eyes See tearing it up for us, as well as our Alma Inn in Bolton show when Phallic Rage were on before us and brought a guy dressed as a cow to hype the crowd. Loved that so much!
9. What are you working on music wise right now?
Musically, I'm continuing to work on Dire Thorns. As I forementioned, I have been using my developed production knowledge and practicing recording techniques with a rethought setup. Simultaneously, I've been studying music that impacts me and have been working out something of a formula for what makes something feel heavy, or feel like certain emotions, like how Korns "the paradigm shift" album to me sounds like how infatuation feels. It might just be me being all autistic, but either way it certainly makes writing new music interesting.
10. Where do you draw inspiration from for your lyrics?
All Dire Thorns lyrics are about very personal situations, I wouldn't even call them metaphors because I'm incredibly blunt most of the time. I used to drown my lyrics in metaphors but I'm at the point where I can just rant onto a page and somehow shit gold sometimes. Of course, I use lyricism as a huge opportunity to force in my linguistic fascinations, as you can see from my Russian segments.
11. What was the best gig you've ever been to and why?
I haven't been to many shows where I didn't play, but I got to see Slipknot and Behemoth just before lock-down with my old band line-up and that was fucking marvellous.
12. What do you love most about being in a band?
Possibly my favourite part about a band is how many skills can be put towards it. It's the perfect life for someone like me who's always looking for new hobbies and methods to escape payment. It has made me not only a musician, but a producer, an engineer, a graphic designer, a video editor, a web designer and much more. It's so multi-faceted in such a wonderful way and I love it.
13. How do you deal with disinterested audiences?
Honestly, I just end up having fun with the set and trying new shit if the crowd doesn't give a toss. If they're not going to have fun then I may as well have some! Doing this has sometimes turned a crowd around, which makes sense since otherwise I'd just be hitting my head against a brick wall continuing to do the same try hard bollocks that doesn't appear to be working. But yeah, I turn to comedy when I'm nervous so it's a good reflex.
14. What interests and hobbies do you have outside of music?
I mentioned a few in a previous question on skills I acquired as a band guy, so I have quite a lot, but my main is definitely linguistics. I can finally say that I'm fluent in Russian, and I'm beginning my Arabic journey with a spring in my step. Life is good.
15. Have you got any exclusive gossip you can share with voodooradio.online?
I guess so. Our bassist has shaved their head lol, it's not exactly news but it's about the only thing I haven't already leaked.
16. Would you consider allowing voodooradio.online to play your tracks and promote any future gigs?
DEFINITELY! I wouldn't just go and turn down free promotion like some dustbin lunatic! Count us in!