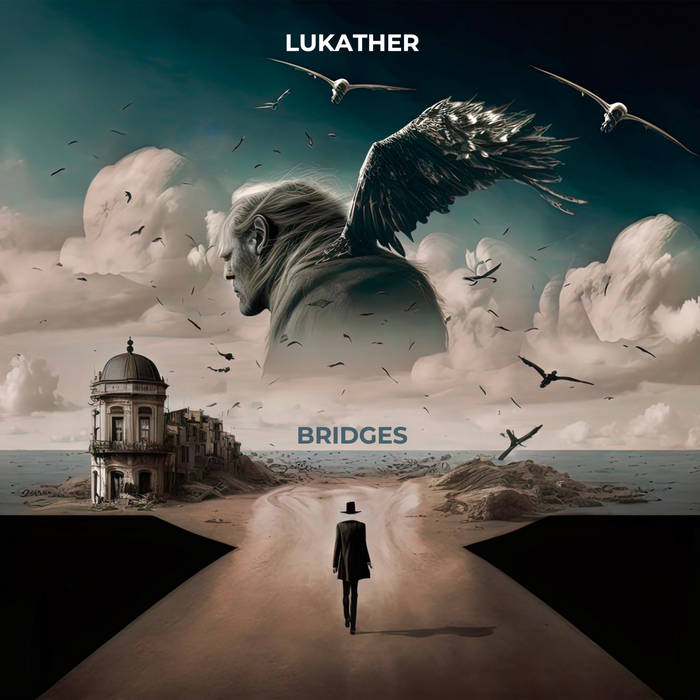 STEVE LUKATHER – 'BRIDGES' (Players Club/Mascot) MELODIC ROCK
Review By: The Rock 'n' Roll Preacher
Prepare to be swept away on a musical journey of unparalleled greatness with the release of Steve Lukather's extraordinary album, 'Bridges'. As an ardent admirer of Lukather and his incredible contributions to the melodic rock band Toto, I approached this new solo endeavour with eager anticipation. Let me assure you, dear reader, that 'Bridges'not only lives up to the highest expectations but surpasses them, establishing itself as a true masterpiece in Lukather's illustrious career.
From the opening notes, it becomes abundantly clear that 'Bridges' is far more than a mere Lukather solo effort. It effortlessly channels the iconic sound of Toto, seamlessly bridging the realms of Lukather's solo work and the band's distinguished discography. Lukather himself aptly describes the album as "a bridge between my solo music and Toto music" and this statement resonates powerfully throughout the record.
The collaboration on 'Bridges' is nothing short of remarkable, featuring an impressive line-up of musical virtuosos. From the incredible backing vocals and production of Joseph Williams, to the masterful drumming of Simon Phillips and the exceptional contributions from Shannon Forest, Lee Sklar, Jorgen Carlsson, Steve Maggiora, Stan Lynch, Randy Goodrum, David Paich, and the undeniable talent of Lukather's own son, Trev Lukather, this album is a tour de force that is destined to astonish and captivate.
Under the masterful production of Joseph Williams, 'Bridges' emerges as a meticulously crafted work of art. Each track exudes a level of musicianship that transcends expectations. Lukather pours his heart and soul into every song, his velvety voice carrying a richness and nuance that tugs at the deepest emotions. Flawless harmonies and melodies abound, drawing the listener into a world where perfection is the standard.
Of course, no discussion of 'Bridges' would be complete without acknowledging Lukather's unparalleled prowess on the guitar. In this album, he reaches new heights, delivering performances that are nothing short of awe-inspiring. Whether he's conjuring up mesmerizing solos or laying down punchy riffs, Lukather's playing is marked by impeccable precision and unwavering brilliance. Indeed, his guitar work alone is worth the price of admission, a testament to his enduring virtuosity.
The journey through 'Bridges' begins with the thunderous proclamation of 'Far From Over' a track co-written by Lukather and his son Trev. This resounding rock anthem sets the stage for the magnificence that unfolds throughout the album. 'Not My Kind Of People' follows, permeating the air with a funky vibe and boasting remarkable contributions from the rhythm section. Lukather's impassioned vocals soar through the monumental chorus, punctuated by a glorious solo that leaves an indelible mark. It is, quite simply, perfection personified.
'Someone' emerges as a transcendent masterpiece, a dreamy composition that could seamlessly grace any vintage Toto album. Lukather's exceptional song-writing prowess is on full display here, capturing a timeless quality that resonates deeply. Another standout track is 'All Forevers Must End' co-penned by Lukather and Randy Goodrum, which exemplifies the album's allure. Its moody and lush arrangement evokes the elegant moodiness that Toto has always executed with grace, solidifying the notion that 'Bridges' is indeed a true Toto album in all but name. The sheer beauty of this piece is simply breath-taking.
'When I See You Again' erupts as an up-tempo rocker adorned with glorious arrangements, seamlessly fitting among the gems of Toto's storied catalogue. Its chorus is a pure auditory bliss, instantly becoming one of my personal favourites of 2023. On the other hand, the bluesy and smoky atmosphere of 'Take My Love' transports listeners to a dimly lit club, its languid groove infused with a touch of funk. Lukather's flawless vocals and deft fretwork make this track the embodiment of the 'wow factor,' leaving a lasting desire to experience it again and again.
'Burning Bridges' ignites with irresistible funk, driven by a tasteful Fender Rhodes keyboard riff. The song grooves effortlessly, enhanced by magnificent vocal harmonies and Lukather's sleek playing. The solo on this track is nothing short of brilliant, showcasing the abundance of love poured into every note. Finally, the album reaches its powerful conclusion with 'I'll Never Know', a resplendent ballad that would stand tall among Toto's peerless back catalogue. Lukather's exquisite guitar work shines during the delicate and restrained verses, while the vocals, arrangements, and shimmering quality of the song blend together in perfect harmony. It is a truly remarkable and effortless way to draw this tremendous album to a close.
To describe 'Bridges' as a timeless masterpiece would be an understatement. This album represents the very essence of musical brilliance, a testament to the exceptional talents of Steve Lukather and his collaborators. For all enthusiasts of melodic rock, it is an absolute necessity, a shimmering gem that demands a place in any discerning collection. Once again, Lukather delivers the goods in a style that is nothing short of tremendous. 'Bridges' epitomizes what makes music truly wonderful—an assembly of musicians whose talent is unmatched and infused with a soul and passion sorely lacking in today's manufactured music landscape. I implore you, dear reader, to make 'Bridges' an essential addition to your music library. It will undoubtedly stand among the most cherished albums of the year for myself, and serves as an unequivocal testament to the genius of Steve Lukather.