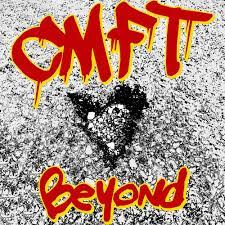 COREY TAYLOR – SINGLE – BEYOND
(BMG Rights Management)
METAL
Review By: SAMANTHA LOUGHLAN
Track list:    Beyond
Hello Voodoo People! I hope you've all been enjoying the sunshine this week. As I really don't do this kind of weather, I've decided to stay indoors and review a truly immense single by artist Corey Taylor. My usual technique when reviewing a track is to listen to it constantly on repeat whilst I'm writing until I can physically feel every feeling behind the words in the lyrics. I must admit that sometimes this can be hard going, but this song is a heart-felt masterpiece!
Now most of you will know Corey Taylor as the front man for Nu Metal band Slipknot, but this is not how he first hit the music scene. Born on the 8th December 1973 in Des Moines, Iowa, United States, Corey Taylor formed the rock band Stone Sour as lead vocalist and lyricist in 1992. The band disbanded in 1997 and reformed in 2000. In 1997 Corey Taylor joined Slipknot to replace their original lead singer Anders Colsefni and has released seven studio albums with them. In 2020 he released his debut solo album 'CMFT' and the track I am reviewing today is off his up-coming second album 'CMF2'. Now you might be wondering what CMFT stands for? Well, it stands for 'Corey mother f—in Taylor'. Just like the man himself, Corey's album titles are pretty much out there when it comes to individuality. Though music is not the only side to Corey Taylor. He is a great fan of musicals, his favourite being Les Miserables, and he has also written several books including Seven Deadly Sins (2011) and A Funny Thing Happened on the way to Heaven (2014).
Released on 17th May 2023 the new single 'Beyond' is a fantastic amalgamation of all things Corey! I definitely fell in love with the track from the first time I heard it.
The cover for the single is very fun-loving and eye-catching with bright red text on a black and white background with a heart in the centre. This effect really makes the artist and track name stand out.
Now the music video for 'Beyond' really shows Corey Taylor in a new light. With a fresh and surprising new haircut, (but still looking cute!), knocking years off his age and the energy he gives off being so enticing, he really gets the audience bopping along to this one. The majority of the video is set on an open stage in the middle of a desert setting with fairground like characters surrounding him. Two things really got my attention when watching this video. The first is right at the beginning when Corey Taylor begins singing, the passion he puts into his music is displayed by the way he holds the mic, in a way as if he's caressing the girl he's singing about. The second is two minutes in where a group of people wearing all the various masks that Corey Taylor wore in his Slipknot days walk under the bypass. This really brings a nostalgic tone to the track and demonstrates all the different sides on the man himself. I think it's really great that he ties his past in with his present. It shows that he is proud of everything he has achieved as a musician.
So, let's get into the actual track itself. 'Beyond' is all in all an aggressive love song packed with raw emotion and lyrical talent. It's a true display of when you find love in your life and the passion and fire of emotions it brings with it. I'm sure some of you can relate to the feelings he's portraying in this one.
"It's only my heart that you're taking
But you're so alive, it's amazing
Before we begin, I wanna make it go on and on and on
It's only my hate that you're killing
'Cause you're so alive, it's thrilling
I wanna succumb, take me beyond!"
The key part of this song is the chorus which is repeated a total of 4 times throughout the track and also is used as an opener. This technique gets the audience involved mentally even before the body of the track is unveiled – Corey Taylor instantly has you hooked.
There is an immense and fantastical combination of sounds in 'Beyond' and two minutes thirty-eight seconds in you get a Slipknot vibe from the way Corey Taylor roars through the lyrics 'I'll show you what I see!' I must say that every lyric in this track packs a punch, especially the line 'I will tear myself apart for you' in the pre-chorus.
I particularly love the guitar playing in this track, the skill and enthusiasm that Corey Taylor puts into it is totally heart wrenching. Here I have to point out the amazing solo performed three minutes and seventeen seconds in. This really shows off his talent as a musician and you can really feel what Corey Taylor was feeling when he wrote this piece. You may notice a familiar face in the backing band as well. Christian Martucci, guitarist from Stone Sour, adds to the full and rich riffs that give this track its volume.
So, there you have it, Corey Taylors brand new single 'Beyond' from his up-coming album 'CMF2' which is due for release on 15th September 2023. Unfortunately, so far, he has no plans to tour in the UK this year however, I honestly cannot wait to review the album when it hits release date. If this track is anything to go by, he's certainly onto a winner with me!