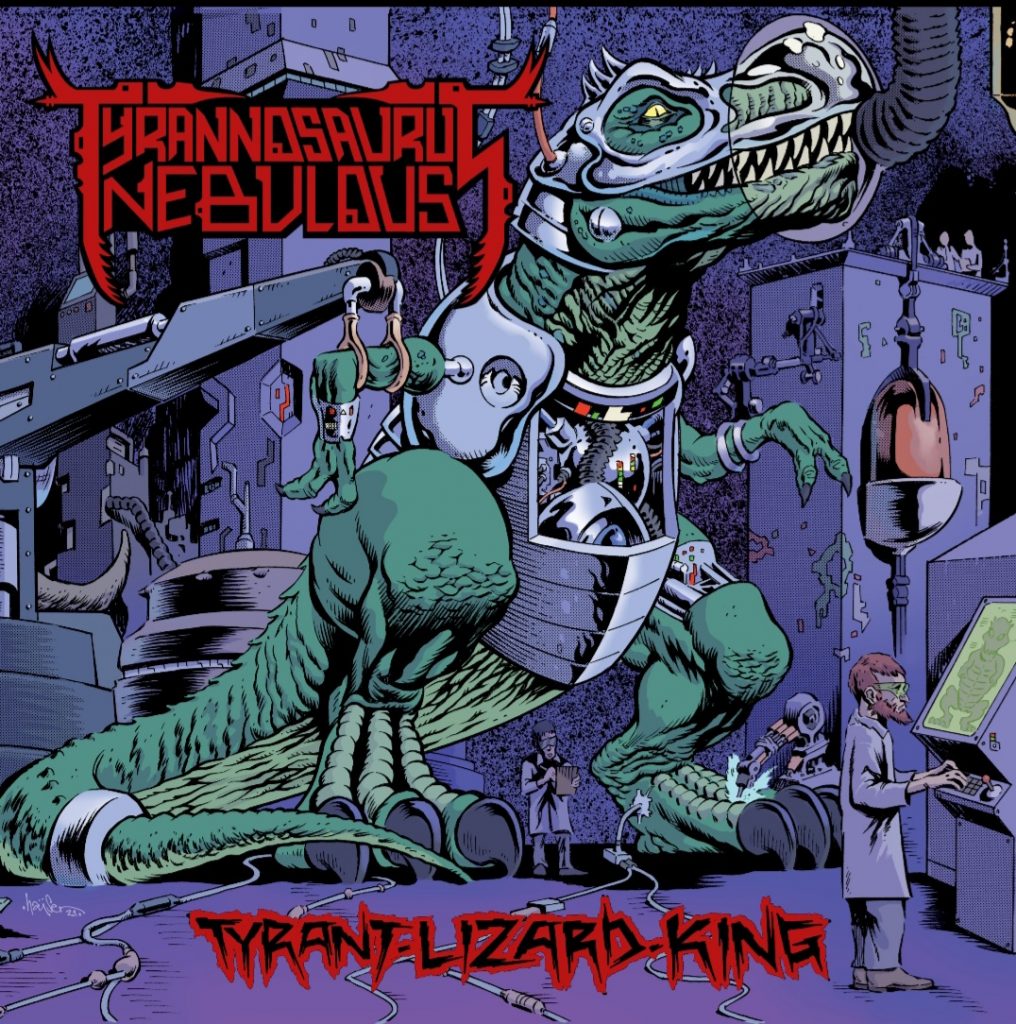 Reviewed by Darren Joyce
Tyrannosaurus Nebulous from Stourbridge, England are a four piece hard rock band who cite Influences as Metallica, Ugly Kid Joe, Jimmy Hendrix, ZZ Top, Stevie Ray Vaughn, Jeff Healy, Steve Vai, Joe Satriani, Black Sabbath, Led Zeppelin, Slash, Brian May, AC/DC, Black Crowes, The Beatles, the Eagles, Eric Clapton, Thin Lizzy, Blackstone Cherry, Gary Moore, Mark Knopfler, Stone Sour, John Mayer, Kings X, Whitesnake, Jeff Beck, Rush, Budgie, Man, Racing Cars, Lone Star (Welsh Band not the Country one), Titch Gwilym, Dance Gavin Dance, Misery Signals, Protest the Hero, Dignity Dies First, Megadeth, Fleetwood Mac, Stevie Nicks.
The Band consists of:-
Matt Darby (lead vocals, Guitar) Stourbridge, West Midlands
Paul Darby (Guitar) Stourbridge, West Midlands
Lee Jenkins (Bass) Caerphilly, South Wales
James Miles (Drums, lead & backing vocals) Dudley, West Midlands
The Album is released on 25th March.
So on to the review:-
'Get Some' Kicks In with a swaggering riff, puncuated with a great vocal delivered by Matt Darby,the guys make their Intentions know from the start, the track features some blistering guitar work.
'Underdog' Another Infectious riff opens Underdog bridging the gap between old school metal and a newer sound, Matt Darby again delivers a top notch vocal.
'Lead Foot' 80's AC/DC type riff,breaks into a galloping beat, here were treated to drummer James Miles vocal for the first time, this gives the band it's second spike in a two prong attack. Killer from start to finish.
'Hate You' Bluesy opening shows just how good these guys are,Matt puts me In mind of the brilliant Brian Howe during his Bad Company days.
The track builds in speed and were treated to a face melting solo, top drawer.
'Deal With My Evil' This was my Introduction to the band,a shimmering guitar Intro falls away to a brutal but beautiful hook laden groove, catchy verse and a barbed chrous holds you In,great guitar harmonies. A real jewel In a already packed crown.
'Raw Deal' A dirty riff leads Into a modern sound,showing a band who run around giving the listener the full experience, mid paced with again a catchy strong chorus.
'Auto Pilot' Choppy opening riff from a dual guitar attack puncuated by the drums, great bass sound with a funk groove,definately a slightly different feel to this track,which again never feels like the band are resting on their laurels.
'Magnetar' The noticable thing about Tyrannosaurus Nebelous Is you think…'That Sounds a bit like….' but thats as far as I get anyway because they have their own thing going on. Magnetar is the latest single,a real explosion of a track with James Miles again proving what a secret weapon the band has with his vocal to rival the finest In high pitch histrionics. The track ends in its album form, with a lead into the 3 track trilogy the album takes its name from……Tyrant Lizard King.
TLK 1: Extinction. I for one am a fan of a concept and that is what is about to unfold before our ears, TLK 1 begins with a masterplan to save mankind from destruction. A pounding riff-soaked start develops into the most delightful axe attack as both Matt Darby and James Miles share vocals,amazing how effortlessly the band can shift gear.
The story has just begun……
TLK 2: Retaliation. The story unfoldind, I'm not here to spoil the plot, the track pounds a beat at a fast pace in a chugging gain with a killer verse and chorus, the guitar solo rips your proverbial face off.
TLK 3: Redemption.Slow ginding riff,running Into another fast groove, reminds me a little of British Steel era Priest. The Concept is now drawing to its end, and the beast can rest?
Never Can Be (Bonus Track) The song was written with original vocalist Justin. A very melodic opening is engaging and a modern sound breaks free with another vocal delivery from Matt that washes over the listener,the song builds and calmingly closes precedings.
My final thought….. Tyrannosaurus Nebulous 'The Lizard King'
The band pay homage to the past, without being harnessed to it.
You can check out Tyrannosaurus Nebulous on their website here: