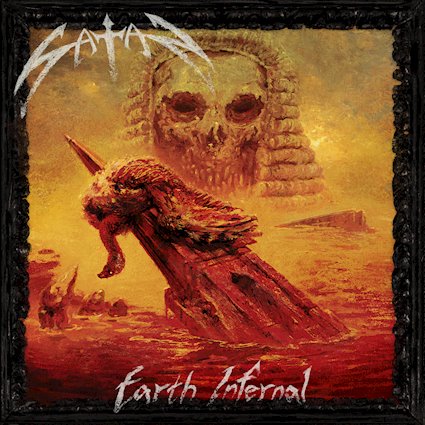 Reviewed by Dennis Jarman
As I've said countless times before, the NWOBHM (New Wave Of British Heavy Metal) genre that sprang up in the late 1970's spawned many bands, one of which is still a firm favourite of mine. The band is Newcastle Upon Tyne based Satan formed in 1979 who have just released their sixth studio album Earth Infernal via Metal Blade Records. Ten tracks of mindblowing heavy metal follow the high standards that the Cruel Magic album dished up in 2018.
Opening track 'Ascendancy' has an opening riff that shouts out "We're back" and Satan really are in fine form as a lengthy speed metal intro makes us wait for the operatic vocals of Brian Ross who still hits those ascending high notes after all these years! Twin lead solos midway duel like Musketeers until it ends on mighty "Whoa-oh-oh's" and glass shattering shrieks.
Headbanging tempos from the off take no prisoners as 'Burning Portrait' ignites with some ridiculously potent guitar work. Brian whoops and hollers around the laid back choruses, undulating rhythms and the solos midway are like Ritchie Blackmore at his best.
Buzzsaw like riffing for 'Twelve Infernal Lords' are pinned down by wrist snapping snares that make for no frills heavy metal to lose your mind to.
'Mercury's Shadow' is a three minute mental instrumental that opens and closes on quaint acoustic guitars as chaos reigns supreme within from hefty riffing and a watertight rhythm section.
Tom toms and hypnotic guitar lines to 'A Sorrow Unspent' see it elevate to the heavens on some jaw dropping thrash metal as Brian delivers his lyrics at auctioneer speed.
Satan like to set the scene with long intros, point proven by another classic example for 'Luciferic' as Brian croons his best vocal over hard hitting hard rock and frantic twin lead fury.
'From Second Sight' is a heads down race to the finish line turbocharger that gains added ire from a piss and vinegar fuelled vocal.
Those snares dominate once more as 'Poison Elegy' is a foot to the floor slammer guaranteed to open up a pit anytime, anywhere.
The spirit of NWOBHM rises up once more for 'The Blood Ran Deep' as they plug in and unleash a masterclass of metal infused with touches of melody for brief respites from the fury.
One word to describe the final track 'Earth We Bequeath'? Majestic! They pull out all the stops to end this highly impressive album as it knocks you for six with a ballistic intro towards a steady march and vocals match the tempos until it shifts into a snare driven stomped finish that brings to mind the old saying "The silence is deafening!".
Earth Infernal album track listing :-
Ascendancy.
Burning Portrait.
Twelve Infernal Lords.
Mercury's Shadow'
A Sorrow Unspent.
Luciferic.
From Second Sight.
Poison Elegy.
The Blood Ran Deep.
Earth We Bequeath.
Satan band line up :-
Brian Ross – Lead Vocals.
Russ Tippins – Guitar.
Steve Ramsey – Guitar.
Graeme English – Bass Guitar.
Sean Taylor – Drums.