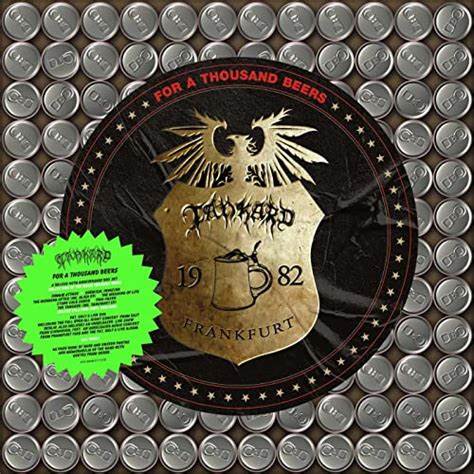 Dennis Jarman reviews.
Rewind to 1988 to my tape trading days as a fellow trader from Germany sent
me The Morning After album by a band called Tankard. It was all thrilling thrash
metal, but they had a punk edge to, point proven by the stone-cold classic song
'Try Again'. Fast forward to 2022 as they celebrate their forty-year anniversary
with a career defining box set 'For A Thousand Beers', due for release on Feb
25th. It contains their first seven studio albums on CD that were released on
Noise Records, EP's, and a DVD with all the live concert bonus material – all
packaged in a clamshell box set.

Tankard was formed in Frankfurt in 1982, with a clarion call of 'From Frankfurt to
Frisco, we destroy every disco!', and are still regarded as one of the "Big Four" of
teutonic thrash metal so here's my review containing my four favourite songs
from each album.
'Chemical Invasion':-
'Total Addiction' is all intense buzzsaw riffing, ridiculously fast drum patterns that are topped off by lyrics spat out at auctioneer speed.
'Tantrum' is all kick drum overload like having your head trampled by stampeding bulls! Razor sharp riffs are locked and loaded to needle in the red levels with a quip of "Tantrum, who stole my beer? Tantrum, now you must die!"
'Don't Panic' has a NWOBHM like intro riff that heads off into vicious but also infectious grooves that include a moshing midsection as kick drums reach new levels of destruction.
'For A Thousand Beers' is a seven-minute mental instrumental. A sedate opening two minutes of gently picked chords are swept aside by air guitar inducing solos that fly off the fretboard.
'Zombie Attack' :-
The title track is a punishing listen through headphones due to the in your face (and ears) production of proto thrash fury and unintelligible lyrics.
'Acid Death' is a major rager that hits hard and heavy to match the demise from the songs subject matter.
'Alcohol' is a blink and you'll miss it two minutes fast and furious tarmac burning tumult delivered by a punk rock punch.
'Empty Tankard' unbelievably sees them play even faster with a statement of "We want to drink some fucking beer, we want to drink some whiskey!"
'The Morning After' :-
'Shit Faced' is a beer drinking anthem. This frenetic thrasher accelerates on wrist snapping snare drums and party starting lyrics of "Nice hotel, place to stay. We sought a place to get some rest. The owner said to please keep it down. We're good boys so we lied. Raise some hell. We moved into another room. Five minutes passed and it was thrashed. Last warning, they kicked us out".
'F.U.N' is about violence at their gigs. "Fighting, beating, there must be another way. All we ask is to have a good time". As the song progresses the anger levels rise to fuel the fire for an apocalyptic rant.
'Try Again' is my standout track and the main riff still does my head in after all these years. It's a pogo inducing punk rock middle finger raised rabble rouser and if the chorus doesn't make you holler along then you're doing it all wrong!
The title track is full of regret from drinking the night before. Warp speed thrash tempos are the perfect hangover cure with lyrics of "Lying in my bed with a swollen head. What did I do? I always regret the morning after".
'The Meaning Of Life' :-
'Open All Night' has a Sabbath like dirge intro that segues into a neck breaking headbanger that would destroy any pit. The lyrics convey the frustration of drinking laws.
'Dancing On Our Grave' sees their serious side tackle the subject of man's destruction of our planet backed by thought provoking lyrics and pounding thrash.
'Mechanical Man' is a soul-searching song of being true to yourself and not conforming into someone you don't want to be. Musically we get a drum driven banger of face melting thrash.
A live version of 'The Morning After' has a crowd fuelled opening until Tankard hit the stage running, firing on all cylinders, insane drum patterns and whammy bar frenzy that are breath-taking.
'Stone Cold Sober' :-
'Jurisdiction' has a doom laden intro that heads off into the stratosphere on a rocket ride of rage musically and lyrically to challenge government corruption.
'Mindwild' has chilling lyrics that are as uneasy as the unsettling rhythms. One of the most disturbing songs I've heard for a while.
'Ugly Beauty' has riffs that swirl around like being caught in the eye of a hurricane and the lyrics portray that money and fame are not always a good thing.
'Shit Faced' is a testosterone fuelled live version that kicks the shit of the studio version as Tankard go for the throat for 4 frantic minutes of fury.
'Two Faced' :-
'Death Penalty' is speed metal like surfing the biggest wave, hitting the foam and doing it all again as the opening riff and spoken word intro sees it fly out of the traps on a get the fuck out of my way temper!
'Nation Over Nation' is very apt considering current events with a couplet of 'Nation over nation, myth of supremacy. People over people, chauvinist bigotry'. It explodes like a handful of Mentos sweets shaken in a Coca Cola bottle onto a surge of seismic rhythms and solid gold guitar solos.
'Days Of The Gun' is a laid back number as a pleading vocal is delivered with total conviction as it portrays the urban unrest in their hometown of Frankfurt. "Call for your wife, call for your mother. Call for the police, call for the lawyer".
'Johnny B Bad' seems like the opposite of 'Johnny B. Goode' by name as the lyrics are spewed out over a thrash bash.
The Tankard :-
'Grave New World' sees them eschew their party side as thought provoking lyrics of the state of society are backed by an unrelenting musical surge.
'Fuck Christmas' is a short, bittersweet backlash at the commerciality of Yuletide.
'Positive' has scything riffs that hack and slash throughout this mid-paced thrasher and a surprisingly catchy chorus that vies for attention.
'Hope?' has a grinding main riff that provides the template for heavy lyrics that seem to highlight a battle with depression. Thrashtastic Stuff from a heavy as fuck box!

Tankard band line up :-
Andreas "Gerre" Geremia – Lead Vocals.
Frank Thorwarth – Bass Guitar.
Olaf Zissel – Drums.
Andreas Gutjahr -Guitar.
DENNIS JARMAN