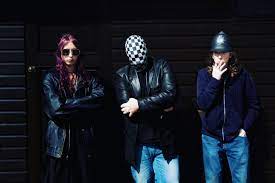 Tiny Forehead
(Unsigned)
INDIE/ROCK
Review By: SAMANTHA LOUGHLAN
Band members: Simon Barnabas (Vocals)
Rob Padlock (Lead Guitar)
George Whitelaw (Rhythm Guitar)
Dr Krollspell (Bass)
Steve Thompson (Drums)
Track list:  Castle Corset (Redux)
Saffron
Good day to all you Voodoo fiends out there. I hope you are all well. Today I have a little review and exclusive interview of what I believe to be a bit of a hidden gem in the alternative music scene. From Boston, UK, Tiny Forehead are a five-piece indie/rock bank with flare! With members ages ranging from seventeen to sixty-two, this band really do have something for everyone. Currently in process of looking to recruit a female co singer, (the band are happy to take calls of interest
) and in the meantime their mate Shan Henry is helping out on backing vocals – she is also the lead singer for the awesome Sleaford band, Chekov's Gun.
So far Tiny Forehead have had a number of positive reviews with people saying that they have echoes of Joy Division, The Fall, and The Ohsees fronted by Billy Bragg. A fanzine writer has even referred to them as "weirdo gloomgarage" which amused the band and they even agreed this isn't far from the truth!
As a whole the band have a love of indie, 60's American punk and 70's UK punk and are probably best described as a post punk band themselves. In the words of Tiny Forehead "We're goth adjacent (massive Sisters, Cramps, Very Things and Bauhaus fans) and haven't finished evolving yet, we are just enjoying more and more gigs".
On the topic of gigs, Tiny Forehead are lucky enough to have a residency at a Boston pub called The Eagle where they play most months with other awesome Lincolnshire indie bands. They are really into their local music scene and are committed to building up their fanbase. A really interesting fact about these guys is that they all love cats and even practice and record their music in a cat rescue centre! Love this as I am also crazy about the four-legged felines!
These guys literally draw inspiration from multiple musical eras and I am quite excited to see what the band have in store for us. So, let's get stuck in…
At first, I was a bit apprehensive as Tiny Forehead do not fall into the usual musical genre that I go crazy for. After listening through the tracks a few times, I was starting to realise that the alternative genre covers such a wide spectrum of tastes that it's sometimes difficult to pin-point which you gel with.
The first track I listened to was 'Castle Corset'. The intro of this track is quite melancholy however, when the lyrics kick in the beat takes a dramatic turn and becomes refreshingly quite catchy. I was pleasantly surprised at how well the varying tempos and constantly altering melodies fitted together. This style of music is very hard to perfect and can put audiences off if it's not done right. Tiny Forehead demonstrate that they really feel their music and can manipulate sounds to create tracks that not only illustrate their talent but inspire creativity to their listeners. I particularly enjoy the chorus as it breaks away from the complexity of the verse lyrics and I can really see the audience getting involved here at a live gig! Catchy choruses are definitely a must! Another technique used to get the audience going is from three minutes twenty seconds where in, as 'Castle Corset' is drawing to its close, the lyrics are repeated in a consistent rhythm till the end of the track. After being faced with immensely rocking and flavoursome guitar riffs the audience can once again sing along and feel like they are part of the show. I personally would love to be a part of and experience this atmosphere at a live performance!
In what I believe to be a complete contrast to the opening of 'Castle Corset', 'Saffron' gives off more positive vibes from the outset. At only two minutes and fifty seconds in length the band keep up their individual flourish by successfully packing in a fantastical mix of vibrant melodies with fun and playful lyrics. The band have a consistent way of putting their tracks together and that's what makes them stand out.
So, there you have it guys, Tiny Forehead! If you fancy seeing the band live their next gigs are at The Pincushion on Saturday 21st October (this is a battle of the bands event), then the Akedo Bar Lincoln in Wednesday 25 October and then their Halloween party gig on Friday 27th October at The Doghouse, Norwich.
Now let's see what the band themselves had to say to us here at VoodooRadio.Online…
1. What genre of music do you feel you most relate to?
We all have eclectic taste. Our DNA is postpunk/garage, although we're evolving.
2. Who are you're musical influences?
All of us are different but it involves first wave goth, 60's punk, 70's UK punk, post punk bands and probably northern soul/harder end of Motown, like fast Four Tops. A bit of surf. Straightforward stuff with genius!
3. How hard is it to approach next level promoters?
We don't tend to bother with promotors. 
4. What plans have you got for this year?
EP by end of October and album by January 2024. Lots of autumn gigs hopefully and road testing our new sound with a female co singer.
5. Are you playing at any festivals?
We've played one local festival twice. Up for some new opportunities next year.
6. Which artists past or present would you collaborate with?
We'd love to collaborate with inventive artists like The Fall (if they were still with us) and even inventive pop artists like Taylor Swift lol. To be honest we're just finding our voice. Our new compositions are exiting: we're happy erm… playing with ourselves.
7. Who would you compare yourselves to?
One of those bands that evolved out of punk and kept morphing into new awesome music. Banshees and Husker Du come to mind.
8. What has been your favourite performance given so far?
We loved playing the Hull Adelphi club. Awesome promoter, awesome crowd.
9. What are you working on music wise right now?
An album. We have a fairly new lineup- we had to learn the old set but the new set- basically our album- is freaking fantastic!
10. Where do you draw inspiration from for your lyrics?
All the things in society that need naming, but we try and offer solutions within that- not just moaning. Mixture of The Sleaford Mods and the Citizens Advice Bureau lol.
11. What was the best gig you've ever been to and why?
Again, we all have different views. Locally we love bands like Chekov's Gun, Soaper and Bat Flattery. Most the stuff at the Lincoln Akedo Bar.
12. What do you love most about being in a band?
Playing live. That feeling when the crowd loves you is amazing.
13. How do you deal with disinterested audiences?
Never met one. Had a few low numbers and all that but at least they cheered. I think that kind of thing happens possibly from being mis promoted at later stages, like Dolly Parton being supported by Nine Inch Nails or something. Sometimes we get really annoyed that other people in the pub won't come into the venue room. It's often separate crowds.
14. What interests and hobbies do you have outside of music?
Kebabs!
15. Have you got any exclusive gossip you can share with voodooradio.online?
Yes. We've been doing some research on erogenous zones and we discovered we're one. I thank you.
16. Would you consider allowing voodooradio.online to play your tracks and promote any future gigs?
Yes, and yes, if the promotion was band centric and playing live paid.