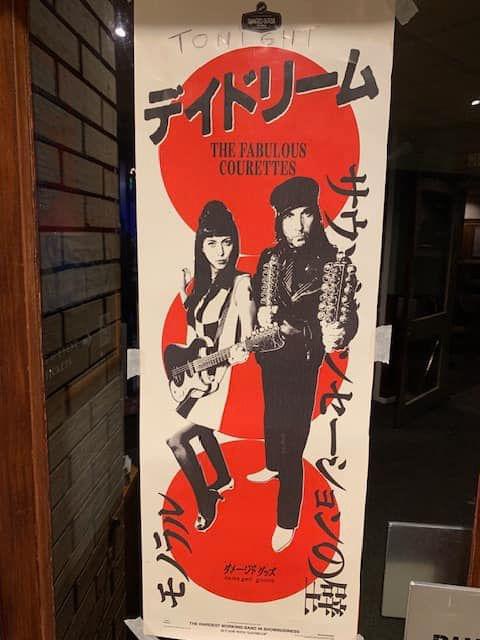 THE FABULOUS COURETTES
LIVE AT BRUDENELL, LEEDS 06-09-23
REVIEW BY: TANIA KNELL
Went to see this couple for the first time .
Band members: Flavia Couri (guitar and vocals) and Martin Couri (drums and vocals)
Had read reviews and info about how they were an extremely hard working band , "17 back to back gigs in 2021"
Tour of Japan etc etc .
Decided to find out a more personal insight of them .
As Flavia is lovely and extrememely personable she answered with this :-
"We met in Brazil in 2013. Martin´s former band (Danish Columbian Neckties) was supporting my former band (Brazilian Autoramas) on a 2 weeks tour in the country. We met 5am in a tour van, I was tired and wasn't very thrilled to go on tour with this Danish band I didn't know, it would be 10 men and me cramped in this 12 seat van for 14 days, so I put by bag and my stuff in the seat by my side, hoping to get some privacy and space, but Martin was the first of his band to get in the van, he went straight to me and asked if I could move my stuff so he could seat by my side. He has been by my side since then. We started to talk about music and we were amazed how we had similar taste in music, girl groups, garage, and also space age design and op art. We were together on the last day of the tour, continued in a long distance relationship for two years, living an ocean apart, and I started to write songs on the lonely airplane trips I took to visit him. We never actually planned to make a band together, the songs just appeared (like "The Boy I Love" and "I´ve been walking", who are on our first album "Here Are The Courettes"), and the lyrics were they about love and jet lag, what I was living that moment. One day in Denmark when I was visiting Martin we went to a studio to play those early songs and then BANG! We knew we had something special from day one. In 2015, I quit my former band and moved to Denmark in 2015. Since then, we got married, released 4 albums, had a kid, and toured all around Europe, USA, Brazil and Japan ".
I asked about their very enthusiastic roadie, (who when he got on stage to move their cables around , I thought he was a super fan who had overstepped the mark )
"French roadie / driver / dancer and mad man: Patrice Picard. He was the guitar player of legendary garage band The Cannibals."
An absolutely amazing gig !
(only spoilt by my first ever-speeding ticket whilst trying to find a late opening curry house on a Wednesday night 🤷🏻‍♀️😎)
Future gig list :-  https://www.thecourettes.com/tour