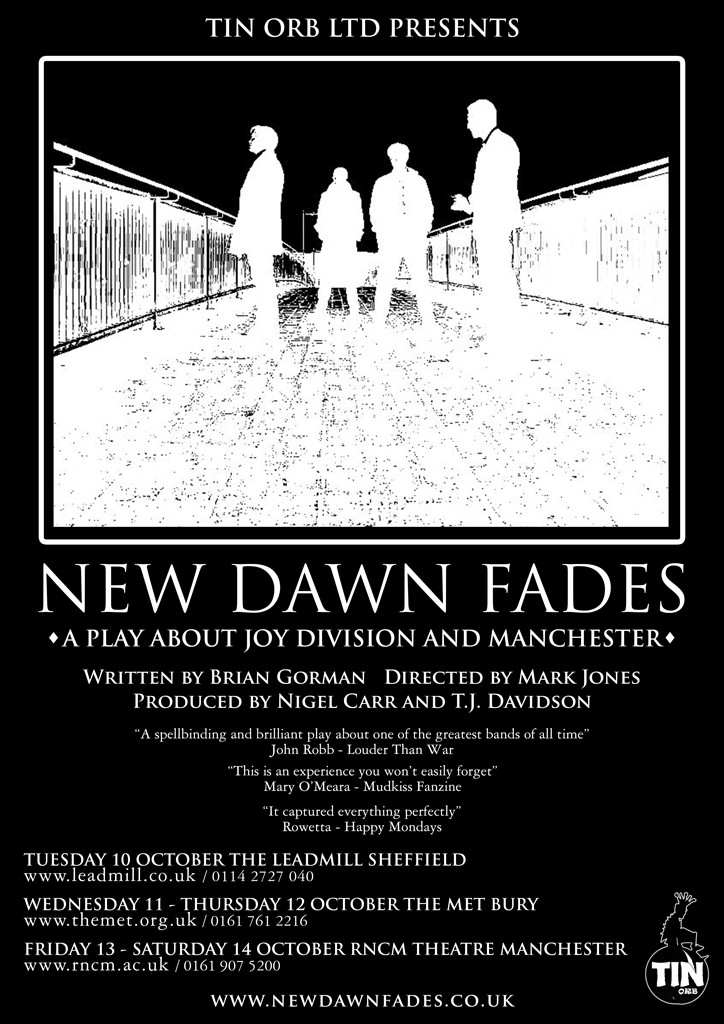 NEW DAWN FADES – THE PLAY
ROYAL NORTHERN COLLEGE OF MUSIC – 13-10-23
REVIEW BY: TANIA KNELL
This Play about Joy Division and Tony Wilson from the outset sounded like it could be something of a misrerabilist nature , after all the suicide of Ian Curtis was the main subject .
To my surprise and great joy, it was a play with music, and as opposed to being downbeat it was a celebration of a great band and Manchester. The maverick manager Tony Wilson and the comedy that came out of the tragedy was fantastic.
The guy playing Peter Hook -Gaz Hayden was very realistic, as was Joshua Glenister as Ian Curtis and when they broke into song Ian's vocals and actions were uncannily akin to the late great legend.
The audience lapped up the tragicomedy and belly laughs were heard throughout the magnificent performance.
Actor/writer Brian Gorman was brilliant as Tony Wilson. He almost portrayed the maverick Factory Records owner and Granada reporter as a ghost, back from the grave and curating the play from Manchester rock 'n' roll Heaven.
Obviously, the sad demise of Ian Curtis had to be portrayed, but I have to say that it was tastefully done and a part of the story that could not be left out obviously. This scene affected me more than I expected, and I struggled to describe the scene to people, for a fair amount of time afterwards.
Nigel Carr and Tony Davidson added tremendous production values to this highly entertaining and informative body of work and not forgetting Mark Jones the Director.
I could not recommend attending a performance of this great play more.
Miss it…. And miss out, enough