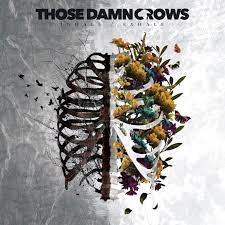 THOSE DAMN CROWS – INHALE/EXHALE
(Earache Records)
HARD ROCK
Review By: SAMANTHA LOUGHLAN
Band members: Shane Greenhall (Vocals)
Ian 'Shiner' Thomas (Guitar)
David Winchurch (Guitar)
Lloyd Wood (Bass)
Ronnie Huxford (Drums)
Track list: Fill the Void
Takedown
Man on Fire
Wake Up (Sleepwalker)
This Time I'm Ready
I Am
See You Again
Lay It All on Me
Find a Way
Waiting for Me
My first observation is this is one hell of an album! I'd never listened to these guys before and was a bit overwhelmed by the prospect of them being my first album review for Voodoo Radio Online. I can honestly say one of the best things I've ever done is let Those Damn Crows into my musical life!
For those of you that don't know who Those Damn Crows are, they're a Welsh Hard Rock band, consisting of five members, established in 2014 from Bridgend, Wales. If you're into variable tempos and fast paced catchy rock tunes similar to that of Shinedown and Breaking Benjamin then the guys from Those Damn Crows will definitely have a place in your lyrical library.
In a recent interview with Emma Scott from The Pluggin Baby Radio Show, Shane Greenhall explains that the ideafor the album came from where the guys were as a band. With the Covid 19 epidemic just behind them, they wanted to portray the mental state and anxiety faced by the majority of people and how what happens around you and the situations you face affect your breathing. The cover of the album shows a ribcage and depicts life and death which in essence is what the album is all about.
The album starts off with 'Fill the Void'. Now I feel this is one of the best ways to kick of an album that I have ever heard. I adore the gradual increase in speed of the guitars bringing in Shane's voice for the first time. The song has a catchy back drum beat that you instantly find yourself rocking out to.
I don't want to spoil the whole album for you so I'm now going to jump to track 5 of which is definitively my favourite song of the whole album, 'This Time I'm Ready'. First released as a single in December 2022 this track is a complete contrast to the first tracks of the album. This song has a much slower tempo and a far deeper feel to its lyrics. Frontman Shane Greenhall shares, "This Time I'm Ready is a song about a one-way conversation I have with my Dad, he's been gone eleven years now, but as anyone who's ever lost and grieved somebody close, you never stop talking to them as they were (and will continue to be) a huge part in your life. This sometimes angry but emotional song represents that we have all felt like we were drowning at some point of our lives but that feeling like everything will eventually pass. I especially enjoy how there is a breakdown around three minutes into the track. Here the lyrics repeat the album title which in a way could be a reminder for people to breathe steady in stressful situations. This has massive impact and a reminder of what the album is about. Shane Greenhall describes filming the video for this track as "an incredible experience" when he spent nearly three hours in a water tank and ruined his £180 suit! I don't know about you but I personally thrive off music that I feel an emotional connection with when I listen to it. Tunes that really bring the listener down into the feelings of the writer. You can feel the passion and emotion in Shane's voice throughout this track and it almost brings tears to your eyes.
The Final track on the album is 'Waiting for Me'. This is well chosen ending to a magnificent collection of tracks recorded at a time when most people were in isolation. The Track begins with a soft keyboard intro which turns into a more industrial and gravely piece of music. The experimentation of sounds really pays off in this track for these guys. It is a completely fresh sound for them which leaves you wanting more…. So, what do you do? Start listening to the album from track one again.
All in all, Inhale/Exhale is an amazing beauty of an album and a fantastic start for what is to be an exciting year for Those Damn Crows as they are set to support Goo Goo Dolls later in 2023. If you're a die-hard Those Damn Crows fan and want a taste of more of what these fantastic musicians have to offer, why not try their 'Send the Reaper' Hot Sauce. (Available on their website www.thosedamncrows.bigcartel.com)