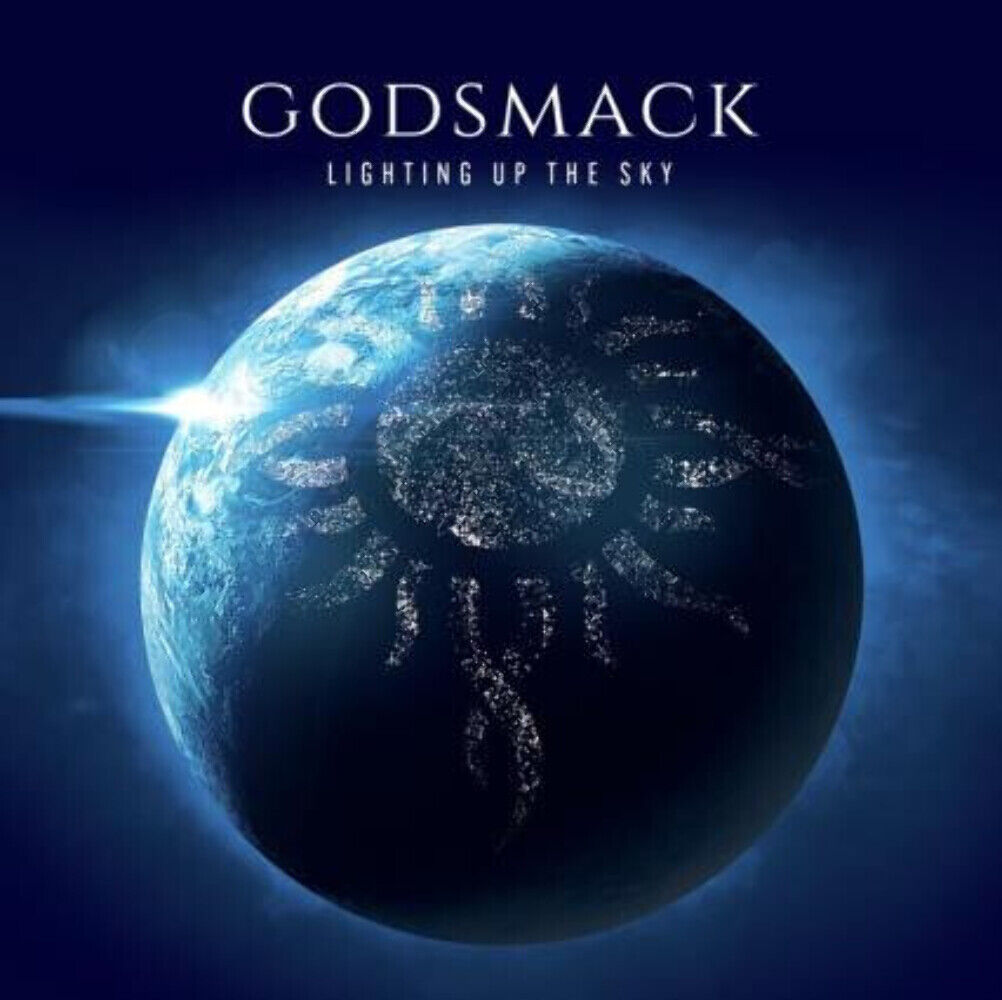 GODSMACK – 'LIGHTING UP THE SKY' (Bertelsmann Music Group) HARD ROCK
Review By: SAMANTHA LOUGHLAN
Band members: Sully Erna (Vocals)
Tony Rombola (Guitar)
Robbie Merrill (Bass)
James Shannon Larkin (Drums)
Track list: You and I
Red White & Blue
Surrender
What About Me
Truth
Hell's Not Dead
Soul on Fire
Let's Go
Best of Times
Growing Old
Lighting Up the Sky
So, here I am again with another review for you guys. Now, this particular album was selected by my close friend Nicky – who is in fact a major fan, and lover of all the music Godsmack has ever created. So, you can imagine the pressure! This band is huge and it's a real honour to be asked to do this review.
Now my first ever memory of Godsmack was hearing 'I Stand Alone'. I was sitting in the cinema having passively tortured myself through the one hour thirty-two minutes of sheer crap that is 'The Scorpion King' – to suddenly hear one of the most amazing rock bands of all time. I was fifteen years old and still finding my feet when it came to deciding which bands were going to make a headway in defining my musical future, but I feel that this memory will stick with me forever. Hey, twenty-one years and counting. With twenty-seven top ten radio hits and eleven number ones Godsmackwas definitely the highlight of this cinema experience for myself… and for that I am glad I sat through it!
In an interview with Pablo from 93X Radio, Sully Erna explains that due to the Covid 19 pandemic the band never had a deadline or set of rules for the album. They went into it head on just jamming away with minimal ideas. However, 'Lighting up the Sky' tells an amazing story of how relationships sometimes start off being great and then slowly decline and end up a complete mess. The artwork for the album cover was designed to give impact and everything that you would expect from an iconic hard rock album.
So, let's take a look at the album. The first track of the album is called 'You & I'. This really hits the mark as far as album introductions go. The song is about when you initially meet someone and start building a relationship with them. You kind of enter your own world together and sink explicitly into each other's company. I love Tony Rombola's guitar riffs throughout this piece, and use of the whammy bar at the beginning and end of the track gives it a nice fresh twist. Solid gold quality like we've always come to expect from Godsmack.
Now, the third track on the album is 'Surrender'. This track was officially released as a single back in September of 2022. I really feel that Sully Erna captures the essence of what he was trying to portray here. That moment when you realise you've had enough with that soul draining relationship, and you want to move on with your life. I am emotionally feeling the power of these lyrics in my life right now, and I can guarantee you've probably felt the same way to at some point. I love the bridge in this track, approximately one minute fifty-six seconds in, where the whole tempo and mood of the track changes, and an explanation of what this song is really about comes through in full passion in the next ten to twelve lines. 'I really need a break…'. Sully Erna really makes tectonic waves with this one!
Another track I'm going to highlight on the album is 'Truth'. This is number five on 'Lighting up the Sky' and really shows off Godsmack's musical capability. The track begins with a simple piano solo with Sully Erna's vocals accompanying. This is the turning point of the album, because it is where the tone changes completely and the sour relationship feelings start showing through. This song gives me goosebumps as you can really feel the pain in Sully Erna's voice. I especially enjoy Tony Rombola's guitar solo two minutes fifty-seven seconds in. You can feel the passion in his playing. But this track doesn't stop wowing us there. At three minutes thirty-one our ears are presented with this astonishing piano piece – acting as a crescendo to build up the passion again, before Sully Erna belts out the heartfelt ending to this phenomenal track.
Now I'm going to skip to track nine of the album – 'Best of Times'. This track really caught my attention because this is where the album starts building up to give off a more positive vibe. It is a reflection of past feelings like when you reminisce on the good times you had with someone. The track begins with this amazing upbeat guitar playing that makes you start bobbing your head about as you get into the groove of the song. It's full of catchy lines like 'Thank you for allowing me to Fly'. This song definitely leaves you wanting more!
Finally, we come to 'Lighting Up the Sky' itself. Having this as the final track of the album, speaks volumes for how Sully Erna wanted the band to be remembered. Music is something they have done their entire lives, and they want to honour their career by ending on a high note. The final record ends where the first one begins, creating this whole looped feeling where life continues on and on. Circle of life vibe, something bad happens and you pick yourself up and carry on.
This album is packed with a variety of themes from patriotism to heartbreak and unity. It's clear to hear that even though Bassist Robbie Merril can't move his middle finger due to a birth defect, it hasn't stopped him creating some formidable back-beats.
Unfortunately, this is said to be the final album from the legendary Godsmack, however Sully Erna has assured us that this may be the end of their studio album journey but the guys will not be retiring from performing or touring. To them this is just the beginning of a new adventure as they start working on their greatest hits show! There is so much more to this album, I could literally write about it forever, but think I will leave you to decide what you think for yourselves…