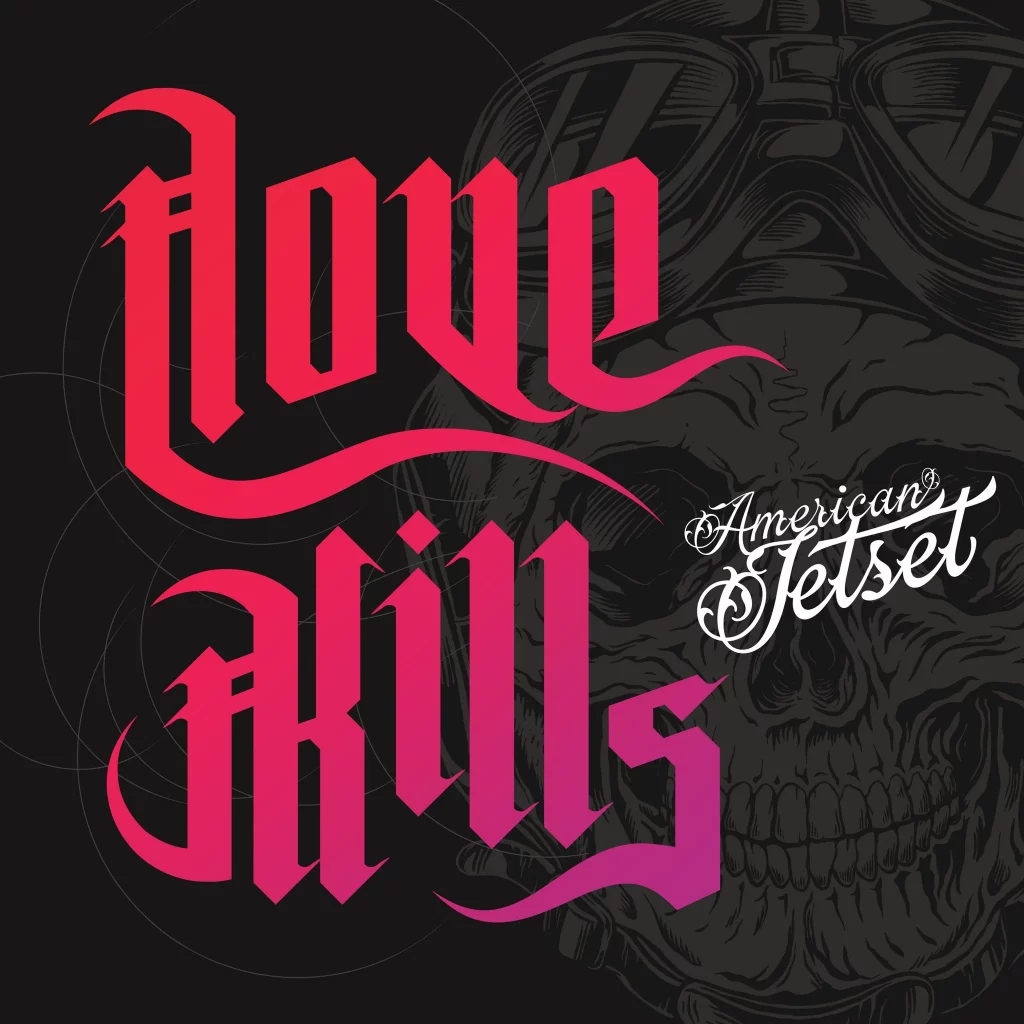 Love Kills EP ( American Jetset )
Reviewed & Written by Candy Rocks 
Band members
Ian Kaine Macgregor ( Vocals & Guitar )
Skinz Skinsacos ( Lead Guitar )
Kevin Harrington ( Bass Guitar )
Jeff Bradford ( Drums )
Tracks
Black hearts & Bloody Bruises
Kill Thrill City
Final Girls
Long Road to Nowhere
The boys from Baltimore American Jetset are back with their new EP, Love Kills. This is for me like stepping back in time with those deep sounding guitars riffs, that make you think your going to hear some amazing cover version, only to be shocked that your ears have been tricked by these guys, they have got their own style & how each track is laid out as they take you on a journey with some powerful lyrics that put you into the scene of their movie all helped by Ian Kaine Macgregor's vocals & Skinz Skinacos Lead guitar. The lyrics paint the picture in your mind as the tracks unfold, I personally like that.
These guys are a tight unit making Black Hearts & Bloody Bruises, Kill Thrill City, Final Girls really kick ass punching tracks. Only to what I personally think is the most amazing track on Love Kills. Long Road to Nowhere. Is so touching, the vocals, piano, soft guitars take you into their hearts, as you feel the track has some very deep meaning to the band, it feels to me this is written from their hearts & no way on earth were they going to settle for anything but absolute perfection. I can imagine Ian, Skinz, Kevin & Jeff going over every fine detail of this song, until it was perfect to them. When you get the feeling this is about someone really special to the band.
You know they are going to give it everything, yes all bands give their everything to their music, but when it has another meaning they will give it even more & wow did they, from the start to finish, the guitar solo is outstanding, that just took it to another level. The piano, saxophone, drums, bass line, vocals & then that guitar solo. You did yourselves proud guys.
Check out Love Kills EP Because American Jetset have made it clear they here to stay & are going to put their stamp on the rock music scene, with their unique style of music. I was listening to Love Kills with my headphones on & trust me the whole thing sounds amazing, so much so I played it over & over. I strongly suggest you do the same sometime.
If you want to hear more from American Jetset then check out these:
Cat's Got Your Tongue
 Live  Love  Die on Main