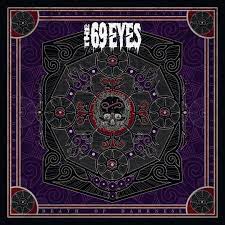 Review By: THE ROCK 'N' ROLL PREACHER
Thirty-four years and thirteen albums into their illustrious career, The 69 Eyes are back with a brand new record on a brand new label, and as you know to expect, the Helsinki Vampires have created yet another exquisite aural romp from end to end. Frontman Jyrki69 is in totally magnificent form, his darkly gorgeous bass baritone voice undiminished with age, and his vampiric cohorts are in equally imperious form.
The twin guitar attack of guitarists Timo-Timo and Blazi is smooth yet darkly dreaming, they complement each other perfectly. The rhythm section of Archzie on bass guitars and Jussi69 on drums, lay down a wonderfully assured and perfectly measured backbeat. 'Death Of Darkness' was mixed by Miles Walker, produced by Erno Laitinen, and mastered by Tom Baker, and the finished produced is frankly bloody wonderful!
It's absolutely obvious how much love and passion went into the crafting of the album. The band is clearly focussed on harnessing the pure core of their sound, but then embellishing it with subtle and unique elements, and it is beautifully rounded as a result! This wonderful album is simply as good as music gets.
Listen intently to the music, and you can clearly hear affectionate nods to their musical heroes – The Sisters Of Mercy, The Lords Of The New Church, Type O-Negative, The Cult, and The Mission – yet with melodic Pop-Rock sensibilities that show an appreciation of Billy Idol at his most rambunctious no less! I would argue with a clear conscious, that 'Death Of Darkness' is. The most complete album the band have crafted since 'Blessed Be' or 'Paris Kills'.
Showing excellent judgement, Jyrki and the boys have chosen to offer up only ten sumptuously tasty songs for your aural delectation, without any 'fat' or musical 'gristle' to be found, just richly bloodied meaty goodness. The album is simply supremely balanced, and you will find yourself wanting to listen repeatedly, without ever getting bored – a sure sign of real quality.
From the very opening chords of the title track, it is instantly apparent what a Force Majeure this album is – majestic, brooding, and swathed in a rich musical tapestry. It is almost haunting in its gothic splendour, rarely has a band so perfected their sound and vision – as the vampyres have here. 'Drive' is the best song Billy Idol never penned, while 'Gotta Rock' is surely infused with the very essence of the late great Stiv Bators. 'This Murder Takes Two' is a languid and glossy piece of melodrama – which finds Jyrki sharing vocals with Kat Von D – and it works magnificently.
'California' is all pouting lipped, hip shaking 'rawk 'n' roll swagger, with a boot stamping rhythm, 'Call Me Snake' is all veiled in sinister intent, with a pitch-black groove and a menacing vocal, while 'Dying In The Night' has a more subtle feel, again close to Billy Idol at his very best. 'Something Real' is a glorious gothic rocker, mid-paced that builds to a killer chorus. 'Sundown' reminds me of The Cult circa 'Love' – it's another song that genuinely deserves to be a huge hit. Album coda 'Outlaws' is a slow-burning powerhouse, Jyrki leading his boys in a sombre yet defiant march to the end … fabulous.
'Death Of Darkness' is a colossal hit from my point of view, very few albums contain songs where every single track is good enough to be a stand-alone single, yet the Helsinki crew have managed each with astonishing ease. This album truly deserves to be colossal, and I already know that it is a contender for my album of 2023. The chorus of album closer 'Outlaws' goes 'Nothing Can Hold Us Back Now' – and that my friends, is one hundred percent correct! Simply marvellous!