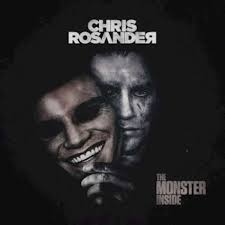 CHRIS ROSANDER – 'THE MONSTER INSIDE' (Pride & Joy) MELODIC ROCK
Review By: The Rock 'n' Roll Preacher
Chris Rosander is a twenty-five years old multi-instrumentalist and producer, who hails from Sweden. In his career, he has already worked with well-established names such as X-Romance, Paulo Mendonca, Frank Ådahl and Michael Ruff, so is already establishing himself as a true talent. In 2020 he signed to AOR Heaven and released his debut album 'King Of Hearts', and is now (obviously) signed to Pride & Joy.
Written during lockdown, 'The Monster Inside', is self-recorded, Chris sings, plays guitars and keyboards, and (as previously stated) produced it too, the end result is an absolute corker of an album! If you love AOR/Melodic Rock/West Coast – then this album simply has to be at the top of your shopping list – it is absolutely extraordinary.
Chris has a gloriously rich and soulful voice, somehow bringing to mind a powerful fusion of Joseph Williams, Glenn Hughes, Bobby Kimball, Göran Edman, Chandler Mogel, and Robbie Leblanc (I am so not kidding), so every song is sung with real passion and emotion, it's dazzling stuff. Joining Chris for the recording of the album are: P-O Sedin (bass guitars), Magnus 'Grunna' Grundström (drums), Rasmus Fors and Johan Sjödin (keyboards), and finally Anton Frengen (guitar), and together they have made pretty much a killer album.
It's not enough through just to have the musical skills, you need to have the songs – and Chris knows how to write numbers with huge hooks and choruses – this album is a (forgive the pun) monster in every way and on every level, he just knows how to write what should by rights – be huge hits!
The opening salvo, which is also the title track is absolutely terrific, and is a huge statement of intent – it has a killer riff, and a wonderful chorus – what more could you possibly ask for? It also features a dazzling guitar solo, which just tops things off perfectly. 'Only Hearts Die Young' is a gorgeous slice of West Coast 'Wimphem', beautifully paced, with a sublime vocal, luscious harmonies and melodies, it is quite literally – perfect!
'Nothing Lasts Forever' picks up the pace, and is a foot-stamping melodic rocker, driven by a smooth riff and featuring another colossal chorus – I absolutely love this one. 'High On Love' has a very classic Toto 'vibe', it swaggers and grooves with glorious ease, before hitting a fabulous chorus – it could easily have come off any of the truly classic Toto albums. 'The Labyrinth' follows, another smooth, almost Chicago-esque slice of West Coast loveliness, replete with more gorgeous vocal harmonies, and a fantastic chorus.
'This Isn't New' carries on the party with an up-tempo keyboard lead riff, some neat fretwork, and a glorious vocal, AOR/Melodic Rock simply does not get better than this! 'Northern Lights' re-enters Toto territory, close your eyes, and this IS Steve Lukather & co in full flight, it is that assured and groovy. 'When I'm Gone' is yet more delicious West Coast/Yacht Rock perfection – just listen to those fabulous vocal harmonies, and that beautifully retrained yet timelessly elegant musicianship!
'Broken Soul' is much darker and heavier, with a crunching riff, a punchy rhythm section really driving the song. Of course, Rosander then does 'that' trick, by steering the song into a surprisingly catchy chorus, delightfully counterpointing the heavier verse. 'Turn Your Heart To Stone' keeps the heavier feel going, it's another more intense song, but yet again with a huge chorus. It features a fabulous punchy guitar riff, and yet more perfect harmony vocals, and finally some wonderful guitar/keyboard interplay, a stellar guitar solo, and is simply an absolute belter of a song.
The album closes with 'Little White Lies', where mist bands end with a slow track, Chris goes out on a rocker, this is a fast-paced number, almost sounding like Europe with its Hammond organ and thick guitar sound, but with an almost funky mid-section. it's a loud and proud way to round things out, so ending proceedings with a bang and not a whimper. 'The Monster
Inside' is an absolute force majeure of a album, and Chris Rosander should be lauded and applauded for creating something so truly special. Please Sir – can I have some more?