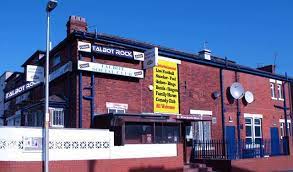 THE TALBOT – BLACKPOOL – 3rd March 2023
METAL NIGHT
Review By: SAMANTHA LOUGHLAN
Hey guys, hope you've had an amazing week, I know we have! On Friday 3rd March we at www.voodooradio.onlinedescended on The Talbot in Blackpool for a night of Metal madness. Emotions were running high as this was our first venue review and band interview session. The pressure was on!
The Talbot itself is located in Central Blackpool, less than a fifteen-minute walk from the tower. It is easily accessible with a pay to stay carpark around the corner and only 450 meters from Blackpool North train station. On two floors with a spacious sheltered outdoor area and rest rooms were that clean with more than adequate facilities, The Talbot gives out warm and welcoming vibes. Our trip took us to the upper floor of the venue where we were warmly greeted by Gary Mcintosh of Mcintosh Inc Promotions. With a possible capacity of 200-250 people and a pint of lager starting from £2.50, The Talbot has a great reputation in Blackpool for providing immersing entertainment with its variety of live music acts.
Having the option to pay on the door as you enter is great for planning for latecomers and those random spontaneous nights out. Being able to eat on a night out is also a bonus and this venue not only serves a wide selection of burgers but also your traditional Blackpool meal of locally sourced fish and chips. After entering the venue, we of course like most people, made our way to the bar and we were pleased to see that they accepted both cash and card payments. On ordering a bottle of Newcastle Brown Ale we were most impressed when the barman discovered these to be above the acceptable temperature for sale and went out of his way to go to the bar downstairs to get cold ones for us. We just love to see venue staff going that extra mile. It's the little things like this that imprint on customers minds and get them repeatedly coming back to a venue.
Now the event itself consisted of four unsigned Metal band, however we unfortunately only managed to secure interviews with three of them. The bands were amazingly supportive of each other and even though the turnout was low it made for an incredible evening.
So, let's hear what the bands themselves had to say…
Band members: Chris Ward (Vocals/Guitar)
Ben Cartwright (Guitar/Backing Vocals)
Matt Ault (Bass/Backing Vocals)
Luke Elwick (Drums/Backing Vocals)
Formed in 2016, the four membered hard rock/metal band from Manchester gave out one hell of an impressive introduction to the evening. Playing sets at regular gigs since 2017 including Grand Central, Manchester in April 2019 and Satan's Hollow, Manchester in June 2022, these guys really hit the mark when it comes to showing the audience what rock and metal music is all about. An amazing group of lads from our hometown they made me feel so at ease and I would like to thank them all for being my great first interview. I can't wait to see what these guys have in store for us in the future!
What genre do you feel you most identify with?
Rock, Metal, Raar – Something for everyone we are a little bit of everything.
What plans do you have for this year?
We have so many upcoming gigs this year including Redditch later this month on 18th March, and then moving onto Newcastle, Leicester, Lancaster and Nottingham for a mini tour in April.
How did things start off for yourselves?
I was friends with a guy that did a tour before the pandemic started, it was supposed to be eight dates and unfortunately three days in they had to go home and I was there at one of their gigs in Blackburn and I said I'm in a band could we support you if you come back to Blackburn? And we ended up getting about three or four dates with them because I knew the guitarist. It's not what you know it's who you know. We just got cheeky and ended up doing about four gigs with them.
So have you guys all known each other a long time then?
Six years pretty much.
How long have you been a drummer?
Luke Elwick – I started hitting things when I was about 3 and got a baby kit then hitting things rhythmically when I was 5 years old, got my first proper kit from my grandparents, a Premier Club 4 piece jazz kit which I still have today – so around 40 years.
Who are your top drummers?
Luke Elwick – There are too many:
Old school drummers, I'd say:
Igor Cavalera (Sepultura), Mike Bordin (Faith No More), Vinnie Pail (Pantera), Stixs Hooper (Crusaders), Omar Hakim (David Bowie), Stewart Copeland (Police), Charlie Benante (Anthrax), Brad Wilk (Rage Against the Machine), John Dolmayan (System of a Down), Matt Cameron (Soundgarden / Pearl Jam), Dave Krusen (Pearl Jam), Danny Schueler (Biohazard), Fyfe Ewing (Therapy?), Daragh Butler (Kerbdog), Chad Gracey (Live), Clive Burr & Nicko McBrain (Iron Maiden), Ivan DePrume (White Zombie), Chris Kontos (Machine Head), Mick Fleetwood (Fleetwood Mac), Gar Samuelson & Nick Menza (Megadeath)
There are too many to mention. There are loads of newer drummers that I work alongside but there are too many to name.
Where would you really want to put on a set as a band?
The Arena, obviously. Basically, we will play anywhere with a stage. We've even played at places without a stage!
Band members: Mike (Drums/Backing Vocals)
HateRiff (Guitar)
Joe (Vocals)
Chris (Bass)
Tom (Guitar)
Founded originally in 2005-2006, the boys from the Wirral put on an incredible set. Even with only drummer Mike and guitarist HateRiff being the only two original members, these guys leave no space for you to feel indecisive about their music. They know what metal is and they put their heart and soul into every performance. Aside from the lead singer Joebeing a bit of eye candy for the girls, these guys clearly brought passion and a sense of unity to the evening. Involving the audience by playing snippets from well-known bands during their set and Joe even getting off the stage in a mini mosh-pit whilst still singing really gave something new and exciting to the night.
You know what I really enjoyed the lead singer and the guitarist you both went out and you put yourselves in the crowd. I have never seen that before and I thought it was fantastic!
Joe – That's what you've got to do you know when you play a place when there's not many metal bands here and the people who turn up to these little gigs you can see how much they love metal. You have to go and show where we are from, this is what we are about, you get down with them and they proper love it!
Who inspires you?
Joe – The original Absolence from around the 2007-2008 mark because I was still only a child growing up then as these fellas were all in their late 20's early 30's I listen to other stuff as well such as Chelsea grin.
What music are you into as a band?
Joe – The early Absolence because when I was growing up when I was like twelve, thirteen years old the original absolence were like late twenties early thirties and they gave out really killer metal music. Suicide Silence, Chelsea Grin.
Chris – Killswitch Engage, The Architects, Iron Maiden
Mike – Avenged Sevenfold, Slipknot
How long have you been together as a band?
Mike – Me and HateRiff have been together about ten to fifteen years, we split up and reformed with the rest of the guys and we've been together about four years.
What plans have you got for this year then?
Gigs, gigs, and more gigs, heavier music lots of recording and there will be an album coming later on this year!
Would you consider allowing www.voodooradio.online to play your tracks and review anything you bring out?
Hell Yeah!
Band members: Sonny (Vocals/Guitar)
Deano (Guitar)
Nick (Bass)
Shawn (Drums)
Formed in 2005-2006 this four-piece metal band from London performed a spectacular set. With their influences drawn from all corners of the metal and hard rock world, these guys definitely put their all into their set. The multi-talented vocalist Sonny played a captivating guitar rift and we even had the pleasure of meeting the bands 'secret weapon' and guest singer Charlotte Jones. This is a girl who knows how to rock! I can personally tell you that whilst giving off Tatiana Shmaylyuk vibes with her vocal cords of fire, she definitely kept the audience entertained.
Who would you compare yourselves to in the music insustry?
We get compared to a lot of Machine Head and Lamb of God – groove stuff really but because we are influenced by so much, we bring in so much as well – hint of death and carcass – and maybe a bit of Tool and Deftones here and there.
What plans have you got for this year then?
So we have just done this tour, this is our last day we've done 8 days we have another show in a couple of weeks back in London and yeah it's just a spattering of gigs here and there really but we've got some other things planned that we are not ready to announce yet but it might involve recording.
How do you deal with disinterested audiences?
We've had a couple of shows where either the audience have been disinterested or have been unresponsive, and to us, we are never disheartened by that, we play our shows as though we're headlining the biggest shows, regardless of what the audience response is. Of course, it's a lot easier when the audience IS more engaged, but regardless, we will still put on a fun and energetic performance because it's what we love to do.
What was the best gig you have ever been to and why?
Deano – Tool at Download 2019. Was mesmerising, worth the wait, and I was in such a zen place.
Shawn – Sabaton/Amaranthe Wembley arena 2020 Stage production, stage presence, crowd interaction was just absolutely phenomenal
Nick – Killswitch Engage was one of the first 'real' metal shows I'd been to. Think it was at The Forum? Played with All That Remains, The Haunted and maybe Bring Me the Horizon on first. Just remember the Killswitch Engage pit was just non-stop, with no 'crowd killers', was just a good vibe.
Sonny – The best gig I've ever been to was Devin Townsend at Bloodstock 2021, everything about the performance was electric, and there was such an awe of happiness and positivity around the show, not to mention Strapping Young Ladare one of my favourite bands of all time and hear him play some of those songs was the icing on the cake!
What do you love most about being in a band?
Deano – Best thing about being in a band is the sense of purpose it gives when people react positively to something you've worked hard on, yet striving continuously to make something even better.
Shawn – What I love about being in a band is the creating of songs, the process of sending different riffs and ideas between each other, doing what I love doing with a passion, with and for people who love live music.
Nick – Love of music, travel, meeting new people, seeing new places, and experiencing it with like-minded people.
Sonny – What I love most about being in a band is the unity and sense of togetherness, just you and your friends looking to take over the world and having fun whilst doing so, not to mention all the fantastic places you get to see, the fantastic people you meet and fantastic stages that are waiting to be played on
Would you consider allowing www.voodooradio.online to play your tracks and promote any future gigs?
Yes definitely, that would be very cool!
I would like to give a massive thank you to all the band members and Gary Mcintosh for giving their time to our great cause and can't wait to see you all again at some point in the future!