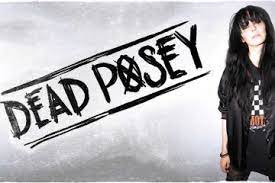 Dead Posey
Reviewed By: Candy Rocks
Band Members:
Danyell Souza (Vocals)
Tony Fagenson (Guitar)
For some of you out there who may have seen & heard of Dead Posey already, if you went to Download Festival. Louder Than Life. Aftershock & Shipwrecked. To mention a few. Dead Posey have played venues in the UK's Electric Ballroom, Rock City, The Gramercy Theater NYC, The Metro in Chicago.
Dead Posey have been on tour with bands from Theory of a Deadman to The Birthday Massacre. If you want to know other acts they have toured with, then check out their website wwwDeadPosey.com Dead Posey has enjoyed magazine features including Loudwire, Kerrang, Guitar world etc. So, if you ain't heard of Dead Posey WAKE UP!
Dead Posey have been putting their energetic mixed sound of punk, metal, rock 'n' roll unique style out there since 2017. With the Midnight Vamp herself Danyell Souza's vocals demanding you listen over Tony Fagenson's distorted guitar sound firing out some high energy riffs. Their music packs a real punch & they are here to tell the establishment what they go do to themselves.
Dead Posey don't follow rules. They make their own & if you don't like it, well they don't care. Like loads of us out there, they have no desire to fit in – just the desire to make music that says the exact opposite. Dead Posey sounds like nothing else, just take all those influences, & throw them in a giant cooking pot, that's Dead Posey to me.
Danyell, the rebel on a microphone & with the vocals to match, from soft crooning to screaming, she has one hell of a range & she is out for blood when she hits the stage, with Tony behind her on his guitar. There is nothing going to stop you bouncing to their music. Danyell is a real vampire, & feeds on working the crowd, & why wouldn't Danyell when she is singing tracks like their cover of 'Blue Monday' (By New Order), 'Freakshow', 'Sorry I'm Not Dead', 'Russian Roulette', 'Can't Take Me Down', 'Parasite' and not forgetting the acoustic cover of 'Never Let Me Down Again' (By Depeche Mode), & the list goes on.
Not only that, but Dead Posey are endless campaigners for the fair treatment of bands from the music industry. Danyell is also working on her Midnight Vamp Boutique. If you ain't seen it, then go give Midnight Vamp a like & a follow – where you can also buy some items as worn by Dead Posey among some other really cool merch. This is Goth/Rock merch for both him & her. Danyell is definitely trying to break the mould with what Midnight Vamp has to offer on its website.
Then, to top it off, Dead Posey are busy recording their debut album, something that Danyell told me recently, which will be ready later this year. I can see more of their music been used on TV programmes and other media – from Playstation game ads, the 'Lucifer' TV show, 'Teen Wolf', & 'Wyonna Earp' amongst others.
Danyell Souza & her partner Tony Fagenson, (who by the way, is not only a great guitarist, but is also a producer & multi-instrumentalist) are definitely out to show everybody they are coming for blood in a good way (so you can sleep safe at night knowing that). Their debut album will be something else, as they have already given us a taste of what is going to be on it. The rest we shall just have to wait & see. I personally can't wait to hear this album & review it.
Dead Posey are endlessly promoting themselves, from their music @DeadPosey.com – to Danyell's Midnight Vamp @midnightvamp.com – like so many other bands out there. So, go buy that merch, that CD (they may even sign it) direct from the band's website, & support the band. Without them we would have no real music, because they would be working to support themselves, instead of making the music we all love to hear & for us DJ's out there play to our listeners. Plus, I would have nothing to review that gets my blood pumping & my foot tapping, that I really want to share with you all.
Like Dead Posey – I say what I feel. No, I may not have the depth of knowledge to tell you technically how the vocals sound like, the guitars are, the drums are, the bass etc – I just tell you how their music makes me feel, the rest is up to you to make your own mind up by giving Dead Posey a listen.
We should thank bands like Dead Posey, that are the voice for so many of us out there, that when you hear the words, you know you're not the only one been made to feel like this, that they too also have at some point in time gone through something similar, & they shared it with us through their music. We need these bands, so give them the support they need, like their music has given all of us. If want to know more about Dead Posey or Midnight Vamp then check out their websites, & all the other social media platforms they are on.