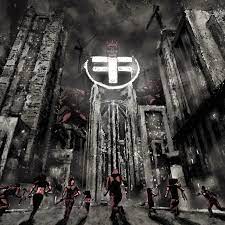 FLEISCH – "THE KITE" (Self Released) INDUSTRIAL
Review By: The Rock 'n' Roll Preacher
"The Kite", is the latest album by FLEISCH, and is an absolute triumph that solidifies the band's place at the forefront of the electronica and industrial music scenes. This UK-based group has crafted an album that is nothing short of a masterpiece, seamlessly blending the best of early synth pop with cutting-edge Industrial Dance sounds. The result is a gloriously exciting experience that sets a new standard for the genre and should propel the band to true stardom.
The production quality of "The Kite" is flawless, with a precise mastering that perfectly balances the coldness of the Industrial sound with almost haunting vocal elements. This creates a clinical yet conversely human touch that is truly remarkable. FLEISCH has outdone themselves with this album, which is equal parts aggressively bombastic yet endlessly melodic. Their expertly crafted songs will inevitably leave a lasting impression, with every track being genuinely memorable.
One of the most impressive features of "The Kite" is its ability to blend smooth melodies with churning savagery, reminiscent of industrial giants such as Gothminister, Combichrist and (for my money) Killing Miranda. The superbly clean/growled vocals of Jonny Blunsdon (who also is responsible for the scything guitars, synths, and sequencing) are reminiscent of Burton C Bell from Ascension Of The Watchers/ex-Fear Factory, further enhancing the album's already impressive sound.
The title track, which is also the lead off song on the album, is nothing short of brilliant, being a towering statement of intent. The rhythm section of Martin Davey on bass guitars and Connal Bowers on drums are insanely tight, laying down a barrage of endlessly furious power. This line-up to coin a cliché – 'has it all going on". Another favourite of mine is the colossally catchy 'Sphinx', which is simply impossible not to want to dance to, while 'The Game' is an epic slow-burner of a song, again with a pulsing beat and a massive chorus! Album coda "The Sun Will Rise" is superbly eerie/creepy before it finally explodes into a huge riff and chorus! I adore this track, what a way to close out an album.
FLEISCH is a band with grand ambitions, and their sound is one that commands attention. Their skilful blending of the juddering dance heaviness of German legends Rammstein with the melodic sensitivities of Depeche Mode (or of long-lost heroes The Narcissus Pool – does anyone else remember them?), results in a sound that encapsulates everything that is great about Industrial music. Their live shows are also evolving into high-energy performances, that showcase their passion for the fetish scene (as well as for the industrial/Gothic), resultantly winning them fans from all over the world.
"The Kite" is proof that FLEISCH is an increasingly mature band with polished song-writing and stellar production skills. I have no doubt that they are poised to take the industrial, gothic, and electronic music scenes by storm, and there's no doubt at all that they will achieve their goal. This album is an absolute must-listen for any fan of the genre, and FLEISCH is a band that is destined for greatness. The album is a Force Majeure that showcases the band's undeniable talent and proves that they are a force to be reckoned with in the world of electronica and industrial music.
Alongside HOST's massively impressive 'IX' debut, with the release of "The Kite", it is safe to say that the future of British Industrial music in the third decade of the 21st century has never looked brighter. Simply marvellous.