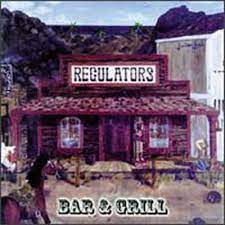 THE REGULATORS – 'BAR & GRILL' (Southbound Records) SOUTHERN ROCK
Review By: The Rock 'n' Roll Preacher
The Regulators burst onto the southern rock scene back in the late '80's with a major label debut album that was nothing short of excellent, but it was this independent sophomore release that was truly phenomenal. "Bar & Grill" was released on Southbound Records, and is a raw and powerful expression of the southern rock sound that will have you craving more from this talented group.
From the moment 'Breakin' Out' kicks off the album, you're transported to a world of dualling guitars and soaring vocals that harken back to the classic sounds of Lynyrd Skynyrd, The Allman Brothers, The Outlaws, and Molly Hatchet. But make no mistake, The Regulators are no imitators. They take those influences and make them their own, creating a fresh and exciting sound that is all their own.
Each track on this album is a testament to the band's musicianship and dedication to their craft. The guitar work is razor-sharp, with explosive shredding on tracks like 'Breakin' Out' and rich piano offerings on 'The Real Deal'. The harmonious back vocals and superb bass lines on 'Money, Pride & Greed' are a standout, and 'The Fire' showcases the band's ability to craft a solid groove that will have you moving and shaking. It's the heartfelt tribute to lost band member Jimi Hughes in 'Sweet Sustain' that truly sets The Regulators apart. This track is a beautiful ode to a fallen brother and a poignant reminder of the strong sense of brotherhood that still defines this band to this very day.
The line-up for this stunning album was: Ronnie Farrell (vocals), Gary Jeffries (vocals/guitars), Johnny Barnes(guitars), Johnny Travers (guitars), Chris Turbis (keyboards). Randy Smith (bass guitars), and Chuck Radek (drums). The album was mixed by Billy Sherwood (World Trade/Yes), and was produced by the band and Juan Crucier (Ratt). Bob Bird and Mark Aceves also guested on the album and helped with the song-writing. Gary Jeffries (of course) also fronted Alligator Stew, Asphalt Ballet, and most recently The Stitch Pig Revival.
The Regulators had already garnered critical acclaim for their debut album, but it was 'Bar & Grill' that saw them being nominated for an "Outstanding Independent Rock Album" award at the 1999 Los Angeles Music Awards. It really is no wonder – this album is a masterpiece of Southern Rock that will have any fan of the genre falling in love with this band.
The Regulators have shared the stage with some of the biggest names in rock, including Lynyrd Skynyrd, ZZ Top, Black Oak Arkansas, Molly Hatchet, Pat Travers, and Joe Walsh – amongst many others, and it's easy to see why. Their sound is timeless and their musicianship is unparalleled. If you're a fan of southern rock, you need to add "Bar & Grill" to your collection. It's an instant classic that will have you hitting repeat again and again. It's very simple – you NEED this album in your collection!