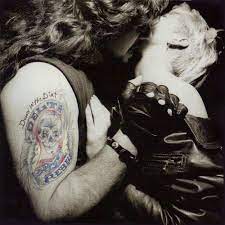 DELTA REBELS – 'DOWN IN THE DIRT' (Polygram) SOUTHERN ROCK
Review By: The Rock 'n' Roll Preacher
Step right up and discover a true hidden gem from the late 80s Southern Rock music scene – Delta Rebels' electrifying self-titled album! Bursting onto the scene with a raw and unfiltered southern rock sound that's simply irresistible, this band's music is a treasure waiting to be unearthed.
From the moment the first note hits your eardrums, you'll be hooked on the powerhouse of gritty guitar riffs, pulsing keyboards, foot-stomping beats, and soulful vocals that make up Delta Rebels' album. With each track oozing with a genuine passion and energy that's impossible to ignore, it's clear that this band was something truly special.
Hailing from Shelby County in Memphis, Tennessee, Delta Rebels only enjoyed a brief five-year tenure, but their impact on the Southern Rock genre cannot be overstated. The talented line-up of vocalist R.T. Scott, guitarists Steve Ingle and Eddy Shaver, bass guitarist Dave Cochran, and drummer Greg Morrow created a sound that was uniquely their own, capturing the very essence of Southern Rock and taking it to new heights.
Imagine a fusion of the rowdy 'rawk' of The Georgia Satellites, the rich melodies of Tangier, and the fierce energy of Jackyl all blended together? You'll be close to understanding this wonderful band's sound. There is an organic joy to what they do, it's not about subtlety or finesse, it's about Southern passion and honest to goodness bourbon infused attitude. It also features one of my very favourite songs ever – the wonderfully moody 'Kickin' Down The Night' – which is simply sublime.
As a dedicated fan of Southern Rock, I can tell you with certainty that Delta Rebels' self-titled album is a true masterpiece. It's an honest and authentic work of art that truly captures the spirit of the genre. Coming out at the same time as Raging Slab's self-titled album, you're in for a real treat – as 'Down In The Dirt' make for the perfect pairing. Just listen to the glorious title track, and then tell me it's not one of THE great Southern Rock anthems – because you can't! Trust me!
This album is a wild ride from start to finish, leaving you begging for more. It's a must-have for any rock enthusiast, and a testament to the enduring power of Southern Rock. Delta Rebels are a true diamond in the rough in the Southern Rock field, and their self-titled album is a true masterpiece that's not to be missed. So don't wait – add this hidden gem to your music collection today!