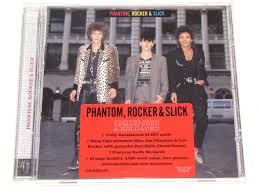 PHANTOM, ROCKER & SLICK – 'PHANTOM, ROCKER & SLICK' (Rock Candy)
ROCK 'N' ROLL
Review By: The Rock 'n' Roll Preacher
Phantom, Rocker & Slick's debut album was nothing short of a revelation in the rock world. The trio's unique blend of '50's rockabilly with '80s hard rock was a bold and exciting step in a totally new direction. Featuring former Stray Cats members Slim Jim Phantom and Lee Rocker, along with guitar virtuoso Earl Slick (Silver Condor, John Lennon, David Bowie, Little Caesar, John Waite etc), this supergroup burst onto the scene with an explosive energy that had critics and fans alike sitting up and taking notice.
Recorded in Los Angeles by legendary producers Steve Thompson and Michael Barbiero, who had previously worked with heavyweights like Metallica, Tesla, and Guns N Roses, the album boasts eleven self-penned tracks that are impossible not to get hooked on. But what truly sets Phantom, Rocker & Slick apart is the quality of their song-writing. These guys know how to craft a catchy tune, and they do it with style and swagger.
Whether it's the hip-shakin' 'What You Want', the tender 'No Regrets', the catchy as hell 'Well Kept Secret', or the '70's bluesy stomp of 'Time Is On My Hands', the trio deliver with true aplomb and elegantly wasted style. Album closer 'Lonely Actions' is an absolute joy, a reflective and melodic number, that brings to mid 'A Whiter Shade Of Pale' – the piano riff certainly, again with an early '70's 'Stones groove.
Guest appearances by Rolling Stones legend Keith Richards & their keyboardist Nicky Hopkins only add to the album's star power, but it's the trio's chemistry and raw talent that truly shines through. From the infectious first single – the rockabilly of 'Men Without Shame' (which astonishingly was written in just 10 minutes!) to the hard-driving 'My Mistake', this album is a masterclass in rock and roll.
Phantom, Rocker & Slick's debut album is a true gem of the 80s rock scene, and it's a shame it's not more widely known. But for those who discover it, it's sure to become a beloved favourite. Highly addictive and endlessly exciting, this album is a must-listen for any fan of rock music. I recommend this album to you wholeheartedly!