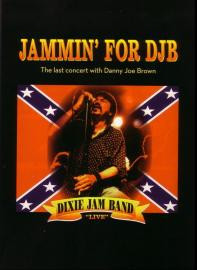 THE DIXIE JAM BAND – 'JAMMIN' FOR DJB … LIVE!' (Go West Productions) SOUTHERN ROCK
Review By: The Rock 'n' Roll Preacher
Prepare to be blown away by the incredible tribute concert for Danny Joe Brown, the beloved vocalist of Molly Hatchet. In 1998, Danny suffered a devastating stroke compounded by diabetes, but on July 18th, 1999, his friends and bandmates rallied together to organize a concert for him and his family. The result? A breath-taking performance that proves Danny Joe Brown will never be forgotten.
Featuring a star-studded line-up including a who's who of Molly Hatchet royalty and other Southern Rock alumni: Dave Hulbek (guitars), Steve Holland (guitars), Duane Roland (guitars), Banner Thomas (bass guitars), Bruce Crump (drums), Jimmy Farrar (vocals), Riff West (bass guitars), Jakson 'Thunderfoot' Spires (drums), Jay Johnson (guitars), and Glen Vandervoort (keyboards), this nine-track album captures the magic of the night as they played the Molly Hatchet catalogue to perfection. Recorded at 'Club Lavela' in Orlando, Florida, the energy is palpable and the musicianship is unparalleled.
This album is a testament to the love and admiration that the recording industry had for Danny Joe Brown. Despite his major health struggles, he was able to lend his signature vocals one very last time to an emotional 'Flirtin' With Disaster', and the entire show is a fitting tribute to his incredible talent. While the concert is unfortunately not complete due to copyright and ownership rules, there is still over four hours of amazing music out there somewhere, waiting to be discovered.
The track-listing is pretty flawless: 'Bloody Reunion', 'All Over Now', 'Bounty Hunter', 'Gator Country', 'Dreams I'll Never See', 'Whiskey Man', 'Mississippi Queen', 'Beatin' The Odds', and the aforementioned ''Flirtin' With Disaster'. As I say, the full concert was in excess of four hours – maybe one day the entire set can be fully released as a box set – wouldn't that be something?
If you're a fan of Molly Hatchet or just love good old-fashioned Southern rock, this album is an absolute must-have. The passion, skill, and heart that went into this tribute concert is evident in every note, and it's a joy to listen to from start to finish. So, what are you waiting for? Get your hands on this set and experience the magic for yourself! You won't be disappointed. Hell Yeah!