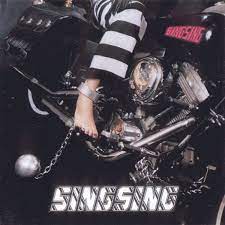 SING SING – 'SING SING' (Lexic Records) AOR/MELODIC ROCK
Review By: The Rock 'n' Roll Preacher
Sing Sing's self-titled album is a masterpiece of melodic rock that should have been as huge as Tyketto, Danger Danger, Warrant, and Winger. If there was any justice in this world, Sing Sing would be a household name. From start to finish, this album is a colossally impressive display of musicianship and song-writing brilliance, with not a single weak link to be found anywhere. Since the day I bought it from Steve Thorley at S.T. Records in Dudley back in the day, it has remained a favourite of mine, and it will always remain so.
Johnny Wayne's powerful and soulful vocals are a standout feature of the album, being strongly reminiscent of Honeymoon Suite's Johnnie Dee and Prophet's Russell Arcara. The luscious layered keyboards and chunky rhythm guitars are expertly woven together, with wonderfully memorable choruses – to create a truly huge and unforgettable sound.
Aside from Johnny Wayne, who is also the incredibly talented guitarist, the band is completed by keyboardist/vocalist Patrick Mullendore, bass guitarist Bryan Porter, and drummer Aaron Mumma. You truly could not get a more talented line-up, they band sparkles throughout, and are insanely tight together. The album sounds as pristine and fresh today, as it did when it was recorded and released in 1994, it's truly a timeless release.
As soon as the album kicks in with the anthemic 'Wheels In Motion', it is a nonstop festival of killer riffs, mega choruses, and feel good songs. How was this not a multi- platinum album? 'Can You Move Me?' is simply as good as AOR gets, 'What My Body Needs' is the perfect summer cruising song, while '1000 Times A Day' is one of the truly great power ballads ever penned!
'Hard To Please' is a bump 'n' grind number, with a boot-stamping riff and a cool as f*** chorus! 'Don't Wanna Lose Her' is a second glorious power ballad that would put any arena band to shame – truly a monster, 'Little Boys' has more than a touch of vintage Danger Danger about it, and 'I'm In Trouble' is a slow and groovy beast, that could have come off the first Winger release.
'Longevity' is a swaggering and cocksure rocker, somehow it reminds me of Loverboy in their prime (a huge compliment). 'It's Too Late' is another hip-shaking mid-paced rocker, 'Out Of The Blue' is huge with a anthemic chorus, 'I'm Coming Home' is a joyful and upbeat celebration, while finally 'Don't Control Me' almost veers into Funk Rock territory before hitting a smooth 'n' sassy chorus, a fine way to end this storming album!
For an independent release, Sing Sing's self-titled album is superb. It's a joyous mix of melodic rockers that will also appeal to fans of bands such as Biloxi, Firehouse, Trixter, and Giant. Hailing out of the Midwest (Kansas in fact), they arrived out of nowhere, made this stunning album, and sadly vanished just as quickly, which is manifestly unfair!
It's criminal that Sing Sing didn't get major label backing, as they every bit as talented as many of the more successful bands at the time. All that being said, we should be thankful that this album was released at all, and if you don't have it yet, do whatever it takes to get your hands on it. This is one of the most impressive albums of its time, a joy to experience from beginning to end. In short – "Sing Sing" is a gem of an album that deserves to be in every melodic rock fan's collection.