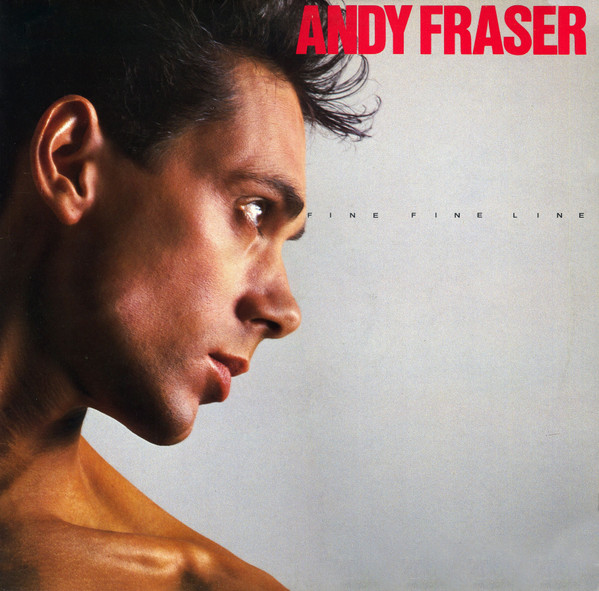 ANDY FRASER – 'FINE FINE LINE' (Island Records) ROCK
Review By: The Rock 'n' Roll Preacher
Prepare to be transported to the golden age of AOR with Andy Fraser's glorious "Fine Fine Line" album, featuring the ex-bassist from the legendary rock band Free. This hidden gem is a true masterpiece of the genre, with lush and melodic keys that perfectly complement the rock-solid rhythm section. From start to finish, every song is a hit, but 'Fine Fine Line' and 'Branded By The Fire' stand out as absolute classics.
Fraser's voice has a Perry-esque quality that's both gritty and tonally perfect, and the guitar work on this album – courtesy of the utterly brilliant Michael Thompson, is simply mesmerizing, his smooth and glistening fretwork will take you back to the glory days of AOR, and the high-tech production ensures that every note is crystal clear.
While the jarring 'Do You Love Me' may be the only slight misstep on this album, the rest of the tracks more than make up for it. 'Living This Eternal Dream' and 'One Night Love Affair' are true gems that will have you hitting the repeat button over and again. Andy's astonishing voice was an absolute revelation for me when I first heard this album, he was a truly world class singer, it is a genuine tragedy that he was lost to us well before his time.
Aside from the majestic Michael Thompson, Andy utilised the services of bass guitarist David Faragher, drummer Tony Braunagel, while a certain Bob Marlette provided keyboards. The album was expertly mixed by Hugh Padgham, and Andy Produced the album alongside Bob Marlette and John Eden.
Overall, this album is a must-listen for any fan of AOR or classic rock. It's a perfect cross between Hi-Tech AOR and mainstream Pop Rock, and the production quality is top-notch. 'Knocking At Your Door' could be The Police at their finest, while 'Night To Last Forever' is genuinely so good, it could have been a classic Journey song circa 'Raised On Radio'.
Andy deserved to be a huge star in his own right, but it's never too late to celebrate his remarkable talent, and this almost perfect album should be a mandatory purchase for every self-respecting fan of vintage AOR. So don't hesitate to take a chance on this album – you won't regret it. "Fine Fine Line" is a timeless classic that deserves to be rediscovered – even 30 years on!