WRITTEN BY GUY STRACHAN & DAVE LING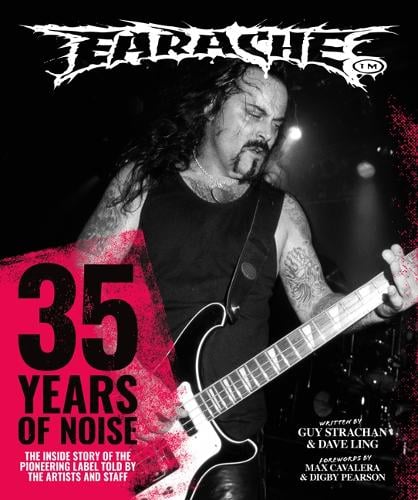 'EARACHE – 35 YEARS OF NOISE' – GUY STRACHAN & DAVE LING
Review By: The Rock 'n' Roll Preacher
If you're a fan of extreme music, then this book is an absolute must-read! It chronicles the history of Nottingham's powerhouse Earache Records, from its humble beginnings as a one-man bedroom operation in the mid '80s to its current status as a literally global operation – this fabulous book covers every step of the way. My own copy is signed by Earache founder and owner – Digby Pearson himself.
One of the most remarkable aspects about this book is the intricate attention to detail throughout. The authors, along with contributions from colleagues who have worked with Earache over the years, provides a fascinating account of the label's 35-year history. The book includes a foreword from label founder and owner Digby Pearson, who has been the only constant in Earache's history. Digby, naturally enough, wrote one foreword for this book, with Max Cavalera of Sepultura, Soulfly, and Cavalera Conspiracy providing another.
You also get to read perspectives and stories of other very familiar Earache staff – such as Dan Tobin, Mitch Dickinson,Al Dawson, and Pete Lee amongst others). The book is written by two legendary writers from such magazines as 'Kerrang' and 'Metal Forces' – Dave Ling & Guy Strachen, both of whom have an already encyclopaedic knowledge to draw from, so is beautifully researched and presented.
The book is lovingly designed, curated with a real sense of passion, and fully captures the excitement of the early Extreme Metal era. There are so many pages filled with wonderful 'Earache Family' pictures, some rare, some previously unseen, and collages of record covers, with a huge collection of tickets, flyers, posters, adverts, letters, and press clippings from back in the day.
The imprint label Wicked World is also explored, as is Earache's venture into the Hard Dance genre that caused a lot of discontent with the older more hardcore fans of the label – everything is very refreshingly and honestly discussed. Also discussed at great length is the label's disastrous dalliance with Columbia Records, who through sheer dim-witted incompetence, and through having no real knowledge of extreme music, did so much damage financially and critically to the Nottingham label. It would be funny were it not so tragic. The lesson for Digby there was very simply: 'Bigger is most definitely NOT better!'.
It makes absolute sense that extreme music luminaries – such as Napalm Death, Morbid Angel, Carcass, Extreme Noise Terror, Bolt Thrower, Deicide, Akercocke, Iron Monkey, Godflesh, At The Gates, Naked City, Fudge Tunnel, Brutal Truth, Pitchshifter, Massacre, Scorn, Cathedral, Mortiis, Anaal Nathrakh, etc, given a huge amount of pages and coverage – there would be no Earache without them.
It is also true that in 350 pages, you simply cannot give full reference to every act that has passed through the label – but this in no way devalues this tremendous book. The second half of the book is entirely given over to the 'modern music era' of the label, which we will come to shortly, I will admit, that I felt a warm and nostalgic glow reading the first half of this book, but I also find the second half equally enlightening.
The ludicrous 1991 police raid of Earache's Nottingham offices, that made Earache almost infamous is examined in minute detail. The Vice Squad confiscated the *ahem* 'controversial' album artwork of Painkiller's "Guts of a Virgin"LP, labelling the 'offending article' as 'obscene'. The case (of course) came to nothing, being a complete waste of everybody's time. In the event, it probably actually helped Earache's 'name' as rebels and 'bad boys' so it was an abject failure by those behind the raid.
Latterly of course, Digby has taken Earache in a new direction, realising that stagnation equals death, and has signed such 'modern' blues Rock, Southern Rock, and Alt Rock artists such as Those Damn Crows, The Temperance Movement, Black Star Riders, Dubwar, Bring Me The Horizon, Massive Wagons, Danny Worsnop, Rival Sons, andBlackberry Smoke to the roster This of course, much to the horror of old school purists, who now see both Digby and Earache as 'corporate sellouts', being seemingly unwilling or unable to accept that to survive in the music business in the 21st century – with the new business model to adhere to – evolution is all important.
If you love Heavy Metal, have a weakness for extreme music, or you are just young/new, and want to learn about a key part of British Metal history – then 'Earache – 35 Years Of Noise' is an essential addition for your library. It's a fascinating read that provides a deep dive into the history of one of the most important UK record labels in extreme music. So, if you're looking for a book that will take you on a journey through the early days of Earache and beyond, then look no further than this fantastic book! Simply marvellous!