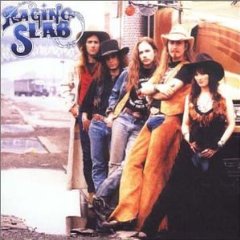 RAGING SLAB – 'RAGING SLAB' (RCA) SOUTHERN ROCK
Raging Slab's self-titled debut album is a timeless masterpiece of southern-style Hard Rock fused to crunching Metal that will leave you wanting more. Bursting with powerful guitar riffs, thunderous rhythms, and soaring vocals, this album is a high-octane ride that captures the essence of classic rock with an edgy, contemporary twist. Famously described as 'Lynyrd Skynyrd meets Metallica'!
From start to finish, Raging Slab delivers an unapologetic barrage of hard-hitting tracks that will have you pumping your fists and banging your head. The three-guitar attack of Greg Strzempka, Elyse Steinman, and Mark Middleton is a force to be reckoned with, creating a sound that is both fierce and melodic. From the day I bought it as an import album from the immortal 'Shades' record emporium in London in '88, it has remained an absolute all-time favourite of mine!
The rhythm section of Alec Morton and Bob Pantella lays down a solid foundation, driving each song forward with a relentless energy that is impossible to resist. Whether it's the gritty slide guitar on 'Don't Dog Me' or the funky grooves of 'Sorry's All I Got' every track on this album is a standout. What people may not know (as a couple of small musical sidenotes) is that Ray Gillen of Badlands provides backing vocals for the album, and that Kory Clarke of Warrior Soulwas their original drummer!
'Get Off My Jollies' really does show the Metallica meets Lynyrd Skynyrd sound, with a "Kill 'Em All" era thrash intro giving way to a swaggering southern groove. 'Shiny Mama' highlights Elyse Steinman's fabulous slide 'geetar' skills yet again, while 'Geronimo' has a cool groove and an impassioned vocal – there is so much to love about this album. Perhaps the most surprising song is 'the delicate 'Love Comes Loose' – which is genuinely beautiful. This album is simply a masterclass in how amazing Rawk 'n' Roll can be when it's done properly!
But it's not just the music that sets this album apart. The production by Daniel Ray, the mixing by Gary Lyons, and the mastering by George Marino are all top-notch, resulting in a crisp, clear sound that allows every instrument to shine. The result is an album that sounds as fresh today as it did when it was first released.
Raging Slab's self-titled album is a true classic of the hard rock genre, and a must-have for any serious rock fan. With its infectious energy, killer guitar work, and memorable hooks, it's an album that will leave you wanting more. So, crank up the volume, hit the open road, and let Raging Slab take you on a wild ride. Can I get a YEE HAW? HELL YEAH!