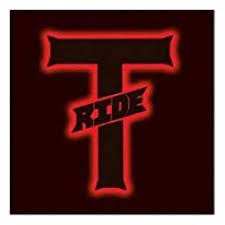 T-RIDE – 'T-RIDE' (Hollywood Records) HEAVY ROCK/HEAVY METAL
Review by: THE ROCK 'N' ROLL PREACHER
It would be fair to say, that rarely has one band/one album been both revered yet conversely reviled by music fans – probably in living memory. T-RIDE didn't so much arrive on the rock scene, as explode onto it! The power trio created music that was so far outside of the norm, that it almost begged to be a whole new genre: Experimental Metal, and the videos that accompanied the music were equally amazing.
The San Franciscans created music that was complex, dazzling, multi-layered yet laced with quirky pop sensibilities – it should have made them colossal. If you've not heard them, imagine a heady fusion of Van Halen, Queen, David Bowie, Prince, Japan, Def Leppard, Yello, and even Kingdom Come (bizarrely enough), and heaven knows what else. Artistically speaking, the debut is a masterpiece that still sparks furious debate amongst music enthusiasts.
The album is a true expression of the band's creativity, with their unique mix of moody Hard Rock, spooky Pop/Electro and cinematic music showcasing their incredible talent and versatility. Led by songwriter Dan Arlie, the band features a line-up of incredibly talented musicians, including guitarist Jeff Tyson, who honed his skills under the tutelage of Joe Satriani, and who would go on to form the equally Pop Rock Stimulator (amongst other projects), and drummer Eric Valentine, who went on to enjoy a highly successful career as a producer for some of the biggest names in music, including: Queens Of The Stone Age, Joe Satriani, Third Eye Blind, and John Fogerty.
With its intricate keyboard samples, digital drum sounds, and Eddie Van Halen-inspired guitar work, T-RIDE's album is an absolute feast for the ears. Upon first listen, you'll be hooked by its captivating melodies and complex arrangements. But it's upon repeat listens that the true brilliance of the album reveals itself, as you become fully immersed in its multi-vocal web that feels like a captivating movie plot unfolding before your ears.
The opening salvo of 'Zombies From Hell' and 'Backdoor Romeo' were an astonishing statement of intent, hitting so hard you are left winded and struggling to comprehend what is going on, such is the dizzying complexity of the music offered up: the stunning multi-part vocal harmonies, the juddering dance tempos, the bombastic rhythm work of Messrs Arlie and Valentine the scythe sharp riffing courtesy of Jeff Tyson, it's almost overwhelming – yet undeniably captivating.
'Ride' is like a leftfield Kingdom Come number, but far better than anything the Germans could ever offer, Eric Arlie vocally really does sound like Lenny Wolf here. 'You & Your Friend' is equal parts Bowie, Prince, & Yello, and is very at odds with what has come before, but is as catchy as I imagine an STD would be (make of that what you will!). 'I Hunger' is akin to Queen jamming with Dan Reed Network & Def Leppard – and again features some scintillating fretwork from Jeff Tyson.
'Luxury Cruiser' follows, and is another strangely contradictory number, with a very non 4/4 beat, almost rap/spoken verses, with multi-layered chorus vocals, it really ought not to work, but simply does anyway. 'Hit Squad' sounds like Van Halen sparring with Cameo, yet is totally compelling. 'Bad Girls & Angels' is almost Funk Rock at its most off-kilter. Following this 'Bone Down' is a hi-tech instrumental romp, that allows Jeff Tyson to simply dazzle you with his monster talents – and you will be left spellbound by his finesse and firepower.
'Fire It Up' is very much in the vein of 'Zombies From Hell' and 'Backdoor Romeo', a full-blooded rocker with a riotous vocal from Dan Arlie, and a huge chorus, with the multi-tracked vocals again. Album coda 'Heroes & Villains' ends proceedings in almost contemplative style, to me it's almost the most cinematic number, that I've always felt should have been in a 'Batman' soundtrack or something similar.
A second album was recorded, but remains officially unreleased – but unofficially is available on Youtube. In short, T-RIDE's debut album is a must-listen for any true music lover with an open mind and a taste for the adventurous. It's a stunning display of artistry and innovation, that stands the test of time and deserves to be celebrated as a true classic of the Heavy Metal/Hard Rock genre.