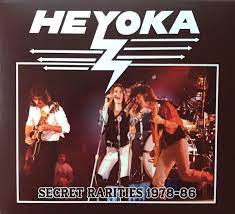 HEYOKA – 'SECRET RARITIES 1978-1986' (ProgAOR Records) POMP ROCK
Review By: The Rock 'n' Roll Preacher
Heyoka was a supremely talented heavy Pomp/Prog band from the USA in the 1970s and 1980's. They enjoyed a long career from 1970 to 1984, during which time they gained a reputation for their energetic live performances and excellent musicianship, particularly in their home state of Texas. Although Prog and Pomp fell out of favour with the market in the early 1980s, Heyoka remained popular with their devoted fans. Some recordings were previously available through a small label in the early 2000's, but again in tiny numbers.
This album features dynamic, energetic music with highly inventive passages, excellent musicianship, and brilliant flute playing and some truly inspired keyboard arrangements. The vintage 'analogue' sound of the album, which includes pieces from 1976-1979, evokes the golden age of Prog and Pomp, and is reminiscent of bands such as Jethro Tull, Kansas, Yes, and Rush. Mike Grothues has a pleasingly effective voice, and great musical moments add to the enjoyment of the recordings.
Aside from the aforementioned Michael Grothues, Heyoka was completed by guitarists Dito Garcia and David Alcocer II, bass guitarist Pat Hood, and keyboardist /drummer Gerardo Ramirez. The twelve songs you find here come from a variety of sessions recorded over a six-year period, some, amazingly enough, found on a long-lost cassette no less! Of all of them, 'the cream of the crop' (as such) is 'Trilogy', a simply stunning twenty-six minute epic song that should thrill any true fan of Progressive Rock – for my money, it is every bit as good as 'Supper's Ready', 'Xanadu', or 'Fly From Here'. As for the cover of the Ram Jam single 'Black Betty'? the less said…the better!
Sadly, despite sporadically reuniting for gigs, Heyoka never managed to stay together for any length of time. Those interested in discovering an obscure American band, who were graced with great potential and great ability, should definitely give Heyoka a listen, as they are well worth the time. It may take a long time to track down a copy of this very rare album, but I heartily recommend that you do. This most cult of bands is totally deserving of your time and attention.