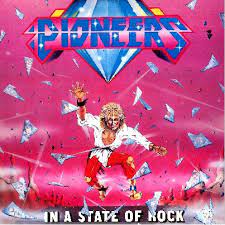 PIONEERS – 'IN A STATE OF ROCK' (Mercury) AOR/MELODIC ROCK
Review By: The Rock 'n' Roll Preacher
Mercury-signed Norwegian band Pioneers' debut studio album "In A State Of Rock", was released in 1984, and genuinely is a true gem of Scandinavian AOR/Melodic Rock. The album is particularly noteworthy for featuring guitarist Torstein Flanke, who (of course) would go on to found the legendary Scandie rockers Stage Dolls.
Pioneers' music is characterized by anthemic poppy choruses that are perfect for arena performances, reminiscent of the sound that catapulted Europe to fame two years later. These guys truly lived up to their name and can be considered true pioneers of their genre.
The band during this era was: Knut J Dahle (vocals), Torstein Flanke (guitar), Bard Swendsen (keyboards) Morten Skaget (bass guitars) and Steinar Krokstad (drums). The album was produced by Bjoerne 'Spector' Nessjoe and Erik Wangberg, who between them gave the band a bright and breezy sound, that was totally suited to this era.
While the album contains radio-friendly pop-rock tunes such as 'Walk In The Moonlight' and 'With A Girl Like You', "In A State Of Rock" offers so much more. Tracks like 'Pioneers' and 'Number One' showcase heavier guitars, while the gorgeously atmospheric ballad 'Pictures Of You' is another standout track, that perfectly demonstrates the band's versatility.
For my money, my favourite song is opener 'Hi' Energy' which is a simply glorious slab of Melodic Rock, and I absolutely love it, although he subtle "earworm" that is 'Annie' is also a close contender. What a peach of an album this is! So many Scandie bands owe Pioneers a huge debt of gratitude!
Overall, "In A State Of Rock" is a a genuinely timeless classic record, that perfectly encapsulates the sound and energy of mid-Eighties Scandinavian Melodic Rock/AOR, and is arguably the single precursor to all the greatness that followed! You know what you need to do!