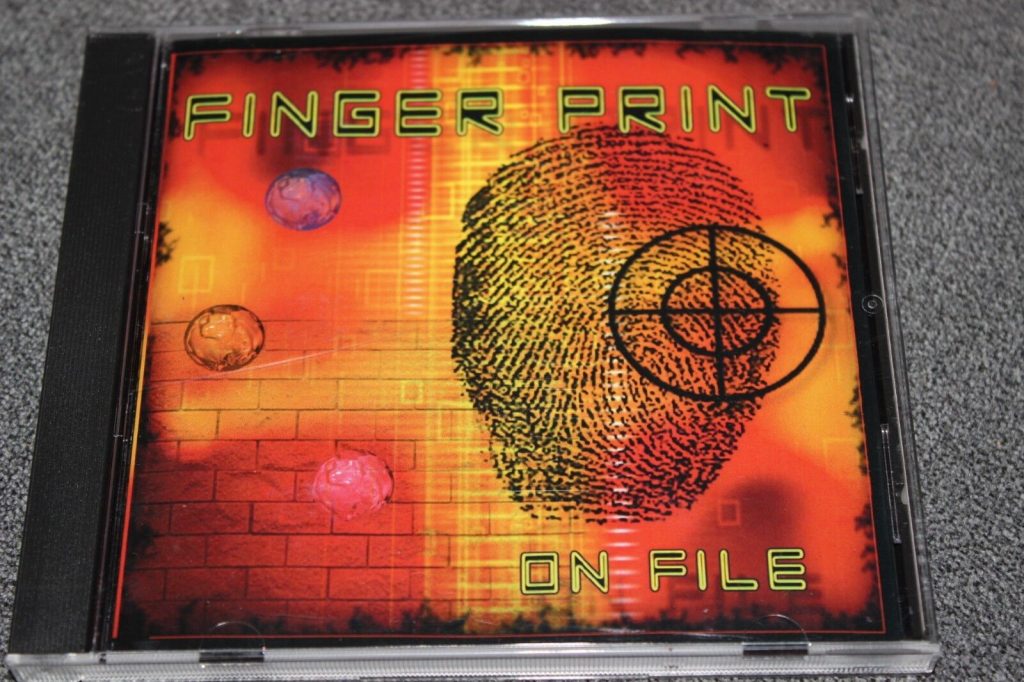 FINGER PRINT – ON FILE (Retrospect Records) POMP ROCK
Review By: The Rock 'n' Roll Preacher
Welcome to the first in what I plan to be a long line of classic album reviews for Voodoo Radio Online. I have been searching for this particular EP for literally the last three decades (I kid you not), and finally found a copy just a couple of weeks ago. After such a long time, the big worry is that the music won't live up to my expectations – but I had nothing to worry about, as this is absolutely glorious Pomp Rock!
Finger Print were a quintet hailing out of Las Vegas, originally called Limousine. They were fronted by golden-throated vocalist Art Porrello, with Brett Hansen on guitars, Rod Masters on keyboards, Alan Butterfield on bass guitars, and Mike Newton on drums. Their sole recording was this extraordinary five song EP, which was produced with great skill by Mike Hansen with John and Miyoko Holland. This should have led to true greatness!
If you are a fan of the likes of: Spys, Roadmaster, Trillion, Sharx, Dreamstreet, Alliance, RPM, Morningstar, Franke and the Knockouts, Fury, Touch, Starcastle, Angel, Speedway Boulevard, Duke Jupiter etc – then this will be right up your street! Beautifully polished Pomp Rock with gorgeous keyboards, fabulous harmonies, bombastic guitars, and a powerful rhythm section – this is everything I love about Pomp Rock!
Kicking off with 'Target', a swirl of electronic keyboards effect gives way to an instantly infectious verse, which in. turn gives was to an urgent and insistent chorus. Brett Hansen cuts loose with a stellar guitar solo, before that chorus hits home again. What a song. 'Runaway' has a driving rhythm with a crunching riff, with some wonderful keyboard inflections, the chorus is big and bold, just as you would expect, with some lovely vocal harmonies. Again, Brett Hansen delivers a very tasty lead solo that leads back into the chorus. Nice!
'Strong On My Own' initially had me scratching my head, as the keyboard arrangement was hauntingly familiar – I eventually worked out it is reminiscent of the Rainbow 'Stone Cold' chord progression, while also weirdly having a hint of the Journey standard 'Be Good To Yourself' mixed in somehow. This is a more 'deliberate' mid-paced number, again with a delicious guitar solo, and as you would expect by now, has a hugely memorable chorus.
'Catch A Star' could be straight out of the Foreigner book of hit song-writing, had Mick Jones and Lou Gramm recorded it, I have no doubt it would have been a huge hit. It has a 'looser' almost lilting verse, the rhythm section grooving effortlessly, with Rod Masters' elegant keys leading the song, he also plays a tasty keyboard lead, while Brett Hanson provides some dazzling lead pyrotechnics. As for the vocals? Well, Art Porrello sounds simply glorious, how is he not a huge star? He has a voice that matches any and all of your AOR favourites!
Finally, 'Stop The Game' is an up-tempo rocker, and is Pomp Rock at its masterful and joyful best, this song is nothing short of melodic perfection – think Angel and Journey jamming with Duke Jupiter (on steroids) and you'll get the idea. Brett Hansen (yet again) fires off one last, fiery fretboard solo, before the band kick into a pumping chorus – this truly should have been a hit for them.
How did they not get fully signed? What was wrong with record company talent scouts and A&R men? Idiots! How were Finger Print not huge? There is simply no natural justice! Thirty+ years of waiting is over, I have a broad smile on my face, I have experienced Pomp Nirvana … and my heart and soul are satisfied! Hunt down a copy even if you have to beg borrow, and do other unsavoury things to get one! You need this in your life!