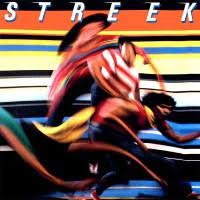 STREEK – 'STREEK' (Columbia Records) MELODIC ROCK
Review By: The Rock 'n' Roll Preacher
If you're a fan of classic rock, you absolutely need to check out this album from 1981 by the incredibly talented group hailing from Los Angeles! With Billy DeMartines on vocals and keyboards, Ron Abrams on vocals and guitar, Randy Oviedo on bass guitars and backing vocals, Giuvanni Bartolotto on drums, percussion and backing vocals, and Daniel J. Ricciardelli on saxophone and backing vocals, this album is truly a masterpiece.
From the very first note, you'll be transported to a world of pure musical magic, with each member of the band bringing their own unique talents and energy to the mix. The vocals are soulful and powerful, the guitar work is electric, and the saxophone adds just the right amount of soulful flavour. Billy's vocals remind me of a fusion of Sting and Bobby Kimball (in his prime) both in tone and delivery (the former may or may not turn some people off immediately.
Signed to Columbia for their one and only release, Streek really should have been huge stars, it's yet another case of pure bad luck, and failed management by their label – life really can be so cruel. Offered up for your aural delectation are ten slabs of perfectly constructed and executed Melodic Rock, with nary the proverbial weak link to be found anywhere.
Comparisons to Toto, Honeymoon Suite, Balance and their ilk are pretty close to the mark musically, the songs are lusciously arranged, played with obvious joy, and the album was produced to perfection by the extremely able Fred Rupport, it's a genuinely dynamic package, and how the band failed as they did is a complete mystery.
From the very opening chords of 'Johnny Youre a Bad Boy' to the closing notes of 'Rocket' (which is so Van Halen/David Lee Roth vocally it's scary!), this album is chock full of wonderful Melodic Rock Anthems. The album features a brilliant array of tunes that explore different textures and feels, yet the whole thing is incredibly cohesive and arranged with great care and clear passion.
'Only Heaven Knows' is beautifully emotive ballad with a glistening guitar solo, while 'Fantasy' has wonderful rasping sax and a killer chorus. 'One More Night' features a lavish string arrangement that lifts the song elegantly, while 'Tonight' is an urgent rocker that evokes memories of Bob Seger & The Silver Bullet Band at their finest – that fairly barrels along at breathless pace … and so it goes. no matter the mood, Streek make it sound totally authentic, which is a really neat trick.
Overall, this album is a must-listen for any discerning music lover, and it's easy to see why this group has become a sought-after classic in the Melodic Rock genre. So don't wait – give it a listen today and prepare to be blown away! It's never to late to make Streek a name again!