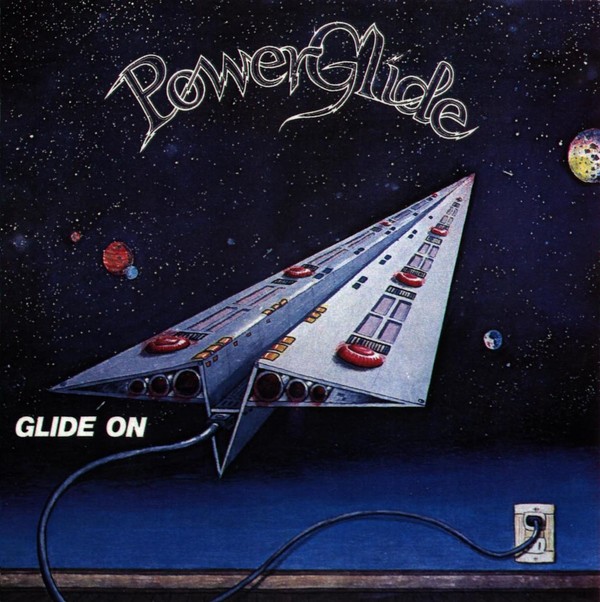 POWERGLIDE – 'GLIDE ON' (EKO Records) AOR/POMP ROCK
If you're a fan of classic AOR and pomp rock, then Powerglide's "Glide On" album is an absolute must-listen! This US band released this, their only album back in 1982, and it's a true gem of the genre that deserves to be discovered by a wider audience. The band was a mega-talented quartet: Bill Parish (vocals – he of the truly godly voice!), Cliff Eveland (guitars), Dennis Laffoon (bass guitars/keyboards/synthesizers), and Kim Philhour (percussion/ drums).
The album's sound is reminiscent of classic pomp rock from the late '70s and early '80s, with bands like Roadmaster, Styx, Trillion, Lion, Starcastle, Fairchild, Spy, Westwind, and Airborne coming to mind. The songs on "Glide On"are consistently well-played, with each track showcasing the band's superb musicianship and song-writing skills.
The album opens with the upbeat and catchy 'Takin' My Chances On A Winner', which to me, sounds like it belongs on a Head East record. The following track, 'Lonely One', is a perfect cross between Le Roux, Spys, and Thrills and is a classic early '80s AOR song. 'If You're Leaving Me Behind' is a beautiful AOR ballad with some gorgeous piano/keyboards, while 'Turn Me On' is an up-tempo AOR rocker reminiscent of 80s Axe mixed with Head East.
Side two of the album is just as impressive, with 'Back In My Heart Again' having a great early '80s AOR sound not unlike Sheriff. 'Escape From Hollywood' is a heavy Pomp rocker that sounds like Angel or even Roadmaster, complete with glorious keyboards. 'Doin' Up The Town Tonight' has a 70s groove that brings to mind vintage REO Speedwagon,while 'Mama Sweet' is another pomp rocker with great piano keys like Roadmaster, Starcastle, or Angel.
Overall, "Glide On" is an incredible album that any fan of AOR or Pomp Rock should have in their collection. The musicianship is top-notch, the songs are consistently great, and the vocals of Bill Parish are pure AOR gold. It may be hard to find, but it's definitely worth investing your money in. Don't miss out on this amazing album that will take you on a journey back to the golden era of AOR and Pomp Rock!