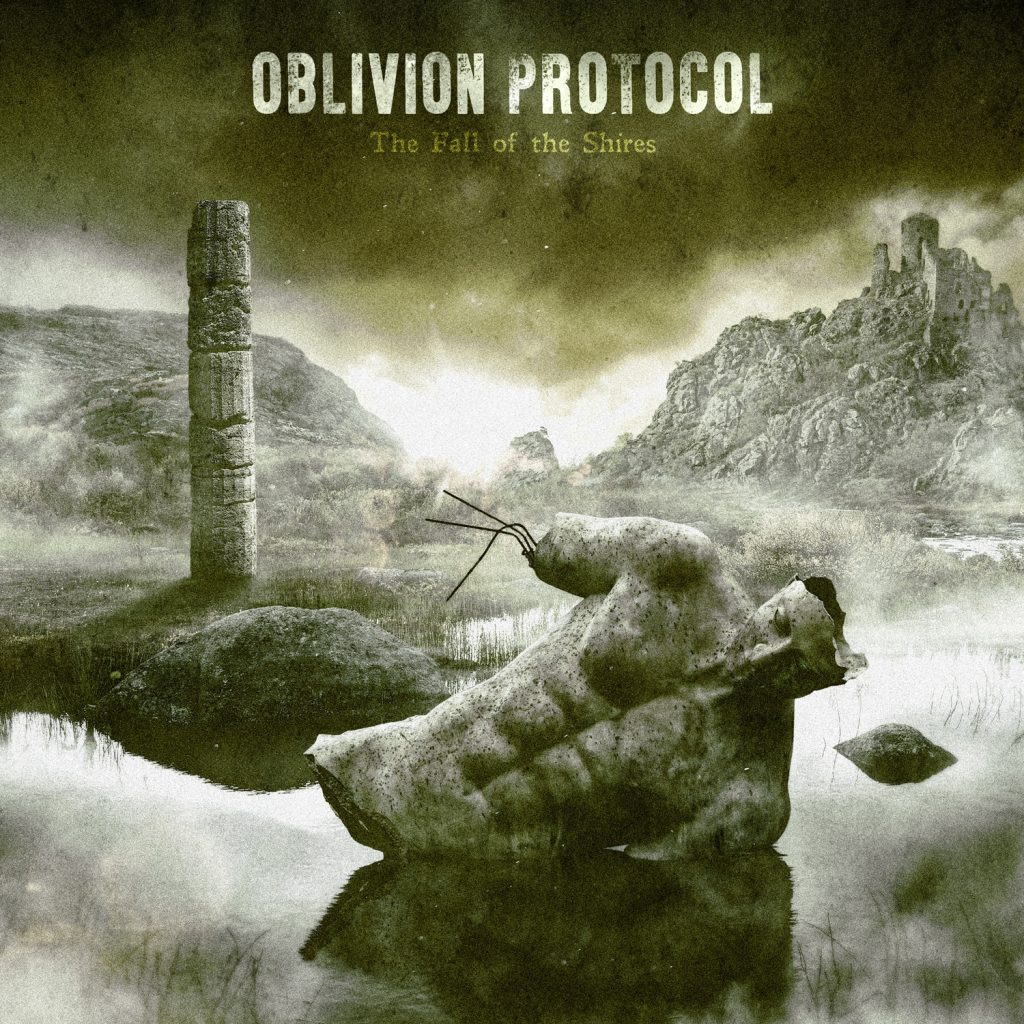 OBLIVION PROTOCOL – THE FALL OF THE SHIRES (ATOMIC FIRE) PROGRESSIVE METAL
REVIEW BY: THE ROCK 'N' ROLL PREACHER
Cast your minds back to 2017 (yes, I know it feels a bloody long time ago, but bear with me). Threshold were freshly reunited with returning frontman Glynn Morgan, and in the age of austerity and economy, the band released a gigantic double album, in the form of 'The Legend Of The Shires', which was an absolutely glistening Magnum Opus in its own right.
However, to the mind of keyboard wizard Richard West, as great as the album was, its story felt unfinished, and this gnawed at him. He took his feelings to the rest of the band, but (perhaps surprisingly in my opinion), they felt it was a done thing, and they wanted to move onto other things. It was then put to him, that he could put together his own band to continue the story – and that, dear reader, is exactly what he did.
Richard then, is very much the centre of Oblivion Protocol. But he has assembled an extremely fine band around him. From Within Temptation comes guitarist Ruud Jolie, from Darkwater and AudioPlastik comes bass guitarist Simon Andersson, and from Devin Townsend's band comes drummer Darby Todd. When you add to that the fiery six string excellence of Threshold's Karl Groom, and you are in for a true aural treat.
The first surprise is what a melodically pleasing voice Richard possesses. Now in fairness, he is no Damian Wilson, Andrew 'Mac' McDermott, or Glynn Morgan, HOWEVER, he never pretends or remotely attempts to be, and as a result, he acquits himself with great honour throughout this sublime album. Yes, 'The Fall Of The Shires' really IS 'that' good, it's beautifully written, arranged, performed and recorded, and if you are a fan of Melodic Prog Metal – then this is surely an essential purchase.
What does it sound like? In places you can't avoid the comparisons to Threshold, in other places it's distinctly Pink Floyd tinged, you can also hear hints of Queensryche at their most classic/vintage, Porcupine Tree at their most elegant, and finally there is definitely a nod to the grandiose musical drama of latter-day Ghost. Now if you think any of these things are bad – you need to give yourself a strong talking to! This album is an absolute gem, equal parts Melodic Rock, Pop Metal, and Progressive Metal, there is nary a first inkling of a weak link to be found. As a result of all of this, 'The Fall Of The Shires' has pole-vaulted its way into my top five albums of the year.
If I had to describe the album in one word, it would be 'dramatic', as his is effortlessly full of contrasting moods, pacing, and of colours and light and shade, it ebbs and flows beautifully. It is also deliberately not an overlong album, so at no point ever does it even begin to outstay its welcome, which makes it essential listening throughout. There is no 'excess fat' or 'padding', so it simply works on every possible level. I've rarely gone back to one album so repeatedly in a very long time, and trust me – that is genuinely a rarity.
Songs like 'Tormented' and 'This Is Not A Test' are Prog Metal 'earworms' – with gloriously infectious choruses, they will simply insinuate their way into your subconscious and leave you singing along lustily – now THAT is a mark of quality song-writing. When the band slows, the quality never dips, the songs remain pristine and majestic. You want an example? 'Storm Warning' is singly the best song Dave Gilmour era Pink Floyd never wrote – it could easily have sat comfortably on 'The Division Bell' album, it is simply so perfect.
'Vertigo' could easily have been penned by the ever-wonderful Steven Wilson, while 'Forests Of The Fallen' is vintage Threshold in style, sound, and execution, and those contrasting sounds and contrasts are what makes this album such an exhilarating listening experience. The album ends as it begins, with the bookends that are 'The Fall, pt.1' and 'The Fall, pt 2', both being reflective pieces that work beautifully both individually and together.
Richard West should receive tumultuous applause for creating such a dazzling jewel of an album. If you don't buy another album in 2023, then make certain that its 'The Fall Of The Shires', because it really is a shining example of just how amazing Melodic Rock/Progressive Metal can be at its very best. I'd call it simply marvellous, but there genuinely aren't enough plaudits to throw at this colossus of an album! Buy it or FOAD!