(RFL Records) MELODIC HEAVY METAL
Review By: The Rock 'n' Roll Preacher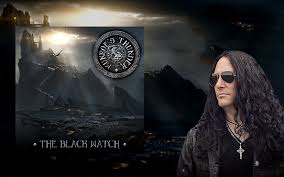 First things first, I had been anxiously awaiting the release of this album for a very long time. Nearly six years in the making, and a genuine labour of love for all involved, so much was hanging on the final release of 'The Black Watch'. I also need to tell you that my best friend David Mark Pearce not only appears on the album as the principal guitarist, while also acting as the Musical Director, and being responsible for mixing and producing it too. So, you might imagine, as excited as I was, I was also extremely nervous, in case the album did not live up to my own biased expectations. Very simply though – I need not have worried, as it is a genuine Magnum Opus – and very easily becomes one of my top five albums of 2022.
You also need to understand, that the whole album was inspired by, and is entirely dedicated to the memory of Ronny's ex-wife Joy, who very sadly lost her life after a very brave and prolonged battle against cancer. For this reason, for both Ronny and the rest of the band, getting this finished, and making sure it was perfect for her – meant absolutely everything.
Ronny (of course) is the world class vocalist, who aside from being a solo artist, has also fronted Metal Church, Trans-Siberian Orchestra, and now Vicious Rumors. David Mark Pearce has been his musical 'wingman' for the duration of this project, who plays guitars and bass guitars throughout, with Justin Zych (Viking/Zephaniah) joining as Dave's brilliant six-string sparring partner. Oliver Wakeman (Starcastle/Strawbs/Yes/Oliver Wakeman Band) provides wonderful keyboard flourishes throughout, with the backbeat provided with thunderous power by drummer BJ Zampa (House of Lords/Dokken). The final 'silent' member of the band is Karl Groom (Threshold) who mastered the final product.
The album is something I would normally give a very wide berth to – it is a concept album. Now normally I find them cringe-inducing flights of fantasy, however, this one is actually rooted in historical fact, telling the story of Mary, Queen Of Scots, and doing so very eloquently I might add, so Kudos to Mr Munroe for pulling it off with such style and eloquence.
Next (and we've not yet even mentioned the music, the production is absolutely flawless. The guitars are razor sharp, whilst the bottom end is beautifully punchy, allowing Ronny to weave his lyrical magic atop it all with total clarity and elan. So how do you describe the music? It's somewhere between traditional Heavy Metal, Melodic Power Metal, Progressive Metal, and even classic Thrash Metal – all played with obvious passion and huge style.
The album begins with the sounds of a raging battle (fittingly enough) called 'Battle Cry', before exploding into the title track opener – which sounds like a glorious fusion of Savatage and Iron Maiden, which is perfect to these jaded old ears. 'Awaken The Fire' is a completely epic number, imagine Threshold jamming with Deep Purple or early Rainbow – and you won't be far from the mark – it's a colossal song, Ronny's voice soaring effortlessly throughout.
'Gray Hall' has an Iron Maiden meets Deep Purple Mk III vibe to it, complete with duelling guitars and some lovely Jon Lord/Hammond Organ work courtesy of Mr Wakeman. 'Babbington Mary' begins with some delicate and elegant acoustic guitar, before blasting into a huge riff and a song that suggests Metal Church and (again) Mk III Deep purple colliding fabulously. Vocally, here Ronny could easily challenge Bruce Dickinson – such are his vocal intonations and gymnastics. The song also features a glorious lead solo courtesy of Mr Pearce, who cuts loose in explosive style.
'Brace For The Night' is very Dio-esque, which is a huge compliment in itself, just think 'Holy Diver' meets 'Rainbow Rising' – now you've got it, it's potent stuff. 'Dead man's War' finds the band heading into Thrash Metal territory – somewhere between vintage Testament and classic Megadeth, it's a massive number with a crunching riff and a furious rhythmic pace, the band are truly in full flight here – it's a killer number.
'Falkirk' is a gentle interlude with a beautifully restrained vocal, haunting keyboards and a delicate acoustic guitar, that leads into the monstrous 'Thirty Years War' which combines the best elements of Savatage, Trans-Siberian Orchestra and (yes again!) Deep Purple Mk III. It is a huge and atmospherically brooding number that allows the band to explore their more progressive side, and it works magnificently. Again, David Mark Pearce provides a stellar guitar solo, and the band collectively deliver with huge aplomb.
'Echoes Of The Dead' the second song that enters Thrash Metal meets Power Metal Territory, somewhere betwixt Testament and Helloween. The verse has a furious driving riff, while the chorus is classic singalong Power Metal, and is terrific because of it! Justin Zych plays his heart out here, his solo is simply dazzling, what a truly inspired track!
The album closes with 'The Executioner', a foot stamping slice of pure molten metal, for me it evokes Metal Church and Savatage smashing into each other with real musical fury. It's gripping stuff and featuring one final fret-burning solo from Mr Pearce – it is the perfect way to end this astonishing album. As I said at the start, I was genuinely nervous about reviewing 'The Black Watch', but I can say with my hand on my heart, that it has exceeded even my wildest expectations. If you only buy one more album this year – make it this one! There are not enough superlatives to lavish and Mr Munroe and his crew, this is nothing short of a Masterclass! Joy would have been immensely proud of her boys. One last thing …Please Sirs, can I have some more?