Live At The Cellar Bar, Cardigan, West Wales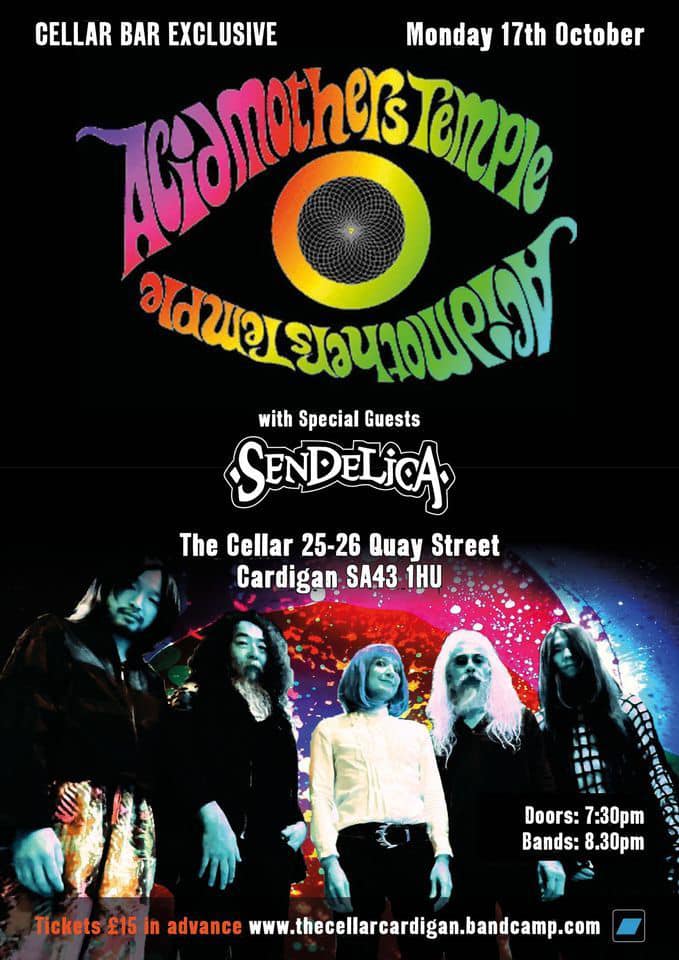 Review by The Rock 'n' Roll Preacher
So, the loudest band in the world came to sleepy Cardigan, to a tiny venue, and the gig brought every kind of musical freak out of the woodwork – there were Punks, Hippies, Metalheads, Ravers, Hipsters, Travellers, Beatniks, old-school Rockers, and most noticeably acid casualties and assorted veterans of The Psychic & Psychedelic wars … all gathered in this uniquely wonderful venue, to pay homage to the undisputed deities of the universal noise.
The venue itself is simply wonderful, upstairs has a small tea room, kitchen, and dining tables, surrounded by shelves of books, CD's and DVD's. Down a twisting staircase is the live room, a narrow, very low-ceilinged room, with a capacity of 150 people. Last night it was RAMMED to the rafters, my claustrophobia was kicking in endlessly!
At one end is a tidy bar and a few comfy chairs. While at the 'live end' of the room are scattered comfy chairs and sofas (I kid you not!) again with a wonderful library area and a huge rack of vinyl albums. I should add, I believe all the books, albums etc are for sale at a very reasonable price! Colour me VERY impressed. The stage is the width of the room, but is only 3-4 inches in height, it could not be any higher – as the bands would be smacking their heads on the ceiling otherwise. The stage is also sparsely lit, but the clever use of a liquid projector pointed to the ceiling helps to add atmosphere.
Opening proceedings were local Psychedelic heroes SENDELICA, and what a fine band they are too. This was my first time seeing them, and they are massively impressive. Something like 20 albums into their career, they are seasoned performers, and their powerful set was greeting with loud and prolonged applause. I'd love to tell you how they looked 'live', but I literally could not see the stage at all. What do they sound like? Imagine a fusion of (very early) Black Sabbath, Hawkwind, Ozric Tentacles, The Pink Fairies, The Orb, and Man – but all instrumental, and you won't be far from the mark. They seamlessly lock into glorious grooves, and their set was far too short in my opinion. The band: Pete Bingham (guitars/electronics), Glenda Pescado (bass guitars), Jack Jackson (drums), Lee Relfe (saxophone), and Colin Consterdine (beats/synths). Now I could be wrong, but I could swear there were only four band members there – but I could not see for sure. Regardless, they performed with huge aplomb, and were genuinely simply marvellous!
So, to the main event. I've seen ACID MOTHERS TEMPLE before – up in Birmingham back in 2005 and again in 2011. Alongside Sunn o))), Motorhead, Neurosis, Hawkwind, and Merzbow, were just about the loudest band I had ever heard, it took literally days to get my hearing back after each gig. As a result, for this gig I came prepared with earplugs. However, tonight they had dialled back on the raw volume, and it made proceedings far more bearable as a result. Before their set, I was lucky enough to meet the band's legendary founder and guitar wizard Kawabata Makoto, who very kindly signed a guitar I just happened to have with me … ahem … funny how these things happen! Hahahahaha. The lovely chaps from Sendelica also added their signatures too.
Joining Kawabata in the latest incarnation of AMT are Higashi Hiroshi (synths/guitars/ keyboards), Jyonson Tsu (guitars/vocals/bouzouki/electronics), Sawano Shozo (bass guitars), and Satoshima Nani (drums). Again, I could not see the stage at all, but musically and aurally, the band is in imperious form. For those readers unaware – I am disabled, so finding a chair to enjoy the show was all important – and luckily, I did find one – but 'seeing' the band by standing? It simply can't be done.
Secondly, by the time the band took to the stage, the temperature in the cellar had reached sauna-esque proportions … dear gods. Of course, there are no windows, only one staircase exit, and we are packed in together like sardines … repeat after me 'I will not panic, I will not panic'. Finally, somebody in the cellar was seemingly smoking extremely potent 'herbal cigarettes', and I was starting to feel very fuzzy-headed … oh boy. Add all these elements together, and for me personally, it became something to endure as much as enjoy. I want to pay a huge tribute to Kawabata, he is a dazzling guitarist, weaving astonishing musical tapestries with his instrument – he really deserves far more acclaim than he currently receives. The band is astonishingly tight, but they play in such a way that it actually sounds 'relaxed' (as such). The music, a seamless fusion of Psychedelia and Space Rock, snakes and languidly swirls – much like a free-flowing river, the band firing off each other with joyful abandon. Sadly, after an hour, my head is genuinely spinning, and I need to get into fresh air urgently. I thread my way through the penguin tight throng, and finally I'm out and free. Would I see Sendelica and AMT again? In a heartbeat, it was a wonderful night. Thank you to both bands and to the staff and venue for making it all happen. Please come back soon!