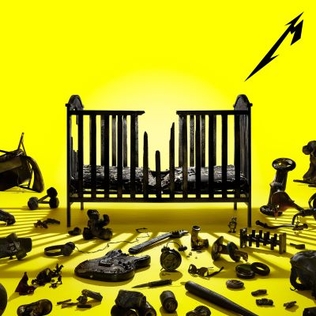 METALLICA – "72 seasons" (Blackened) HEAVY ROCK
Review By: Paul Bamlett
A new Metallica album, always approach with caution. We don't expect them to recapture the glories of all the pre–"Black Album" stuff but there were certainly enough signs on "Hardwired…To Self Destruct" to show that the show ain't over yet.
Beginning with '72 Seasons' we get the expected riffology and the trademark Het vocals, so we know we are in the right place. Fast paced bass from Rob Trujillo kicks into some suitably doomy riffs, and then into the fast section propelled by Lars drums. This is a typical 'Tallica pattern and all the better for it.
'Shadows Follow' which erm…follows is similar. Good riff and some cool vocal harmonies make this a very melodic track. Kirk plays one of his excellent trademark solos on this one. Heavy on the riffs towards the end.
'Screaming Suicide' has more than a hint of Thin Lizzy in the opening. We are still going fast here (not as fast as "Ride the Lightning" I know, but hell it's 2023!). I feel that James's vocal is a little buried in the mix here but I've been saying that since '91. That being said, this is pretty infectious stuff with spoken vocals.
The pace doesn't let up. Some bold bass takes us into 'Sleepwalk My Life away'. A bit of Enter Sandman riff recycling here briefly. A chugging riff takes us into the heart of the song. A very Deep Purple guitar solo from Kirk. Some nice vocal touches from James towards the end of this one with a very proggy riff thing to end.
'You Must Burn' is next up. A more ponderous 'Sad but True' type of riff which lets James show off his voice a little more underpins this one. What comes across here, is the melodic nature of all these tracks, and a very controlled approach – but, hey you know these songs are going to really come alive on stage. An interesting middle section with chanted vocals is a bit of a departure. Some tasteful Hendrix style riffing forms part of this song.
'Lux Aerterna' is one of the tracks we had heard before the album hit the racks, and is full speed or nothing as James sings. Definite touches of the late great Lemmy here as Metallica show their Motorhead chops. Shame he's not around to sing it with them!
'Crown of Barbed Wire' takes back into doomy Riff land and a slower pace. Less immediately catchy as some of the previous tracks, the lead vocal is more prominent, and this is an "interesting" song.
On to 'Chasing Light' and a drum heavy opening. Not a standout track but not a dud either.
'If Darkness Had a Son' – some cool rhythmic stuff in the central section of this one and a superb solo from Kirk. The vocal harmonies are a great feature of the track, and indeed of the album.
So far in and now slowing down, no 'Unforgiven' or 'Nothing Else Matters' – 'Too Far Gone' is a good pacey riff driven thing. Loving the guitar harmonies here. 'Room of Mirrors' speeds us up again and takes us through some great riffs and tempo changes.
'Inamorata' is the longest number here, at eleven minutes, and some folks have heard hints of Rush in here. It's certainly epic in scale. The central bass led quieter section allows the band to show a different side to their playing. Probably my favourite track from this album at the moment. A great Thin Lizzy guitar harmony ending. 'Inamorata' closes off the album nicely.
So, a new album from Metallica. Not a classic but not a misfire either. Watch these tracks come to life when they hit the stage.