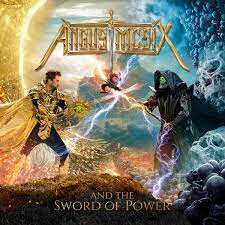 ANGUS MCSIX – "ANGUS MCSIX & THE SWORD OF POWER" (Napalm) POWER METAL
Review By: The Rock 'n' Roll Preacher
The Band:
"Angus McSix" (Thomas Lazlo Winkler) – vocals
"Thalestris, Queen Of The Lazer-Amazons From The North" (Thalia Bellazecca) – guitars
"Buff Berzerker Of The North" (Manuel Lotter) – drums
"Arch Demon Seeebulon, The Origin Of All Evil" (Sebastian 'Seeb' Levermann) – bass guitars/keyboards/backing vocals
Ladies and gentlemen, let me introduce you to the magnificent debut album by international Power Metal act ANGUS MCSIX – "Angus McSix And The Sword Of Power" on Napalm Records. This album is an absolute gem, and a true testament to the band's collective ability to create epic, larger-than-life metal anthems that will leave you breathless.
The album features the incredible vocals of former Gloryhammer frontman Thomas Lazlo Winkler, who delivers a truly stunning performance that will send shivers down your spine. Winkler's soaring vocals are perfectly complemented by the rest of the band, including guitarist Thalia Bellazecca, drummer Manuel Lotter, and keyboardist/bass guitarist/backing vocalist Sebastian 'Seeb' Levermann. Each musician brings their own unique talents to the table, resulting in an impressive display of musicianship that is truly awe-inspiring.
The storyline of the album is captivating and exciting, with Angus McSix taking up the mantle of the beloved character "Angus McFife" and embarking on a thrilling new adventure. The album takes you on a journey through time and space, with McSix battling evil forces and saving the world with his trusty golden sword and matching armour. The story is told through a series of epic, bombastic tracks that are sure to get your blood pumping and your heart racing.
The storyline goes thusly: McFife is killed in battle and is sent to Hell. Escaping from Hell through a portal he finds, he is reborn as Angus McSix, his broken 'glory hammer' is cast aside and instead, he finds a wondrous new golden 'sword of power', and a shiny new gold suit of armour. What McSix does not realise, is that by opening the portal – he has unintentionally released an entire new evil on the unsuspecting world – which he will now need to battle across time and space!
From the thunderous drums on 'Starlord Of The Sixtus Steller System' to the intricate guitar solos on 'The Key To Eternity', and to the sweeping keyboards on 'Amazons Of Caledonia' each song on the album is a true masterpiece of Power Metal. The soaring choruses, powerful instrumentation, and Winkler's incredible vocals come together to create a sound that is both uplifting and triumphant.
But let's not forget the fact that this album is also filled with plenty of tongue-in-cheek humour and cheesy goodness. From the over-the-top storyline to the larger-than-life characters, "Angus McSix And The Sword Of Power" is a true celebration of all things Power Metal. And yet, despite all the humour and cheese, the album still manages to be a serious contender in the world of Power Metal.
Overall, "Angus McSix And The Sword Of Power" is a must-listen for any fan of Power Metal. With its impressive musicianship, soaring vocals, and captivating storyline, this album is sure to become a classic in the genre. Highly recommended! In a world of laser-shooting dinosaurs, sparkly unicorns, fireflies of doom and timeless heroes – Angus McSix conquers all! So, raise your horns triumphantly!