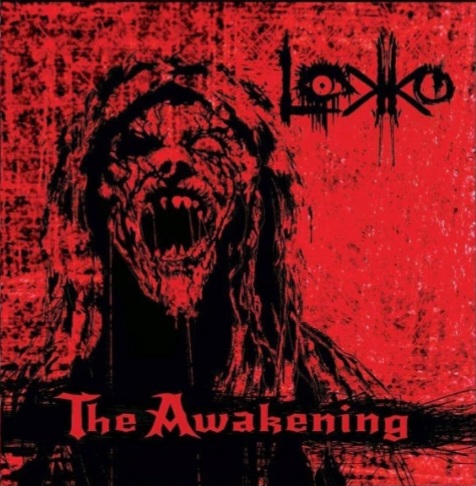 LOKKO – "THE AWAKENING"
Reviewed By: Candy Rocks
Band Members:
Silas. Lead Vocals / Rhytm Guitar
Kaine. Bass Guitar / Vocals
Lilith. Lead Guitar / Vocals
Dragon. Drums / Vocals
Lokko are a new British heavy rock/horror collaboration, who are made up from ex members of Electric Circus & Sykko Dollz. Formed in late 2021, but sadly due to the pandemic it wasn't until January 2022 that Lokko could conjure up their vision – to bring out their inner beast of new music & live theatrical shows. Aiming to push the boundaries of a dark unknown world that lay in their twisted tortured minds, scratching & clawing to get out into the world of music.
Whilst adding to their cooking pot of deranged thoughts recipe, Lokko put in catchy riffs, twisted dark lyrics, hearts, souls, emotions, thought, care & attention to detail – turned the cooker up to gas mark 5000 then left it to simmer while mixing was done. Like any potion & you can ask any Witch this, & they will tell you that you need the correct ingredients for any potion to work. Lokko have done just that with their potion. So now it's tasting time, drink up good people as I tell you all about the ingredients that make up Lokko's debut album "The Awakening".
Track (1) 'I Belong To The Dirt'.
Don't be fooled by 'I Belong to the Dirt' when it starts with haunting vocals & guitar, I'm thinking this going to be some ballad about two lovers parted by death, the echo & reverb make my body shiver as I imagine Silas's vocals coming from some cathedral like a ghost waiting for his lost love to join him once more as he watches the funeral. Then the slight pause, & you think is that it? No! The power kicks in & is filled with the whole band, as it twists & turns into a powerhouse of two lost souls finally being reunited again – this is what Lokko have done with 'I Belong To The Dirt'. The guitar solo cuts the air like a razor across your throat & you're dying to hear more of this album. This track married a haunting melody & vocals to hard rock brilliantly to my ears.
Track (2) 'Burn The Priest'
You don't need me to tell you what this track is about, it says exactly what it is by the title. What I will tell you about Burn the Priest, is that Lokko could have written this for Ozzy Osbourne, it sounds like The Prince of Darkness himself could be doing vocals alongside Silas on this track. The heavy lowkey riffs mixed with bass guitar opening that can only be added to with an amazing lead break.
Early Black Sabbath, Ozzy Osbourne? No Lokko took them both cut them into pieces & made a Lokkostein monster because you can't say it's Sabbath or Ozzy or another band, It's a Lokkostein monster & it's theirs. (I created Lokkostein that's my word) haha.
Track (3) 'Murder Murder'
Take two guitars that you think "they're loud", & then drop as they fall into the devouring drums & Bass guitar, it all fits in perfectly with great drum fills throughout this track by Dragon. Listen to 'Murder Murder' a few times & you will hear that it's not the guitars driving 'Murder Murder', it's the drums, it's the bass guitar, I love hearing a bass guitar been played higher up the fret board with great little fills from Kaine. These two are a tight unit like any bass guitarist & drummer should be. They drive every song.
Track (4) 'Insane'
An insane opening of laughter can only mean one thing, & that is it's going to tell what's about to happen in this track. Well, you didn't think it was going to be all sweet & nice with title like 'Insane'.
Or did you just skip to track 4, then you really need to die – Lokko style. 'Insane' is a great bouncy rockin' tune, with every word clear to hear as Silas tells you what he would love to do to you, as this rocks through to its closing laugh.
Track (5) 'The Thing'
This is a track that has everything of a twisted "Rocky Horror Picture Show", with Vincent Price from "Hammer House of Horror" telling you he's been possessed by Hannibal Lecter. This track is pure twisted Lokko magic, it's catchy as hell, with great kick ass rockin' riffs, spoken lyrics. I don't know if it's my twisted imagination, but 'The Thing' is (as I have already said) as if Hammer House of Horror & Rocky Horror Picture Show had a baby – then this would be it. But, be warned if you're walking down the street listening this on your headphones & you end up singing it out loud, people will either cross the road or you're going to be surrounded by police. I just love how catchy 'The Thing' is.
Track (6) 'Bring Out Your Dead'
A dark, sinister warning opens 'Bring Out Your Dead', before it unfolds into a punching riff that pushes this track as it works its way through to the ending. With clever changes into the chorus & back again to yet another great lead break, the drumming etc all make 'Bring Out Your Dead' another hard rockin' track before an ending that I never saw coming.
Track (7) 'Finit Hic Deus'
A kind member of Lokko told me what 'Finit Hic Deus' means (I didn't know Lokko had such a thing as a kind member of the band). Maybe it was the five gallons of blood in exchange for that information. Yes, I'm the alter ego Mizz Hyde from the Hydeside, & it was a great pleasure to be able to open my show with this track. Okay, 'Finit Hic Deus' means 'God Ends Here'. It's got amazing drumming that opens the song, it's fast, it's powerful, it's got twists & turns, & It's going to have you bouncing around to it with vocals to match the pace.
Track (8) 'Asmodeus'
This is one of Lokko's slower tracks, but don't let that put you off, because once again Kaine's bass leads with a deep-rooted bass line while Lilith & Silas add power chords that just hang in the air as 'Asmosdeus' unfolds around your ears.
Track (9) 'Lavinia'
Let's take a journey back to medieval times, those old 1950 movies like "King Arthur", "Robin Hood" etc. Imagine the court music they use to play back then, well for me, 'Lavinia' takes me there – being an acoustic track. Into a time of feasts in great halls of amazing castles throughout the land. Its sorrowful lyrics, amazing acoustics, the whole shebang – Lokko know how to stir your imagination & lead you into these places. With acoustic numbers it's hard not slide your finger on the frets when changing notes, there isn't one slide on this which makes 'Lavinia' a truly amazing song, it shows Lokko's talent of both Lilith & Silas. I listened to this through my headphones & you should really do the same to hear how this track fills out.
Track (10) 'Until We Meet Again'
This is the final track from "The Awakening", & it's another hard rockin', ass-kicker of a tune, with its mix of mini lead breaks that lead into one amazing lead break that speeds up as the whole thing gets faster until it's ending.
So, what can I say about Lokko & their debut Album? It's a must hear album, it's been mixed with perfect clarity, care, attention to detail, that nothing is out done by another. The vocals clear enough to follow Silas unfold the story in those dark twisted lyrics. I don't need to sell this album, as it will sell itself, just as Lokko will sell themselves. Their fans will sell this album with word of mouth that will make radio stations want to play them, magazines review & interview them, because even I was telling people you need to hear this band Lokko.
So let me finish with this. I'm honoured to be given this opportunity to review 'The Awakening' – because when this band are selling multi-platinum albums, I'll be able to look back with real pride, & a smile on my face & say I reviewed their very first album. All of this because Lokko sold themselves to me through their music & that's the making of a really great band. I will never go into great detail about any music, I will only give you an outline of how it makes me feel, how it sounds & stirs the imagination, it's up to you to go listen & be taken in by the music. I merely show you the door it is up to you to step through it. This is a step worth taking.