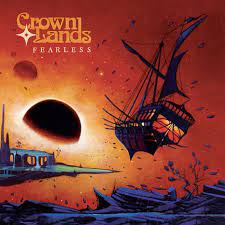 CROWN LANDS – 'FEARLESS' (Spinefarm/Universal Music) PROGRESSIVE ROCK
Review By: The Rock 'n' Roll Preacher
Get ready to be blown away by the latest release from the Canadian rock duo Crown Lands! "Starlifter: Fearless Pt 2"is their sophomore full-length album, and it's nothing short of mesmerizing. Vocalist and drummer/percussionist Cody Bowles and guitarist/bass guitarist/keyboardist Kevin Comeau have truly outdone themselves with this epic progressive rock masterpiece.
From the moment you press play, you'll be transported on a sonic journey through outer space. The duo tells a story that's both timely and important, advocating for indigenous communities and the LGBTQ+ collective while taking a stand against the colonisation of outer space. And they do it all with an effortless grace and finesse that's impossible not to love. Cody is half Mi'kmaq and identifies as Two Spirit – it is self-evident that his spirituality pervades the lyrical nature of the songs found here.
The pairing of the band with award-winning producer David Bottrill has proven to be an inspired choice. His back catalogue is massively impressive: Peter Gabriel, Dream Theater, Muse, Tool, Toni Childs, King Crimson, Godsmack, Stone Sour, Mastodon and (of course) Rush (amongst others) – it is a dream team that has brought out absolutely the very best in Cody and Kevin.
It's clear that Crown Lands are heavily influenced by Rush, and that influence is felt throughout the album. But rather than detracting from their music, it only serves to highlight their talent and skill. Opening with the colossal "Starlifter: Fearless Pt 2" might be a risk for any other band, but for Crown Lands, it pays off with effortless style. This nineteen-minute prog rock masterpiece is a towering monolith that takes the listener on a wild ride through the cosmos, drawing comparisons to Rush classics like "2112," "Xanadu," and "Hemispheres."
Crown Lands have a genuinely sweeping cinematic quality about everything they do, it's akin to watching a visually stunning vista on a widescreen cinema screen with surround sound – it has that power to thrill and carry you away willingly captive to the experience. Here's the thing though, it's not all about bombast and epic storytelling – there are moments of contemplative beauty to be found – a case in point would be the delicate and beautiful 'Penny' – an instrumental acoustic piece by Kevin, that is sweet, tender, and liltingly lovely.
'Dreamer Of The Dawn' is fabulously uplifting, and has a wonderful chorus to match, while 'The Shadow' feels like it could have come from either 'Hemispheres' or 'Moving Pictures' – which is a colossal compliment in itself. 'Right Way Back' is an older song that the band has been playing for a few years now. It fairly races along at breakneck pace, and is as good as music gets, I adore this one.
'Context' is a gloriously multi-layered number, again evoking the spirit of Rush (bad pun I know), but it is technically dazzling and is sumptuous aurally. 'Lady Of The Lake' is also wonderfully superior, and features a gravity defying guitar solo by the wonderful Mr Comeau. The Rush 'feel' continues with the fabulous 'Reflection' – I cannot get enough of this – it's stunning stuff. Album coda 'Citadel' is a rallying cry to self-determination, and there could not be a more perfect way to end this simply amazing record.
After nearly a decade into their career, Crown Lands have firmly established themselves as one of the greats in progressive rock. "Starlifter: Fearless Pt 2" is a testament to their passion, talent, and dedication to their craft. If you're a fan of epic, mind-bending rock music, then this album is an absolute must-listen. How two people can make a sound as huge as Crown Lands is genuinely beyond me, but they do, and in a way that is completely brilliant, the duo are clearly on a path to conquer the world of Rock, whether progressive or otherwise. Don't miss out on this dazzling display of musical mastery. Very simply, "Fearless" is easily my album of 2023!