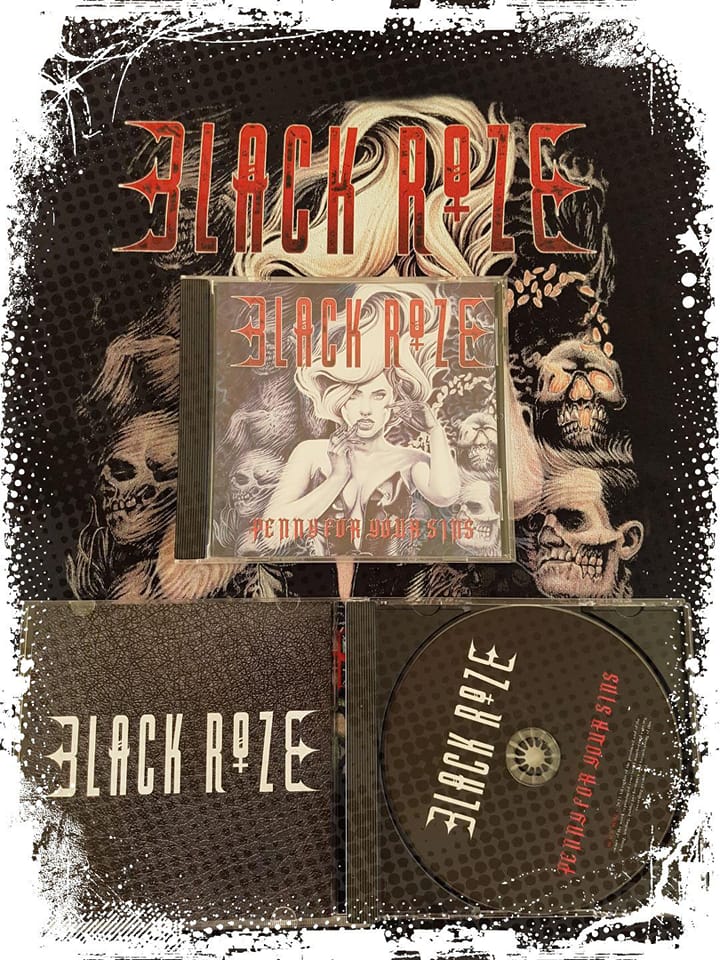 BLACK ROZE PENNY FOR YOUR SINS (Independent Release) GENRE: HARD ROCK/HEAVY METAL
Review By: SAMMI QUINN
OMG Metal Kitties, what an awesome surprise I got when I checked my email. Kent Sleaze Metal band BLACK ROZEhad sent me the follow up to their debut album "SPIRITUAL HELL" (check this release too!), "PENNY FOR YOUR SINS".
So, regular listeners to my show will know that I adore Black Roze (since debuting on online radio I've played them on every single show!) and, yes, we are friends but with that in mind I'm reviewing PFYS with no bias (you guys know that I wouldn't try to sell you sh*t for Shinola, right??). My honest opinion? HOLY FUKK!!!!! I loved their debut album, it was my in-car forever but damn, "Penny For Your Sins" takes Black Roze to a whole new level!
The cliché is that the second album is the difficult one, and knowing the background to "Penny For Your Sins" this was a 'difficult birth', but this transition lays waste to that musical norm. Spiritual Hell blazed the Black Roze trail into the psyche of Metal fans PFYS is the following Blitzkrieg, a musical force to be reckoned with.
Regulars to my show have already heard some of the tracks off the album but these versions are like a slab of concrete off of a motorway bridge, like – seriously?, the album mix of 'Not Your Whore (Anymore)?' Wow, wow, WOW!!!!!
The album opens with the title track and you had better strap yourselves in for the wildest ride of your life!!! There are influences in this album but the biggest is pain. "Penny For Your Sins" is an autobiography of a razor blade to the spirit. The title track is a tale of dark addictions, of cravings, of self-destruction on apocalyptic scales. It is the basis for the album cover's artwork created by 'The Exile', the acolytes behind her addicted to The Succubus while she is addicted to the souls upon which she feeds.
Very few songs move me to tears but 'Footprints In The Sand' reduced me to a ball of tears. Why? Buy the album, read the lyrics and find out. 'Devil's Door' is an autobiographical tale of the near-death experience of one of Black Roze's members (not gonna spill which). 'Wake Up!' Brings Steve 'Ron' Rankin's Bass to the fore as he 'replaces' axeman Baz Roze in an Ellefson-esque bass guitar tirade reminiscent of Megadeth's 'Peace Sells'
So, Metal Kitties, do I recommend this album? Ummmmmmm, FUKK YEAH!!!! Add "Penny For Your Sins" and add Black Roze to your Metal collection, because if you don't? You will soooooo regret missing this bus!!!!!