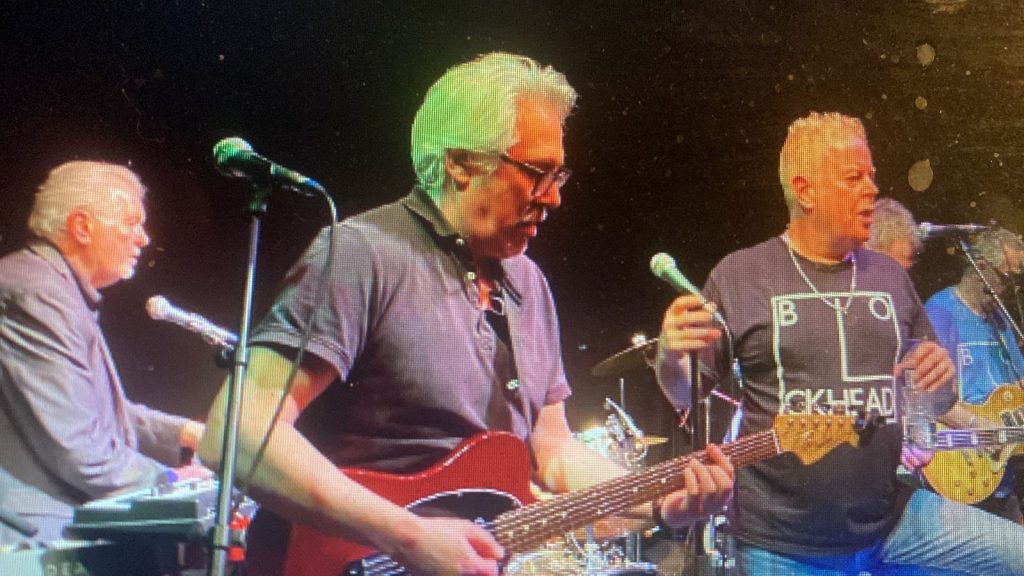 THE BLOCKHEADS – THE SUBSCRIPTION ROOMS, STROUD – 15th APRIL 2023
Review By: Ellis Cohen
Let's face it – poet, raconteur, actor and unique vocalist Ian Robins Dury remains a legend and nobody can yet compete, emulate or become a soundalike of such an evergreen one-off talent. However, it's fantastic that the blockheads have kept the torch burning for a massive body of work mainly co-written by fellow song writing genius and multi-instrumentalist Chaz Jankel, who has had tracks covered by the likes of Quincy Jones, written on soundtracks involving Stephen Kingand Deborah Harry and indeed had some solo work that hit the top of the American hot 100.
The combination of the two revered artists and writers produced many hits, and when I went to see them at Stroud, I had an element of scepticism having only seen shaky mobile phone performances which were extremely lo-fi but nevertheless gave me an idea of what to expect.
When I got to the 'Subscription Rooms' at Stroud, I just made the first track which was the mildly sexually suggestive 'Wake Up and Make Love With Me'. I am quite familiar with the repertoire, and this song is hard to define in terms of genre, that seems to be slow funk with almost an art jazz backdrop.
Prior to the song kicking off in the back-round, the group performed what seems to be an avant-garde Jam – A teaser if you like (all courtesy of the amazing rhythm section of John Roberts and Level 42 long-term member Nathan King) the ever-infectious enveloping beat kicks in.
John Turnbull, who has worked with everyone from Bob Geldof and the Eurythmics to the likes of Paul Young set the tone with his infectious and subtle and unique guitar style augmented by Chaz Jankel and keyboard supremo Micky Gallagher (who is not only known for his work with the Blockheads but was a fully-fledged member of the animals as well as playing on classic albums by The Clash including the platinum "Sandinista") his squelching synthesiser parts are simple, subtle, but highly effective as is the brilliant saxophone playing of Dave Lewis who provides some innovative and incredible solos throughout the night.
Mike Bennett strolls on as cocky as you like and I'm pleased to say does not impersonate Ian Dury but certainly providing an odd and a wink to past proceedings – so the intonations and inflections is still on the original records while he certainly augmented the tone on this fantastic opening track. An absolutely packed crowd seem to love it from the start but as it's a slow-mo number they are more attentive as opposed to bopping around which certainly happened later in the set.
The buoyant crowd certainly started to get going on track to which was 'Partial to your Abracadabra' from the classic "New Boots and Panties" Magnus Opus album – then surprisingly at least to some they performed a rendition of 'Sync My Boat' which came from the not so acclaimed but massively selling "Do It Yourself" album. What Mike Bennett brought was getting the humour over while Dave Lewis's Sax performance provided great support to that inspired solo- which if I remember correctly is not on the original record so it's great that The Blockheads are throwing a few new ideas whilst remaining faithful to a prolific and gargantuan plethora of magnificently written songs.
Favourite moments from my perspective were tracks such as 'Clever Trevor' and particularly 'Itinerant Child' where John Turnbull and Chaz provided a marvellous display of innovative guitar weaving melody. It's a great track and came from the latter-day album "Mr Love Pants" and sounds as fresh today as it did back in the late 90s when I was extremely young but educated in respect of this band by my fanaticism with punk rock. Having said that I realise that the group is not Punk at all apart from a couple of tracks such as 'Plaistow Patricia' which disappointed me that this was not performed – but one of my favourite anthems in the idiom was 'Blockheads' and that was absolutely superb!
Most of the classics were thrown in for good measure and 'Billericay Dickie' was a standout vaudeville style moment with Mike Bennett (who has written for the likes of Rik Mayall and produced new wave and two-tone artists such as Toyah Willcox, Sham 69 and Hazel O'Connor to name but a few) got the lottery humour just right and with the backdrop of Mickey Gallagher's keys, and Turnbull's guitar behind him, it must've made the frontman's task a joy to behold.
'If I Was With A Woman' which is hardly what one would deem politically correct in the woke society, but was great fun and I particularly enjoyed John Turnbull's additional vocals played out against an incredible guitar riff which certainly was not on the original – so again great that the group are sticking to the plot whilst adding lovely little improvised touches along the way.
Proto rap song 'Reasons To Be Cheerful' albeit peppered with cockney rhyme in slang over cockney rhyming slang is marvellous and again John Turnbull added an additional version that I'd certainly never heard of before and was littered with archetypical Blockheads wit.
The idiosyncratically sardonic 'Clever Trevor' went down well with all the audience hanging on every word. 'Hit Me With Your Rhythm Stick'- the cornerstone of the massive selling single was galvanised by the magnificent bass solo played by Nathan King. This guy is so solid, and it was great to see him freestyle with the man at the back John Robertsproviding solid beats and rhythms, while remaining faithful to the original ethos of the band. The crowd absolutely loved it and were bouncing around and dancing from about halfway through the set from which point they didn't stop.
A debt of gratitude and a shout out must go to the sound man, because it's a seven-piece band, and to get it sounding so authentic with all the instruments blending so well must be a difficult task, but I had to say it sounded so much better than seeing the crackly YouTube and social media footage I've seen of the legendary group.
The Blockheads are one of those bands that you have to see live because it's not just a sound – it's an iconic band experience. They are certainly keeping the spirit of the revered repertoire alive and it's great that the concerts are still selling out. A few more Punk orientated tracks like 'Blackmail Man', 'Spasticus Autisticus' and my favourite 'Plaistow Patricia' would have been an added bonus – but I can't complain because each and every track was performed with a great deal of vigour and vivacious flair.
If you want The Blockheads experience, I really think that you have to see the live show – in order to get a realistic and rounded perspective. It's not a tribute band – so I would advise anyone not to expect something of that nature, but just to experience a group that are celebrating an evergreen set of songs, that will probably be around for many decades to come. The world will always be a better place to visit the menagerie of magical musicians, who seamlessly transcend the musical genres. A truly relished and rare gargantuan gift – courtesy at least in part due to innovative and at its time, the irreverent song writing of Ian Dury and Chaz Jankel.